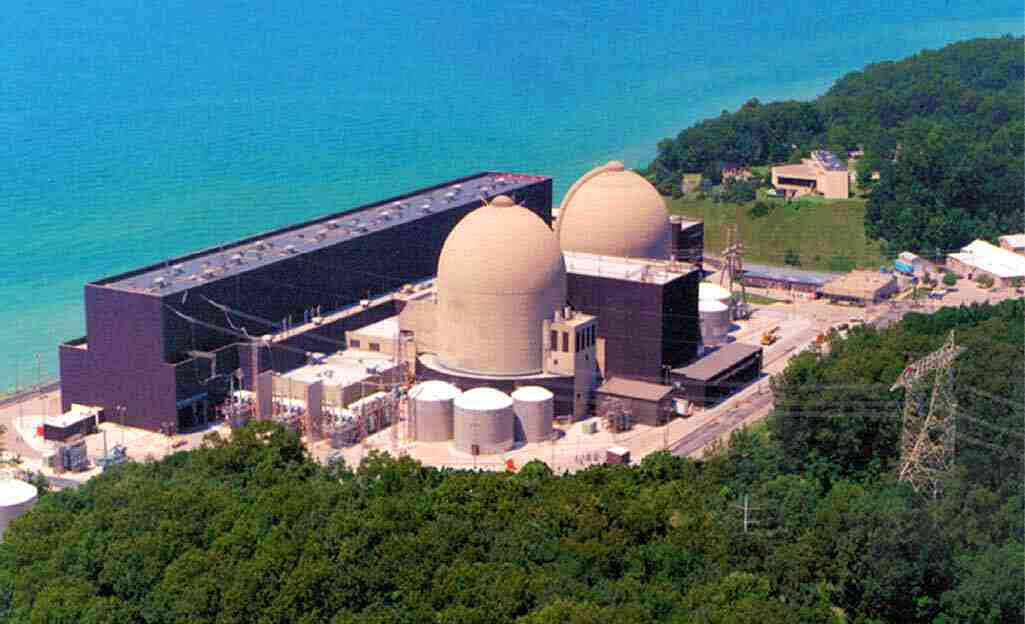 It's going to be a busy year at the Cook Plant—one of the area's largest employers.
American Electric Power—the parent company of I & M Electric– owns the plant.  Site Vice President Shane Lies—the top man at Cook—told SJ/BH Rotarians Monday there'll be two complete 'Outage' refueling cycles this year.  One in Spring and one in Fall in regular rotation for the two Cook nuclear generating units.  Each unit must be shut down and refueled every 18 months.  So, occasionally that means two shutdowns in one calendar year.
For Northern Berrien County businesses, that means anywhere from 1,000 to 1,700 additional customers in town for varying time periods over several months.  Some motels and residential rentals focus on the Cook Outage market, with its regular, well-paid and professional worker teams providing a base upon which to build other short term rentals, often to tourists in Summer.  Restaurants, convenience stores and gas stations as well look forward to the influx of Cook Outage teams to boost their sales during Southwest Michigan's 'slow season'.
Shane Lies explained to Rotarians that the specialized employees who work during the refueling outages at Cook travel around the country to similar nuclear plants, doing three or four such stints a year, working 12-hour shifts, six days a week.  Then, many of them enjoy several months off and repeat the cycle again.
Lies also commented on the challenges of keeping the Cook Plant operating during the COVID pandemic. He said initially only about half of Cook's employees were vaccninated.  That number has increased to closer to 75% recently.  However, Lies said, if the Federal government had required full vaccination for nuclear plant workers, Cook might have faced a challenge to continued fulltime operation, due to staff availability.  Unvaccinated workers would not have been allowed in the plant.   He is confident that other precautions AEP has taken during the pandemic have created a healthy and safe work environment for all—whether vaccinated or not.
A questioner in the Rotary audience recalled that until about 20 years ago, Cook hosted a fulltime "Energy Information Center"—a visitors center adjacent to the plant that welcomed the public, including thousands of students every year.   Lies said the combination of security measures following '9-11', coupled with anti-terrorism restrictions and now COVID measures would almost certainly ensure that no Visitor Center would ever again be possible at the Cook Plant.