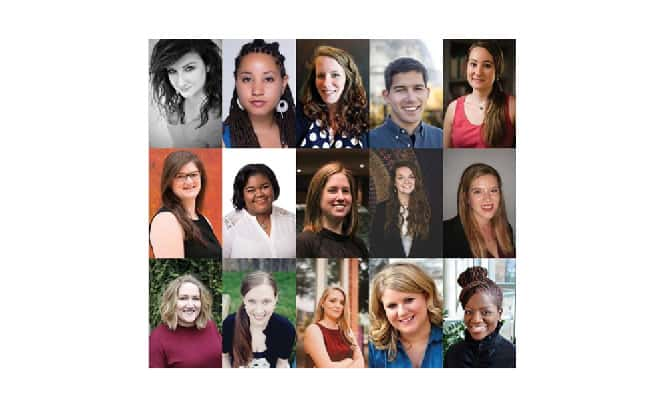 It's been called "one of the most impactful trainings ever," and provided another member of the cohort, "a greater self-awareness and knowledge of my capacity to lead." Best of all, Michigan's Great Southwest has two key players in the 2019 program, already being recognized as Rising Leaders.
Rising Leaders is a rigorous and highly interactive personal development initiative committed to the advancement of Michigan's arts leaders. It's a program designed and facilitated by the Michigan Council for Arts and Cultural Affairs and Partners in Performance, the nation's preeminent designer and facilitator of leadership development initiatives for the arts and culture sector.
The region is well represented by Lake Michigan College Mainstage Director Grace Kelmer and the Krasl Art Center's Emily McKenna. They are two of the fifteen participants selected for the 2019 cohort with fellow leaders in the arts from all over Michigan, and a third is from Sturgis. Grace, as you may recall, is also a member of the 2019 Class of the Moody on the Market 40 Under 40 leaders.
Over a six-month period, Kelmer, McKenna and the balance of those fifteen participants will take part in a series of activities that includes three intensive sessions focusing on self-awareness and self-management; mutual influence; and gaining tools to create communities and a state where everyone can experience and express creativity in their daily lives. All fifteen commit to three in-person meetings as well as individual reflection work, and all were chosen through an application process to the MCACA.
Those selected from across the state of Michigan gain tools and perspective needed to strengthen their leadership skills and develop relationships with an extraordinary cohort of peers dedicated to advancing the arts and culture field.
Here is the full roster of the MCACA 2019 – 2020 Rising Leaders Cohort:
Grace Kelmer – Grace Kelmer is the Director of The Mendel Center Mainstage at Lake Michigan College in Benton Harbor, Michigan, having joined the Mendel Center team in 2014. Grace is particularly passionate about building community relationships and reaching new audiences. Her current initiatives include growing The Mendel Center's Arts Factor ticket subsidization program benefiting under-served community members, and increasing participation and engagement among students and young professionals. Prior to her time at The Mendel Center, Grace served as Cultural Programs Coordinator for the University of Cincinnati Blue Ash College's Rhythm 'n' Blue Ash and ARTrageous Saturdays series, and spent three summer seasons working in the programming department at Lakeside Chautauqua. She holds a Master of Arts in Arts Administration and from the University of Cincinnati College-Conservatory of Music, a Master of Business Administration from the University of Cincinnati Lindner College of Business, and a Bachelor of Arts in Music and German from Illinois Wesleyan University.
Emily McKenna – Emily McKenna holds the position of School & Community Programs Coordinator at Krasl Art Center, as well as being a member of the Teaching Faculty. She received a Bachelor of Fine Arts with an emphasis in Visual Studies and a Minor in Philosophy from Grand Valley State University. McKenna is continually trying to involve the community in her professional work, through outreach initiatives and figuring out various opportunities for the community to be engaged and involved at Krasl. She is also a practicing artist, in which community is a dynamic element in her work.
Sheila Bolda – Michigan native Sheila Lynne Bolda has been active in the theater and entertainment arts for nearly 30 years. Possessing a Bachelor of Arts in Technical Theater Design from Western Michigan University and a Master of Arts in Cinema Studies from the Savannah College of Art and Design, Sheila is currently the Executive Director of the Sturges-Young Auditorium in Sturgis, Michigan, where she oversees the daily operations of the multipurpose center that hosts numerous events throughout the year. Ms. Bolda's work also encompasses her time as the Programming Director for the Savannah College of Art and Design's Trustees Theater and Savannah Film Festival from 2002 to 2017, where she continues in an ad hoc basis as the lead shorts programmer for the 22-year-old, world-renowned film festival. She was one of the founding partners of Savannah Shakes, a non-profit community theater company that performs twice annually, and has directed numerous live stage productions throughout the years. Ms. Bolda is an avid kayaker and film lover and studied taxidermy for a short while under the tutelage of her father Ralph, a world renowned taxidermist and head instructor at the only licensed school of taxidermy in the state of Michigan.
Shawntai Brown – Shawntai Brown is a Detroit writer, literacy coordinator and teaching artist with a Bachelor of Arts in creative writing from Western Michigan University and a Master of Arts in Literacy Learning Education from Marygrove College. Her experience spans skill development and literacy and arts education, working as a tutor, adult educator, after-school leader and curriculum developer. In addition to her current role as Schools Coordinator with InsideOut Literary Arts Project, she serves as a resident playwright adviser for Queer Theater Kalamazoo, is a member of Extra Mile Playwrights Theatre, and enjoys freelance projects for various cultural organizations. Her poetry and plays have been performed and published in various venues and publications, including the upcoming anthology 48 Hours in Detroit through Harlem9 and the 2019 season of Detroit Fringe Festival.
Veronica Campbell – In her young career, Veronica Campbell has been a consummate professional. She continues to push both herself and her staff in an effort to foster positive relationships with the community and bring the Port Huron Museums to new heights. Veronica finds genuine inspiration in the Blue Water Area and eagerly seeks to develop new and improved offerings as well as effective community engagement, awareness, and accessibility, which all assist in ensuring the museum is set-up for long-term, growth and sustainability. Since joining the Port Huron Museum staff, she has been instrumental in the overhauling of many vital aspects of the Museum's curatorial, educational, and administrative processes. Stepping into a leadership role in 2018, Veronica has made the community and partnerships her main focus. She is honored to have the trust of the Board of Directors and is looking forward to working with them and other community partners to create a thriving museum.  When not serving as the Museum's Executive Director, Veronica loves getting in trouble with her 11-month old daughter, husband, and two dogs at home or their summer cottage. Although always busy with work, Veronica enjoys planning trips for her family and exploring her beloved home state of Michigan.
Matt Chung – Matt Chung works at the College for Creative Studies on the operations of the Sponsored Research Projects program as Manager of Corporate and Community Partnerships. Matt has also taught as an adjunct instructor in the Photography Department at CCS. Additionally, he holds an MFA in Imaging Arts from the Rochester Institute of Technology. Previously, he was the Deputy Director at the non-profit Detroit Experience Factory. Matt is an active member of the non-profit community in Detroit. He reviews grants for CultureSource, has lectured at BUILD Institute and is a graduate of the Detroit Regional Chamber Leadership Detroit class XXXIX. He has also served as a non-profit mentor for the Young Southeast Asian Leaders Initiative, a program of the U.S. Department of State.
Stephanie Glazier – With a passion for the arts in public life, Stephanie Glazier has created community-based arts programs, including developing and launching Michigan's first Poetry in Motion campaign and creating a weekly radio segment called "Public Poetry Announcements" in Lansing, MI. As a co-founder of the Center for Poetry at Michigan State, she designed and implemented reading series, educational programs and community outreach projects. Following some years in Portland, Oregon, she currently serves as the Stewardship Coordinator at the Detroit Symphony Orchestra. As a poet and critic, Stephanie's poems and prose have appeared in the Alaska Quarterly Review, Iraq Literary Review, and in Reading and Writing Experimental Texts: Critical Innovations (Palgrave 2018). She was a Lambda Literary Fellow in poetry, holds an MFA from Antioch University LA and serves as the poetry and profiles editor for Gertrude Press. Learn more at stephanieglazier.com.
Megan Heator – Megan Heator was born and raised in Southeastern Michigan. She holds a BS in Anthropology and Classics from Grand Valley State University. She worked for five years within the Grand Rapids museum scene as a volunteer, intern, and employee. After moving to Traverse City, MI, she accepted a job at the Dennos Museum Center and rose through the ranks to Operations Manager. Between handling the museum's budget, coordinating volunteers, and managing all museum and rental events, she serves on the board of the Northwest Michigan Arts & Culture Network.
Jenny Jones – Jennifer (Jenny) Jones possesses over 18 years of office administration, event planning and scheduling, coordination, customer service, and team leadership experience in the management consulting, educational, philanthropic, arts management, and staffing fields. She is a classically trained pianist, learned cello at an early age, taught herself acoustic guitar, and then began leading music within a college group at The University of Michigan and Eastern Michigan University. Jenny has one full-length album release, and continues solo as well as collaborative songwriting within the Ann Arbor artist community. She is also the owner and founder of Sadie Madden Music (SMM), a music marketing, management, and publishing company founded in 2011. SMM exists to accentuate the giftings of musicians, to make known the opportunities that venues have for musicians, and to influence change between the artist, the community, and local businesses. Jenny is currently on staff with new Michigan-based nonprofit Title Track as its Administrative and Development Associate; is the music programming manager at Cultivate Coffee & Tap House, a nonprofit entity serving the Ypsilanti community; is a member of The Ark-Ann Arbor's Marketing Committee; and has worked with the Ann Arbor Summer Festival's management team as part of the Planning Advisory Committee. Jenny advises a number of southeastern Michigan venues and artists to provide booking, social media coordination, marketing, and publicity.
Sarah Miller – Sarah followed in her big sister's footsteps and started dancing at the age of 4. She danced in various studios in the Lansing area, studying Ballet at first and then moving on to explore Jazz, Tap, Hip Hop, Modern and Creative Movement. Sarah continued to dance and began teaching during her time at Alma College where she earned a Bachelor's degree in Integrative Physiology and Health Science and minored in Psychology. While at Alma Sarah discovered the field of Dance/Movement Therapy and feel in love with the idea of being able to help others through dance. From there Sarah went on to get her master's degree from Sarah Lawrence College in Dance/Movement Therapy. Since moving back home Sarah has worked with everyone spanning from early childhood all the way to geriatrics. Sarah is excited to be part of the growing arts community in Grand Rapids, and strongly believes in the healing power of the arts. As a Board Certified Dance/Movement Therapist Sarah believes if you can move, you can dance! She loves to help everyone she works with experience the joy of dance!
Ashley Ross – Ashley Ross has been in the museum field for almost 15 years and has held positions in art, history, anthropology, and historic house museums. Ross holds a master's in arts degree in Anthropology with a concentration in Museum Studies from Wayne State University and a bachelor's in arts degree in Anthropology with a concentration in Archaeology and a minor in Art History from Oakland University. Her work in museums focuses on education, curation, and collections care and management. Ross has dedicated her career to arts and culture in the state of Michigan and has volunteered for the Michigan Museums Association for the past four years. She also serves on the steering committee for the Gender Equity in Museums Movement. Her passion is with historic house museums and making them relevant to all members of their communities. Ross is a fulltime museum professional, mom of two toddlers, and wife. Originally from Traverse City, Ross has lived in the metro-Detroit area for almost 20 years and has worked in Flint for nearly a decade at the Flint Institute of Arts and now at the Ruth Mott Foundation.
Kelly Rossi – Kelly Rossi manages the out of school arts education programs for Y Arts, the Arts and Humanities branch of the YMCA of Metropolitan Detroit. While managing the Y Arts outreach team, she provides professional development and training that she has received through various YMCA and Department of Education conferences. Kelly has a Bachelor of Fine Arts from Wayne State University in the field of Theatre, with a concentration in Acting. Kelly Rossi has been Executive Director of BoxFest Detroit, an annual theatre festival that showcases and supports local female identifying directors, since 2005. She is an actor, playwright, and mentor in the theatre community in metro Detroit. Kelly recently stepped into the role of The Improv Project Coordinator, and is thrilled to be a part of such an important program that places arts into after school, and teaches creative skills vital to children, our future leaders.  Kelly is committed to training educators, youth and adults the power of Improvisation.
Taylor Rupp – Taylor is the Membership and Programs Manager at the Arts Council of Greater Lansing. She is a Saginaw native, but a Lansing transplant, earning her M.A. in Arts & Cultural Management in 2016, and a B.A. in Interdisciplinary Studies in Social Science, as well as Minors in Theatre and Arts & Cultural Management from Michigan State University. The Arts have been a part of her life since a young age and she has always felt compelled to pursue them. During her time in Lansing, she has gained both academic and professional experience in the Arts, focused around programming, community development, educational outreach, and grant writing. She served as Grant Coordinator for the Anton Art Center in Mt. Clemens, Ml where she facilitated the MCACA's Regranting Program for Region 10b, as well as developed funding proposals to support the organization's programming objectives. She has also worked for arts organizations such as the State-wide arts agency Michigan Council for Arts and Cultural Affairs and the Wharton Center for Performing Arts. Whether studying the Arts in New York City, or being a teaching artist in Lansing schools, Taylor is dedicated to connecting communities through a mutual passion for the purpose of life: creation.
Kelly Stuible-Clark – Kelly Stuible-Clark holds a Master of Music from Southern Illinois University Carbondale in Opera & Musical Theatre Performance, and a Bachelor of Science from Central Michigan University in Vocal Performance. As Manager of Musical Theatre Programs with Wharton Center's Institute for Arts & Creativity, Kelly manages many educational and outreach programs for students across the state of Michigan. Kelly is also adjunct faculty at Lansing Community College, where she has taught private voice, musical theatre technique, commercial voice class, voice for the actor, and directed the LCC Concert Choir and Vocal Jazz & Pop Ensemble. Other previous appointments include adjunct faculty at Saginaw Valley State University, instructor at Dynamics Music School, and Chancel Choir Director at FCUCC in Grand Ledge, MI. A Lansing native, Kelly is proud of her work with local community theatre companies, onstage and off, and most recently of her involvement on Lansing's Mayoral Arts & Culture Commission and the board of directors for Michigan Youth Arts.
Nafeesah Symonette – With a Bachelor of Fine Arts in drawing and painting, K-12 teaching certification and a Master of Art in Arts Administration from Eastern Michigan University, Nafeesah Symonette prides herself as a champion of art education and arts advocacy. Her research is concentrated in the aforementioned areas with a focus on culturally responsive pedagogy, the preparation of professional development for art educators and professional teaching artists. With thirteen years of teaching experience, Nafeesah is well versed in best practices for the art educator's classroom. As a past recipient of the District of Columbia's Mayor's Art Award for Excellence in Visual Art Secondary Teaching, it goes without saying that Nafeesah is incredibly passionate about art education, advocacy and program development. Currently, Nafeesah serves as the Manager of Art Education at Paint Creek Center for the Arts in Rochester, Michigan. Her goal is simple, to support the opportunity for access, outreach and expansion of the arts in an effort to improve individual and community outcomes. Nafeesah is happily married to her wonderful husband, Nicholas who continues to nurture her dreams. Together they have two little people who keep them on their toes and in constant pursuit of a more colorful world.