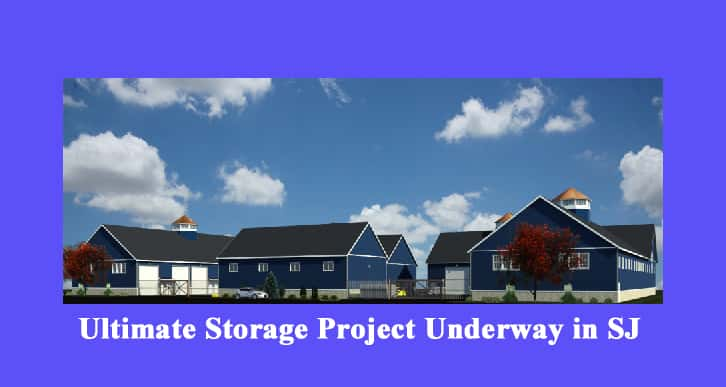 If all you want is a roof overhead and a concrete floor, there are many storage options across the region, but a trio of investors know that there are many who place considerably higher value on their top flight boats, classic cars and recreational vehicles in search of finer quarters for the care of their cargo. That's why they have created Ultimate Storage of St. Joseph, a major project now underway on Marina Island between the St. Joseph River and the Morrison Channel.
Daniel Crist, Don Kessler and Doug Laraway laid out plans last summer before the St. Joseph Planning Commission and the City Commission in search of approval for their "luxury garage suites" on the island along Anchors Way in the city. They have officially broken ground on the $3.25-million development which will feature 23 luxury garage suites over 1.75 acres with convenient access to Lake Michigan and the St. Joseph River. It's right in the center of a cluster of five local marinas including Anchors Way Marina, Brians Marina, Pier 33, Pier 1000 and Island Pointe Marina.
Ultimate Storage specializes in sleek, privately-owned, storage solutions for cars, boats, motorcycles, RVs and other valuable property in a climate-controlled atmosphere. Developers tell us that when complete, Ultimate Storage will be the first to offer storage solutions of that nature: seamlessly combining a solution to store an individual's most prized possessions and the extra space to explore personal hobbies and interests.
Co-owner Daniel Crist tells us, "Ultimate Storage is truly unlike any other facility of its kind in the area," and adds, "Southwest Michigan is a haven for luxury boats and collector cars, and we know our garage suites will make a welcome addition for the owners."
The build out consists of three indoor storage facilities on a gated property with an extra wide drive to accommodate oversized vehicles, and hydraulic boat trailers, security cameras and outdoor lighting. The St. Joseph location includes a sleek exterior, masonry rock, and metal accents.
Each basic unit is totally customizable with water, sewer, kitchenette, bathroom with shower, individually climate controlled, 20-ft ceilings, 16×18-ft overhead door, a basic mezzanine and service door. Upgrades can include a mezzanine or loft with hardwood floors and custom railings, plumbing, and is wired for phone, cable and Internet. Epoxy garage floors, upgrade cabinets and lights, tile or wood floors, drywall walls, custom rails, and garage door openers are also upgrade options.
Co-owners, Don Kessler and Doug Laraway explained that Ultimate Storage is more like a condo than a storage unit and say they are excited to bring something new to the marina areas of Southwest Michigan.
Construction began in the fall and the first units will be ready for occupancy in June 2020. Units are still being reserved for phase two, which is set to begin in the summer of 2020. You can contact Don Kessler at (269) 208-6896 for reservation information. For more information about Ultimate Storage visit online at the link below or contact Dan Crist at (269) 944-9962. Here's the direct link: