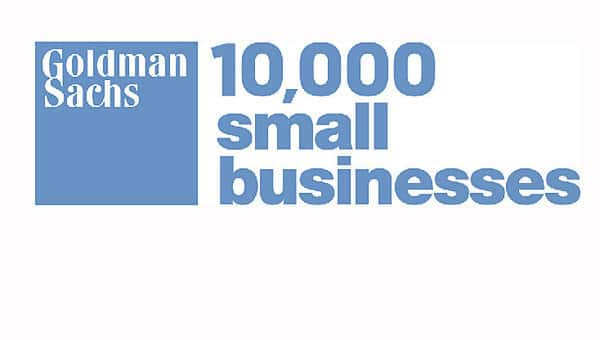 What if your small business could tap into a network of like-minded business owners from across the nation? And…what if that same opportunity gave you instant access to expert business guidance for your own small business operation? Best of all…what if you could gain that expert business guidance in one-on-one sessions? Well, if your business qualifies you could earn all of that and more thanks to a unique opportunity to apply for the Goldman Sachs 10,000 Small Business Program through Cornerstone Alliance and the Women's Business Center.
Goldman Sachs 10,000 small Businesses initiative (abbreviated as 10KSB) is aimed at boosting job growth across the nation. The program targets entrepreneurial owners of small companies across the nation who are poised for growth and ready for the benefit that accrues to access to education, a support network, expert guidance and one-on-one sessions.
Launched at Babson College in Wellesley, Massachusetts, the 10KSB program is available to qualified small business owners who meet a particular set of criteria for acceptance into the program. Those criteria include:

Businesses in operation for a minimum of two years…
Businesses with revenues of at least $150,000…
Businesses who employ a staff of at least four…
Companies who are passionate about growing their business…
Typically, 10KSB courses are conducted in various cities across the United States to facilitate the curriculum. The Goldman Sachs crew is allowing eligible businesses in Berrien, Cass and Van Buren Counties that are accepted into the 2016 fall program to participate remotely through weekly online course work, and two mandatory on-site visits to Babson College.
The online program will begin on August 29, 2016 with an orientation and will conclude on November 19, 2016. Each week students will work on various topics related to their business growth. The two on-site courses at Babson College are scheduled for September 27th through October 1st; and November 14th through the 19th.
Tuition for 10KSB is free and all reasonable expenses are paid for the two on-site sessions at Babson College. The program's curriculum focuses on skills that can be applied immediately to the businesses' growth plan, including identifying and evaluating business opportunities; managing the competitive business environment; and access to financial capital.
Qualified small businesses are encouraged to complete the application by clicking the link below. (Please note the Referral Source which is Question #1 on the application-indicate other) should include: Women's Business Center at Cornerstone Alliance.) Applications are being accepted through Wednesday, April 20, 2016.
According to Margaret Adams, Manager of the Women's Business Center at Cornerstone Alliance, "The opportunity for small businesses in our tri-county service area who meet the criteria and are accepted into the program is outstanding." She adds, "The 10KSB program is focused on their growth plans which will be completed as part of the curriculum. The content and business guidance offered will be invaluable."
For more information on this program, visit www.GoldmanSachs.com/citizenship/10000-small-businesses/US/ or you can contact a team member of the Women's Business Center at Cornerstone Alliance directly at 269-925-6100 or at info@wbc.com.
Here's the link to the application process: http://10ksbapply.com