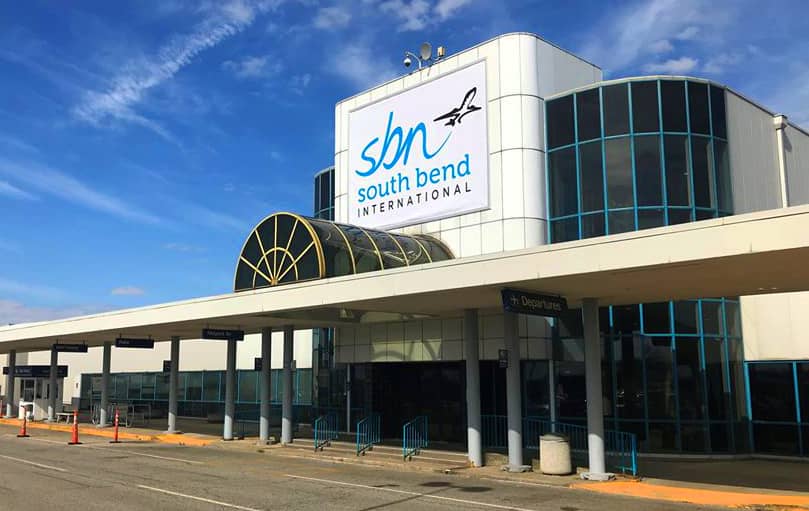 United Airlines is beefing up its South Bend flight schedule specifically for several Notre Dame football games this fall.  Traffic at South Bend International Airport is dramatically affected when the Irish welcome  rival teams, or even when the team hits the road for a big game.
United announced the following additions or changes:
SBN – ORD departs Sept. 24 and returns Sept. 25 for Notre Dame vs. Wisconsin at Soldier Field (additional frequency)

SBN – ROA departs Oct. 8 and returns Oct. 10 for Notre Dame at Virginia Tech

ORD – SBN departs Oct. 22 for USC at Notre Dame (additional frequency)

LAX – SBN departs Oct. 22 and returns Oct.24 for USC at Notre Dame

RDU – SBN departs Oct. 29 and returns Oct. 31 for North Carolina at Notre Dame

SBN – CHO departs Nov. 12 and returns Nov. 14 for Notre Dame at Virginia

ATL – SBN departs Nov. 19 and returns Nov. 21 for Georgia Tech at Notre Dame

SBN – SFO departs Nov. 26 and returns Nov. 28 for Notre Dame at Stanford
"We are excited to welcome football fans back to South Bend," said Mike Daigle, CEO and executive director at SBN. "United's commitment to get fans to and from home and away games adds to the excitement of the return of college football."
"Nothing brings people together like the opportunity to cheer on the teams they love," said Ankit Gupta, vice president of domestic network planning at United. "This upcoming season, United is adding even more direct flights to college and professional football games than we've ever added before so our customers can reunite with the teams, tailgates and touchdowns they may have missed last season."
Tickets are on-sale now at https://www.united.com/en-us/game-day. For additional details on flights United is flying this football season visit the United Newsroom.
 About South Bend International Airport
South Bend International Airport's four air carriers provide nonstop flights to twelve cities: Atlanta, Charlotte, Chicago, Dallas/Fort Worth, Detroit, Fort Myers/Punta Gorda, Las Vegas, Minneapolis, Orlando/Sanford, Phoenix/Mesa, Sarasota/Bradenton, and Tampa Bay/St. Petersburg with connections world-wide.