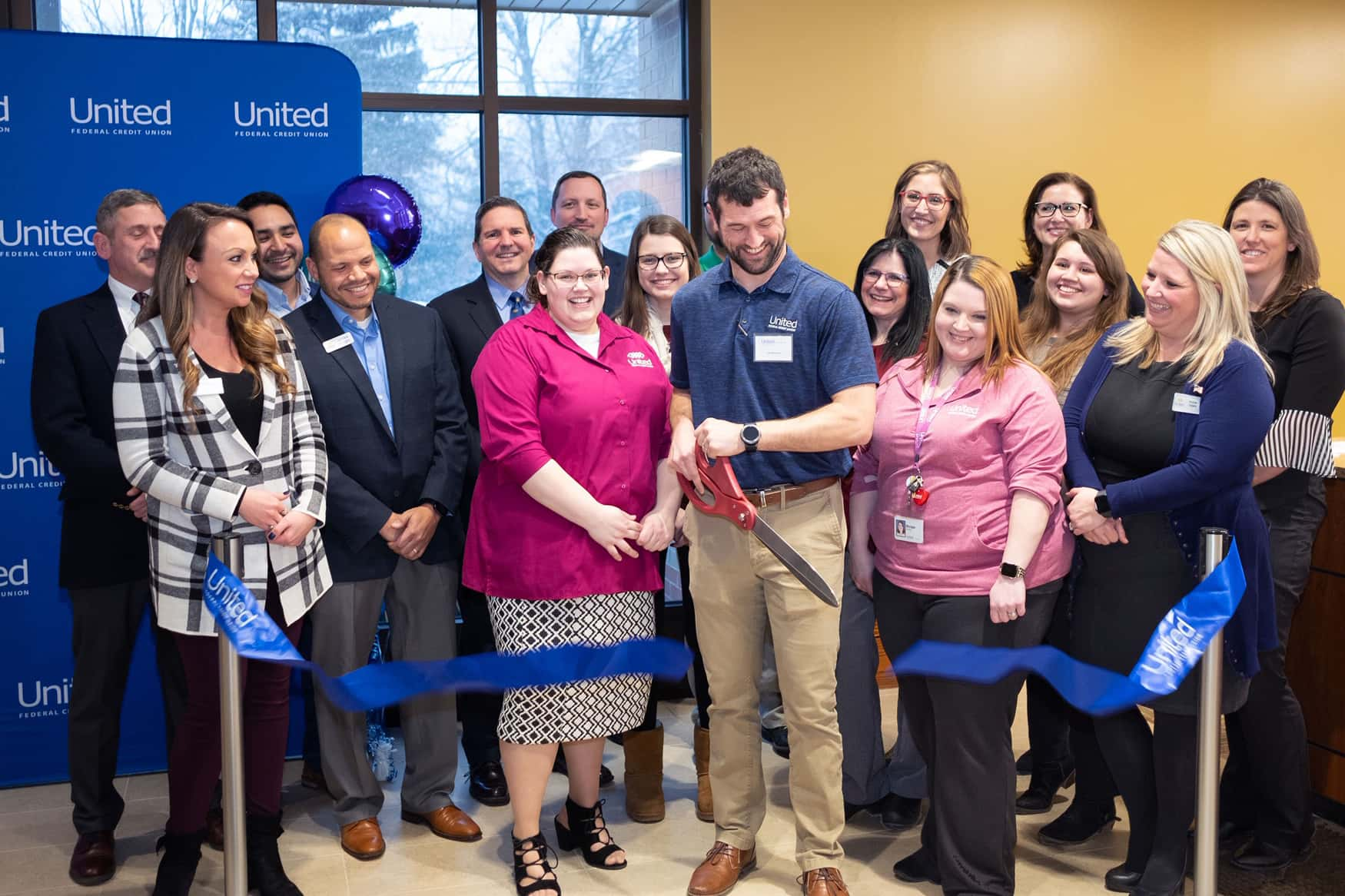 Some 83 years after putting down roots in the community of Buchanan, the team at United Federal Credit Union celebrated the grand re-opening of their branch there this week with a ribbon cutting ceremony on East Front Street.
United has called Buchanan home since 1937 when it was originally known there as the Buchanan Clark Employee Credit Union. Today, United serves members throughout Michigan's Great Southwest in Benton Harbor, Berrien Springs, Buchanan, Holland, Niles, St. Joseph, and Stevensville.
On Thursday, February 13th, the branch, which is located at 808 E. Front Street marked the occasion after it was recently remodeled in an effort to provide greater convenience and service to members, and to create a welcoming place for the community to visit and learn how United can help them with personalized financial solutions.
Thad Payne, United Federal's Regional Market Development Manager, says "United has its very roots right here in Buchanan, and we want this branch to continue to be a source of pride for our members and this community," adding, "This remodeled branch will ensure we are around to serve Buchanan for many years to come and to provide financial advice and services to our Members, as we do our part to help this community be the best it can be."
Bill Beckman has led the Buchanan branch since August of 2018 as Branch Manager. Beckman has been with United since 2013, previously serving as e-commerce sales and service outbound sales manager in St. Joseph since 2016. Prior, he was assistant branch manager at the Berrien Springs location from 2013 to 2016.
Beckman says, "This is a celebration of a promise by United to this community that no matter how times change, we will always be here to help improve the financial lives of our members," and concludeds, "The credit union philosophy is all about 'people helping people,' and the team at United is driven to provide the best experience possible to our members and to invest in the places we call home, like Buchanan."
United began remodeling its Buchanan branch in August of 2019, led by The Redmond Company. It is a full-service branch with personal and business banking services including loans, mortgages, investment services.
United Federal Credit Union has served its members since 1949 by helping them to build a sound financial future, and consists of more than 177,000 Member/owners worldwide while managing assets in excess of $2.9 billion. Their corporate offices and main branch are in St. Joseph with additional branches elsewhere in Michigan as well as in Arkansas, Indiana, Nevada, North Carolina, and Ohio. For more information visit online at www.unitedfcu.com.