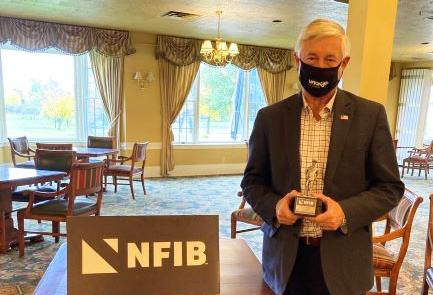 Not only does the National Federation of Independent Business view Congressman Fred Upton as one of their "Guardians of Small Business," they call him "a true champion" of small business in Michigan and across America for more than 20 years now.
One of Michigan's leading small business organizations, the NFIB has announced that "A great friend of small business, Rep. Fred Upton, is the latest recipient of the Guardian of Small Business award." That award is reserved for lawmakers who vote consistently with small business on key issues of importance to their survival.
NFIB Assistant State Director in Michigan, Amanda Fisher, presented Upton the award in Lansing this week. Upton has served as Michigan's 6th congressional district representative since 1987. Prior to his first election, Fred also served on the congressional staff of Michigan Congressman David Stockman from 1976 to 1980 and in the Office of Management and Budget under President Ronald Reagan from 1981 to 1985.
Fisher says, "Rep. Upton is a true champion of small business. He understands the struggles and hurdles that Michigan small business owners face every day, especially during this pandemic, which has crushed many entrepreneurs throughout the state." She adds, "NFIB members appreciate his commitment to vote and act on their behalf. Rep. Upton has been a strong supporter for Michigan small business owners in Washington for more than two decades."
For his part, Upton says, "Small businesses needed a lifeline this year, and we helped deliver the Paycheck Protection Program to keep their doors open and protect jobs. They are certainly not out of the woods yet, though. I will continue our fight to support small businesses, deliver liability relief, get them the assistance they need, and bring back jobs. I will always have their backs, and I am honored to receive the NFIB Guardian of Small Business Award."
Highlighting the problem is a recent NFIB survey, which found that the vast majority of small business PPP borrowers (86-percent) have spent their entire loan and are ready to apply for loan forgiveness. After using the PPP loan, 22-percent of borrowers anticipate having to lay off employees in the next six months due to the pandemic.
NFIB's Guardian of Small Business Award is reserved for lawmakers who vote consistently with small business on the key issues identified by small business owners. Those who voted with small business on key issues 70-percent or more of the time during in the 116th Congress earned the NFIB Guardian of Small Business Award this year. NFIB informs lawmakers in advance which votes will be considered NFIB Key Votes and asks lawmakers to support the consensus views of its members. They also remind them that the results will be reported back to the NFIB membership regularly.