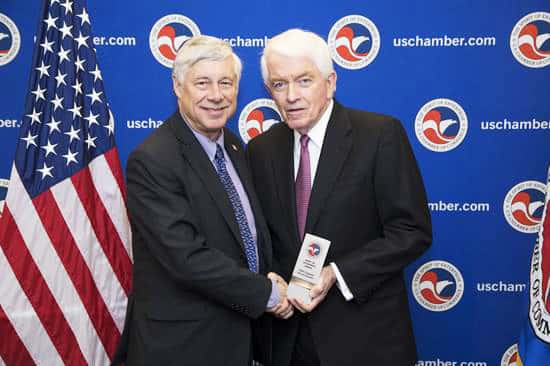 Every week when he returns to Michigan's Great Southwest, Congressman Fred Upton makes it a habit to visit at least one school to talk to students across the 6th Congressional District and you will often find him with hard hat, protective eyewear and/or hearing protection as he heads into the workplace of many industrial companies, manufacturing plants, and other business enterprises. He is laser focused on education and on the state of American manufacturing, always working on job creation and economic growth.
As a result, it comes as little surprise that the St. Joseph Republican lawmaker stepped up late last week to accept the Spirit of Enterprise Award from the United States Chamber of Commerce at their Washington D.C. headquarters across Lafayette Park from the White House.
Upton received the award for his 100-percent score on business issues in 2018 — the only member of the Michigan Congressional Delegation to receive a perfect score on the list of issues near and dear to the American business community. The award is given annually to members of Congress based on their votes for pro-growth economic issues.
Upon receiving the award from Tom Donahue, the President & CEO of the U.S. Chamber, Upton said, "Job creation and economic growth have always been a couple of my top priorities for southwest Michigan families," and added, "It really is an honor to be just one of 16 members in the U.S. House and Senate to receive a 100-percent score in 2018. Moving forward, I am committed to continuing to fight for bipartisan policies that will spur job growth, grow the economy, and deliver real results for Michigan's Sixth District."
Donahue says, "Every day, all across the country, America's business owners and job creators serve their communities and strengthen their economies. We commend those leaders in Washington who recognize the vital role these businesses play and support them through commonsense, growth-oriented policy." He adds, "By advancing good legislation, these members of Congress are helping businesses grow and thrive, keeping our economy strong, and promoting the free enterprise system that drives opportunity and prosperity."
During the second session of the 115th Congress, the Chamber scored members on 10 Senate votes and 12 House votes on legislation related to, for example, reducing health care costs, strengthening our immigration system, expanding access to capital, and combating the opioid crisis. This is the 31st year that the U.S. Chamber has formally honored the accomplishments of this select group of members of Congress.
Upton has a lifetime score of 94-percent with the U.S. Chamber.