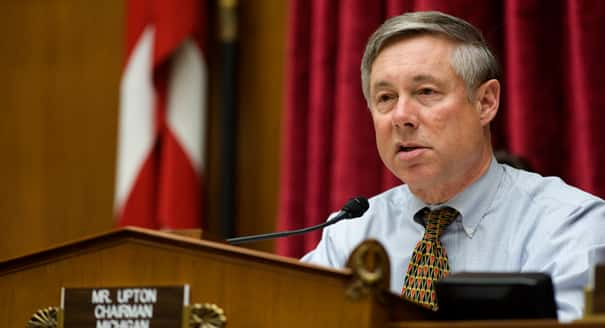 Last November, Congressman Fred Upton penned a letter to the Department of Energy in support of proposed research at Western Michigan University focusing on how to create more cost-effective lithium-ion batteries for electric vehicles and other consumer goods.
Today, Upton is celebrating the announcement that the Department of Energy's Office of Energy Efficiency and Renewable Energy has awarded a nearly $9.6 million grant to Western Michigan University for that project titled, "Enabling Advanced Electrode Architecture through Printing Technique."
Upton says today, "This is spectacular news for Western Michigan and the Kalamazoo community, and I am so proud to continue supporting the work of this incredible institution." The Congressman adds, "The research that WMU is doing in the field of energy storage, energy efficiency, and sustainability has the potential to be a real breakthrough for battery electric vehicles. To be awarded this DOE grant speaks to WMU's continued outstanding work. I look forward to seeing their research that will certainly continue to make a positive impact on our environment and our economy."
The main objective of Western's project is to develop a low cost and high throughput manufacturing process to produce fast charging batteries with high specific energy and longer life cycles, which are needed for a number of consumer electronics, drones, portable devices, and electric vehicles.
Dr. Qingliu Wu, an assistant professor of WMU's Department of Chemical and Paper Engineering, will be the principle investigator of the project. He will lead the project team of scientists and engineers researching and developing this innovative printing technique to manufacture advanced electrodes for fast charging Li-ion batteries.
Dr. Terri Goss Kinzy, Vice President for Research & Innovation at Western Michigan University, says, "Dr. Wu's unique application of advanced materials to address global energy concerns will have significant impact on a matter of great national importance," and adds, "His research exemplifies the public impact focus of work at Western Michigan University."
Upton hosted Dr. Wu at the Energy and Environment Innovation Showcase in Washington, D.C. in December of 2019. Wu had an opportunity to present his research firsthand to Upton and a number of members of Congress at that event.
Across the University and in multiple disciplines, WMU has a long history of scientific discovery and innovation designed to improve energy efficiency and to advance sustainability.
Dr. Wu joined Western Michigan University in August of 2017 as an Assistant Professor in the Department of Chemical and Paper Engineering. Prior to joining Western Michigan University, Dr. Wu was a Senior Research Scientist at Navitas Advanced Solutions Group from 2015 to 2017. Dr. Wu also received a three-year postdoctoral training in the Chemical Sciences and Engineering Division at Argonne National Laboratory.