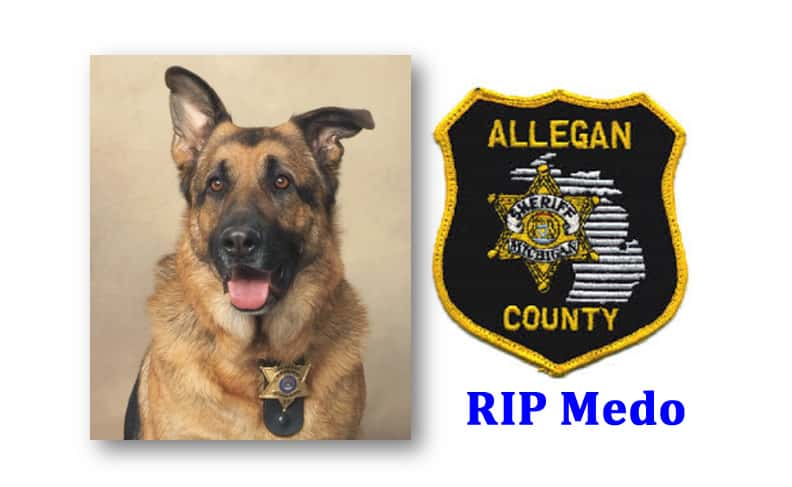 An intrepid member of the Allegan County Sheriff's team has died after eight years of faithful service to the entire community including a more than 6-hour search for a missing two year old back in 2015. K9 Officer Medo has passed this morning according to authorities with the department. Here is their message released this afternoon:
It is with great sadness to share with all of you that one of our K9's, Medo, has passed away earlier this morning, he would have been 9 years old in July. Medo has been with our Office since 2011 and was partnered with Deputy Ben Haas. Our Office received Medo as a gift from the Gun Lake Tribe and Casino in 2011 when Medo was 11 months old. As with all our K9's, they become a part of their handler's family; our thoughts and prayers are with the Haas family during this time.
In his career, Deputy Haas and Medo were active in hundreds of cases including suspect apprehension, locating multiple missing persons and lost children, drug interdiction, and school programs from instructional demonstrations to drug searches. 
Deputy Haas said that his most memorable search was in May of 2015, when Medo and Deputy Haas were called to locate a 2-year-old who had gone missing from his home. Medo and Deputy Haas searched for over 6 hours and were able to locate him.
Sheriff Baker had this to say: "Medo was very loved by everyone that met him especially children and was a valued member of our Office, who served us well. A few years ago, he was responsible for saving the life of a small child who had wandered off from home during inclement weather.  He will be missed."
No further details regarding Medo's passing were made available.