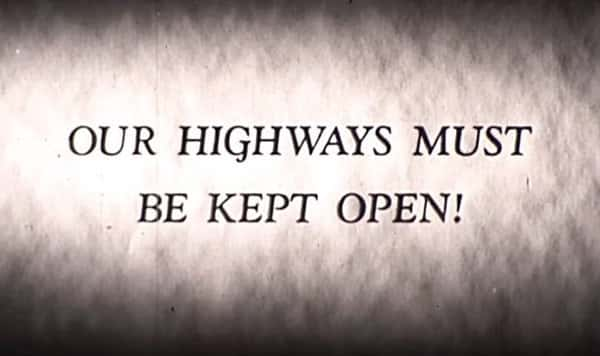 With a few exceptions, the wheels of commerce have been able to roll smoothly so far this winter, and we're already on the doorstep of Punxatawney Phil's annual spotlight on the final six weeks of winter. Most major transportation lines have found relatively mild conditions this winter, keeping goods and services moving and hopefully saving the Michigan Department of Transportation a few bucks along the way. It hasn't always been that way, according to a delightful new discovery by MDOT crews.
After spending decades in a basement in the eastern Upper Peninsula, a 1930s-era newsreel from the Michigan State Highway Department has resurfaced to remind us of the challenges – and the fun – of winters past.
The film, "Winter Comes to Michigan", created by the precursor agency to the Michigan Department of Transportation (MDOT), gives us a black-and-white window to the era when Murray Van Wagoner, a future Michigan governor, ran the department from 1933-1940. There's a link to the film at the end of this story.
The film was one of several reels found by sisters Nancy and Barbara Sleeper of Newberry. They discovered them in their mother's basement and wanted to preserve them as part of their family heritage. Nancy explains their deep interest saying, "Our grandfather, Sanborn Sleeper, was the superintendent of the Luce County Road Commission from 1928 until sometime around World War II." She believes he acquired the films during that period.
Sanborn Sleeper was instrumental in bringing the Snogo, an early snow blower, to Michigan, according to Nancy. Some of the reels featured film of the Snogo equipment being tested near Newberry.
Nancy says, "We saw the 'Winter Comes to Michigan' film and thought, gee, this is some great footage of those old-time 'busy highways.'" She adds, "They were so interesting, we couldn't see just holding onto them." So the Sleeper family donated the original reels to MDOT. They've now been digitized, restored and uploaded to the department's YouTube channel.
The film's "man against nature" theme focuses on the challenge – as real today as it was then – of keeping roads open during Michigan's harsh winters.
The film's foreward sets the tone for the newsreel, telling us, "Winter maintenance is a gigantic task for heroic men and efficient machines. It is a public service fraught with grave responsibilities. OUR HIGHWAYS MUST BE KEPT OPEN!"
Winter travel before modern highways was not an easy ride. The season was something to be survived, not enjoyed. As the narrator intones, "Yes, winter is a season of unusual beauty." Then suggests, "Only a brief score of years ago, however, the idyll of winter brought only the sad realization of a long season of isolation."
Modern highways and winter snow removal equipment changed all that. With the advent of reliable winter maintenance, the film suggests, the state's growing highway system opened up winter as a playground for sports, recreation and tourism.
The film shows residents enjoying outdoor winter fun at locations such as Ishpeming's Suicide Hill ski jump, fledgling downhill ski areas, outdoor public ice skating rinks and an elaborate toboggan run. Filmmaker and author Bill Jamerson, whose documentaries have explored winter sports and other aspects of state history for Michigan Public Television, said many of the film locations were probably in the U.P., while the toboggan run scene was probably filmed at a winter sports park in Grayling.
Most of these winter parks started in the late 1920s, according to Jamerson. His "Winter Wonderland" documentary looked at the golden age of winter recreation from the 1930s through the 1960s, made possible via better automobiles and snow removal equipment.
Jamerson says, "Winter driving was hazardous, so this film goes a long way in showing that progress had been made." He adds, "Remember, up until WWII, snow trains brought people up to the Grayling winter sports park from Detroit. So, rail was considered the safe option for most people. Trains were also bringing people from Chicago and Milwaukee up into Iron Mountain."
Transportation – even in this period before the Mackinac Bridge – helped boost the state's winter tourism by allowing safe and reliable winter travel. It also may have helped end this golden age. When air travel became routine, more and more Midwesterners headed to the higher slopes and newer resorts out west.
Jamerson says, "I think an important thing these film do is remind us who we are. For example, there once was a day when skating rinks were overflowing with families… it could happen again!"
Watching the film brought back vivid memories for one veteran ski-jumper. The late Rudy Maki was an honoree of the U.S. Ski and Snowboard Hall of Fame. At one point he says, "That's Ishpeming. That's Suicide Hill, back when it was smaller." Maki died unexpectedly on January 17th.
An Ishpeming native, Maki knew Suicide Hill well. He jumped competitively there at age 8 before earning the national championship in 1955 and setting hill records on jumps in Ishpeming and Iron Mountain.
One thing Maki said has changed since then: transportation. In the old days, ski jumpers traveled to tournaments – even across the country – by car. And then, only when the weather allowed. In 1947, Maki recalled, Ishpeming hosted a national championship, but a massive storm socked in the town and postponed the tournament for a solid week. Putting up all of the out-of-town visitors was costly.
"That," says Rudy, "was the year the ski club went broke."
Here's the link to the vintage newsreel. It runs a little under 11 minutes and is great fun to watch: