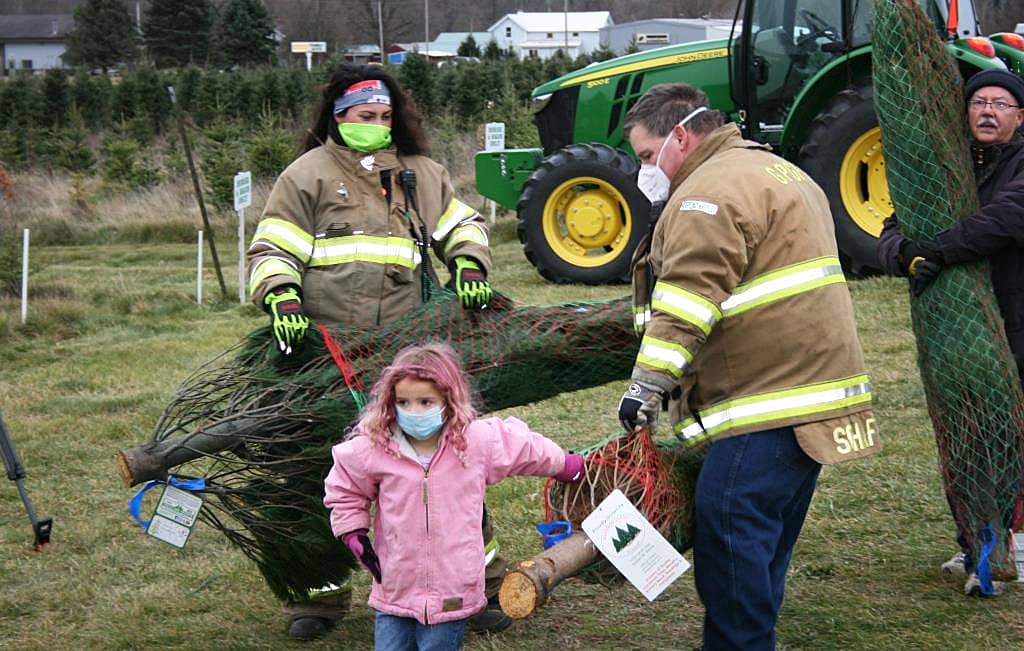 For more than a dozen years now Betsy Wahmhoff Perales and her family and friends have been "Delivering the spirit of Christmas to military families – one Christmas Tree at a time." That's the essence of the annual Trees for Troops Program which is staged in Southwest Michigan at Wahmhoff Farms Nursery on M-40 in Gobles.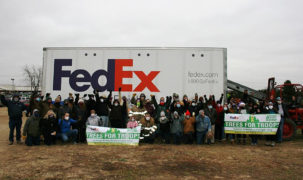 Yesterday was loading day, as has become tradition, and volunteers from far and near arrived at the farm and nursery filled with the Christmas spirit that was evident in the sparkle of the eyes of those taking part in the project. Ordinarily, you would see them beaming from ear to ear with big smiles, but those smiles were hidden behind masks and face guards this year due to the pandemic.
Wahmhoff Perales says, "Thank you all so much for your help in loading over 370 Christmas trees to go to military families through the Trees for Troops program." The farm has been participating in the program since at least 2006, along with other growers in the region. in fact, the following farms donated Christmas trees that were loaded at Gobles farm this year:
Armintrout's of West Michigan
Badger Evergreen
Peterson's Riverview Nursery
Wahmhoff Farms
This year's trees went to the following military bases:
Ft. Campbell in Kentucky
Ft. Rucker in Alabama
Ellsworth AFB in South Dakota
Coast Guard Station, Grand Isle in Louisiana
The Bayer Corporation and individuals from surrounding communities and even outside of Michigan donated more than 100 of the trees that were loaded onto two FedEx trailers for this year's Trees for Troops loading event on Monday.
FedEx donates all the miles they travel to deliver the donated Christmas trees through the Trees for Troops program to military bases across the country and overseas.
As a safety precaution this season, workers, as requested by the Trees for Troops/Christmas Spirit Foundation were asked to wear a mask or face guard while delivering Trees for Troops. Additionally, they asked that families, friends and base personnel also wear masks during the loading event, as well as being mindful of social distancing, even while off-loading trees.
Wahmhoff Farms also hosted hand sanitizing stations in several key areas around the loading center.
Wahmhoff Farms Nursery is a family-owned and operated Christmas Tree Farm in Southwest Michigan. They have been growing and selling quality Christmas trees for more than 70 years. The family business originated in Grand Junction but transitioned to Gobles, which is where they are now located.
Wahmhoff Farms Nursery is known throughout the industry for producing high quality trees and wreaths, and they have won several state competitions, providing them the honor of presenting Christmas trees and wreaths to the Governor of Michigan over the years, and in 2011 they won Reserve Grand Champion at the National Christmas Tree Association, giving the the unique honor of supplying the Christmas tree to the Vice President of the United States and his family.