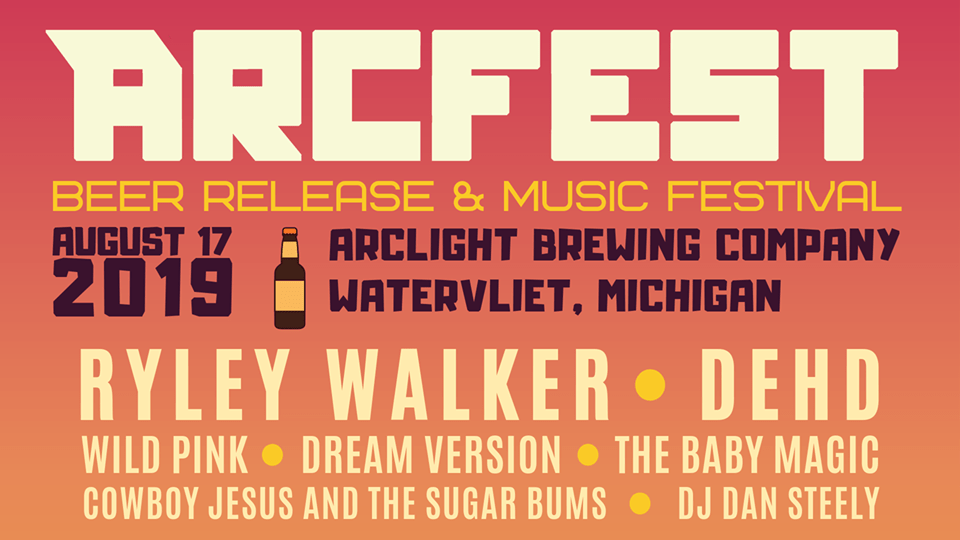 While many new business ideas have emerged from a quick sketch or outline on a cocktail napkin, the entertainment world seems to craft their great ideas over a couple of beers. Such is the case, certainly, for a brand new Summer Music Festival coming to Michigan's Great Southwest at Arclight Brewing Company of Watervliet.
Dave Coyle, Founder of Arclight Brewing, first met Michael Kunik through a mutual friend. Kunik, a member of the Chicago band Dream Version, has had a long-running desire to host a music festival in Southwest Michigan. Coyle decided almost immediately to make that dream a reality.
Coyle says, "Like all good ideas, we decided to do this over some beers. He had the vision and the talent connections, and I had the beer and the space. It was a no-brainer."
As a result, Arclight Brewing Company has announced its first-ever Arcfest – Beer Release and Music Festival. It's a day-long event slated to take place on Saturday, August 17th, 2019 beginning at 3:30 pm and will feature a limited release of Soursmith Red Raspberry with acclaimed guitarist and songwriter, Ryley Walker headlining. Click the link below for full details:
The idea for the festival has been a long-held one of Dream Version drummer, Michael Kunik, who says, "I think Southwest Michigan is one of the most awesome places in the world. I've always wanted to do something like this here with artists that typically wouldn't have much opportunity to play this area of Michigan, and Dave has given me a platform to make it happen."
Dream Version released their second full-length studio album in the Summer of 2017. The album and tour that followed allowed Kunik to build relationships that were key to securing the exciting line-up.  He says, "I've been lucky enough to meet some extremely talented musicians from across the country over the years. Coupled with guidance and input from some prominent music promoters in Chicago and the backing of Arclight, I am really proud of what we put together in a very short amount of time. My hope is to grow Arcfest every year and provide economic and entertainment opportunities to Watervliet and the surrounding area."
Acts include:
Ryley Walker
Wild Pink
Dehd
Dream Version
The Baby Magic
Cowboy Jesus and the Sugar Bums
Kalamazoo's DJ Dan Steely will provide music in between acts and after the headliner.
Following three well received albums, headliner, singer/songwriter Ryley Walker, gained international notoriety with his reinterpretation of an unreleased Dave Matthews Band album, the Lillywhite Sessions. He toured throughout late 2018 and the beginning of 2019 in support of Deafman Glance released on Dead Oceans in May 2018.
The Brooklyn band, Wild Pink, received an 8.1 rating for their second studio album Yolk in the Fur on trusted music website Pitchfork.
Dehd's 2019 record Water has also been critically acclaimed and landed them an opening slot for indie-rock darlings Twin Peaks this fall.
The line-up will be rounded out with popular Chicago based acts Dream Version, and The Baby Magic. The first band of the day is Cowboy Jesus and the Sugar Bums, a group of Chicago Public Schools students who started the band after meeting at The Old Town School of Folk Music.
Coyle says, "Watervliet has been such a great space for Arclight Brewing Company to thrive in. I see this as an opportunity to give back to the community, share it with people that may have never visited here, highlight the fantastic beer we make, and hopefully turn this into a large-scale annual event."
Arclight will be releasing their Soursmith Red Raspberry for the first time in 5 years for this inaugural Arcfest. Entry to the festival is $12, which comes with an option for ticket holders to reserve the right to purchase one large format bottle per ticket held.
There will be a limited number of bottles for sale, so securing tickets in advance is recommended for those interested in this option. This is an all ages welcome event, and kids under 12 do not require a ticket purchase. Tickets and more information are available at Arcfest.net