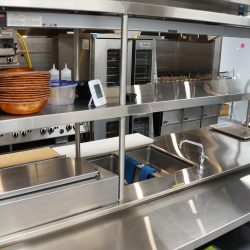 If you ever notched a mark or two in the weathered bar rail at the North Shore Inn, it's very likely still there. The kitschy bull mural taking up an entire wall is still there and has even been expanded to reach to the new higher ceiling. The original, seasoned grill top that produced the legendary and incomparable North Shore Classic Burger is still the epicenter of a massive new stainless steel showcase kitchen. But most importantly, "The burger is exactly the same," says General Manager Anthony Fulton, "We tested that out, and some of our own employees said they felt it was even bigger than before, but other than that, it is exactly the same." North Shore Inn fans can be comforted knowing all is well in their world when the Benton Harbor restaurant re-opens next week following a major makeover that took more than five months to complete.
You will likely see a blur of activity between now and Wednesday at the venerable and noteworthy 25 year old restaurant in the heart of the Harbor Shores Golf Resort community, but your chance to step up and order a burger of your own is on hold until 4pm on Wednesday, March 14th. If your travels take you by the restaurant project Monday and Tuesday evenings, you will undoubtedly see people inside sampling the wares. Those are individuals from the invitation-only, friends and family training events those days. The public is invited to return beginning at 4pm on Wednesday.
Restaurant owner Anne-Elise Lansdown says, "We're really excited to get things back open. It's been a long remodel, so we're excited to get burgers back on the grill and get people in here."
A substantive makeover has taken place, and you'll see it from the new glass windows and doors up front and when you find that the bar is considerably more shallow, but dramatically longer, resulting in lots of new real estate at the center of the restaurant for a series of new high top tables flanked by a long banquette along the back wall leading to the kitchen and dramatic new restrooms.
The expansive new kitchen gleams with yards of stainless steel and dramatic new elbow room for cooks, servers and employees who will be able to substantially reduce the delivery time of your favorite menu items. Thanks to smart re-use of the existing space and the expansion of the kitchen area, seating capacity leaps to 75 inside and 16 on the fenced-in patio porch being installed on the front of the building. That essentially more than doubles the previous cap of 42 seats in the house.
On the opposite end of the restaurant from the bull mural, the Jack Nicklaus mural has been replaced with one that portrays his now famous 100-foot putt on the 10th hole at Harbor Shores from the Champions for Change skins game of 2010. The new mural features a lot of "Easter Eggs" — hidden figures of local people, well known people and other things with unique stories behind each of the "eggs" portrayed there. That full wall mural was a top priority for installation ahead of the KitchenAid Senior PGA Championship which is now 75 days away. The same muralist who created the bull wall is finishing up the expansion and making sure that both portraits will last for many years to come.
New North Shore Inn General Manager Anthony Fulton has been working around the clock to get the Inn ready to roll. He told me this morning, "The staff is really excited about the new food menu items. We taste-tested about a third of the menu items (Thursday) and they were all very, very excited." He promises, "The burger is exactly the same." In fact only a small percentage of the menu is new.
One example of Fulton's drive for quality is that "Anything that was previously frozen is now made from scratch." By way of example he points to the previous institutional fried mushrooms. "They are now hand-battered. In fact, we're actually beer-braising the mushrooms in the oven to dry them out, because with breaded mushrooms oftentimes the breading will just fall apart as soon as you start to bite into it, because there is a moisture barrier in there that sucks the moisture out of the mushrooms. So, when we braise them, and dry them out in the oven, that removes the moisture barrier and you'll now be able to bite into it and have the breading remain intact, delivering great new flavor."
The burger menu retains the three core burgers from the past, the North Shore Classic, the North Shore Deluxe, and the Blue Ring Burger. New to the menu will be a Ring of Fire Burger with pepper-jack cheese, grilled jalapenos and an onion ring, and the Big Hat Burger, a sort of cowboy burger featuring cheddar cheese, barbecue sauce, bacon and an onion ring on top.
The kitchen is keeping the menu very similar, but with increased quality and more fresh ingredients across the board. Fulton tells me that nobody on staff had ever had a fresh-made jalapeno popper before, and "I think we blew their minds, in fact a offered one to our construction manager and he immediately said, 'This is my new favorite place!'"
The North Shore Inn will begin offering a Bloody Mary Bar during weekend brunches from 9am until 2pm on Saturdays and Sundays, featuring a generous 22-oz drink with lots of self-service add-ins like bacon, sausage sticks, pickled vegetables (including pickled green beans) and things like that allowing you to "build it up as high as you like." The 22-oz Bloody Mary will be a regular on the cocktail menu as well, not just during the brunch bar.
Fulton is also introducing a whole new cocktail program serving "classic cocktails" like Old Fashioneds, Manhattans, Margaritas, Mojitos and more. The bar stool capacity remains at 14, as in the past, but thanks to its shallower depth, there's considerably more space for the high tops in the center of the restaurant.
The North Shore, as you may recall, had just introduced a new breakfast menu before the remodeling project was launched, and that menu has now been revamped, offering a breakfast burrito, a breakfast burger with an egg on top, chicken & waffles, some classic southern dishes all made in house, homemade biscuits & gravy, and for the first time ever, home-made baked goods like chocolate chip and blueberry muffins. Naturally, you can get  a traditional "Farmer's Plate" with sausage, bacon, eggs, hashbrowns and the like during the brunch hour menu times.
Once fully up and running next week these will be the hours of operation at the North Shore Inn:
Monday through Wednesday 11am til 9pm
Thursday 11am until 10pm
Friday 11am until 11pm
Saturday 9am until 11pm
Sunday 9am til 9pm
Brunch on Saturday and Sunday from 9am until 2pm
The North Shore will also retain its notable Friday and Saturday night Mexican Menu from 4pm until closing, with house-fried tortilla chips & housemade salsa. The balance of the Mexican Menu has been streamlined a bit in order to increase the quality of the offerings.
The expansively larger kitchen facility will also directly benefit the restaurant's neighbor across the street at North Pier Brewing Company owned and operated by Lansdown's brother Jay Fettig. The two have partnered closely in the past for food items at the brewery, but now Jay will have his own food menu exclusive to North Pier.
Jay tells me, "There are some similar items, like the North Shore Classic burger and the deluxe, but now there's  a North Pier Burger which is a half-pound burger with Conjure Beer Cheese, thick sliced bacon, and caramelized onion all on a brioche bun." Also on the North Pier menu will be Spent-Grain Pretzels, housemade and served up with Conjure Beer Cheese, crafted from the spent grain from North Pier craft beers. Also on the menu at the brewery will be fried pickles, cheese curds, a pork tenderloin sandwich, pulled pork tacos and a salad.
Back in the North Shore kitchen, Fulton's pastry chef has been taking North Pier Buckrider IPA's spent grain, drying it out and milling it into flour. She's still running some tests on it, says Fulton, "Because we think we could probably do a lot of additional baked goods. Just for fun she made some spent-grain brownies and they were heavenly! We're very happy about that." He adds, "We will continue to experiment with that."
Fettig says the main goal is that everything that's specifically made for the brewery involves their beer. Every dish will have elements of their beer in it. Plus, now you can order at the bar, pay there, and have your food delivered such that you'll feel there's a kitchen on site, put in front of you at the bar in baskets, not in to-go containers. If, however, you want something that's not on that menu, but is on the North Shore menu, you will need to call over and order to go and then go pick it up.
At the North Shore bar, servers will squeeze their own fresh lemon juice and lime juice daily for cocktails so, as Fulton says, "The Margaritas are going to be awesome!" They even have the kitschy Maragarita glasses with the green cactus stems and clear glass bowls to add to the atmosphere.
For now, contractors are putting the finishing touches on the exterior of the building where the original neon signage now works for the first time in many years, and staff work is being finalized. Fulton says he has a staff of some 22 full and part time employees, a dramatic increase from the 9 member staff of the past. They have more hours, more shifts, more seats, and it all adds up to an expanded staff to serve your in a timely manner.
The newly remodeled restaurant will be safer, cleaner, more stable and faster than ever before and still has some very nice nods to days gone by while still bringing the place into a more demanding world of customer service speed and quality. With all new HVAC and electrical systems installed as comfort and safety upgrades, your experience should be greatly enhanced.
Thanks to the work undertaken, the 25-year old bar and burger joint is now capable of being around for at least another 25-years going forward. Get ready to make your own return. The North Shore Inn is located at North Shore Drive and Higman Park Road across from the 14th tee at the Jack Nicklaus Signature Golf Club at Harbor Shores.