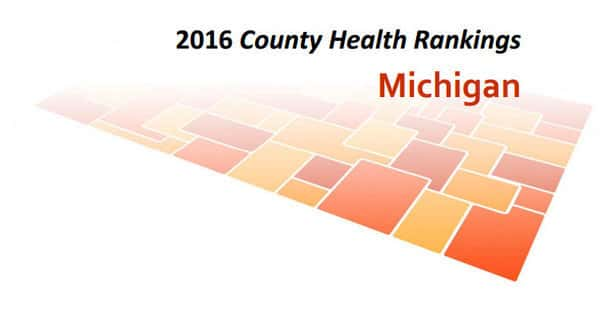 If anybody ever wonders why the team at Be Healthy Berrien is working so hard to make Berrien County a healthier place to live, a simple scan of the state-wide statistical data released this month by the Robert Wood Johnson Foundation can be considered as solid evidence we need it…and then some.
After slowly climbing the ranks of all 83 counties in Michigan in the early to mid portion of the past decade, Berrien County slipped to its lowest ranking for Health Outcomes since the data series began in 2011, and we fared only mildly better for the Health Factors that drive the rankings over the past year.
The report, a collaborative effort between the Robert Wood Johnson Foundation and the University of Wisconsin Population Health Institute pegs Berrien County Health Outcomes as 66th out of the 83 counties in the state, the bottom quarter of the entire state. The statistics are driven by Health Factors where we fare only slightly better at 57th in the state, barely missing inclusion in the top two-thirds of the ratings.
The 2016 County Health Rankings & Roadmaps program brings actionable data and strategies to communities in a bid to make it easier for people to be healthy in their homes, schools, workplaces, and neighborhoods. Dr. Risa Lavizzo-Mourey is CEO of Robert Wood. The doctor tells us, "Communities around the nation are using the County Health Rankings to drive improvements in education, housing, job training, healthy food options and more, as they work to build a culture of health."
Berrien's rankings had been improving moving from 65th in the state in 2011 up to 58th last year, but suddenly plunged to the lowest ranking yet with this year's 66th rank. The Health Factors measure bounced around a bit more moving from 52nd in 2011 to 48th in 2013, then plunging to 61st last year, and moving back a bit to 57th in the current report.
More than 30 factors are involved in measuring the health of counties across the nation including such things as tobacco use, access to healthy food, jobs in the market, housing, education, sexual activity, and air & water quality.
Neighboring counties, Van Buren and Cass ranked higher, with Cass clocking in at 36th for Health Outcomes and 46th for Health Factors, while Van Buren was rated 60th for outcomes, although they are dangerously close to the bottom with a 74th rank on factors.
Dr. Lavizzo-Mourey also points out that the rankings "show hoe important it is to examine all the conditions that impact well-being and can help families thrive."
For the record…Ottawa County, further north along the Lake Michigan shoreline has the highest rank in the outcomes report this year, while Wayne County in the Detroit area is ranked dead last. Among the rankings for health factors, Ann Arbor's Washtenaw County region is rated highest at #1, while its neighbor, Wayne County, ranks dead last at #83 there as well.
The Be Healthy Berrien crew can certainly argue there's a distinct need for the resources they bring to the table as they continue their work to turn things around. You can see their efforts by clicking this link:
Meanwhile, if you'd like to see the full report on Michigan's counties and their rankings, click this link for the 8-page summary: