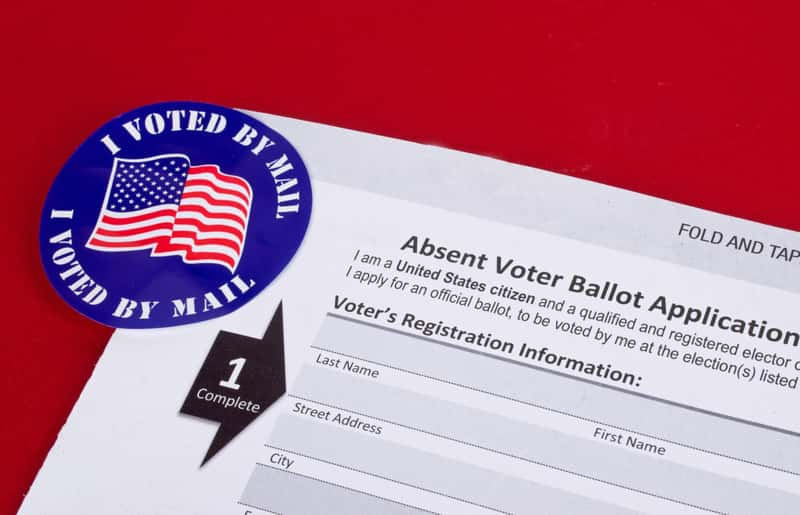 Citing the "unprecedented mailing of absentee ballot applications to former Michigan residents," Watervliet State Representative Pauline Wendzel has joined a colleague in introducing legislation that would make it a felony to knowingly submit the form by using someone else's name or ID in Michigan.
State Representatives Wendzel and Ann Bollin have introduced legislation they say will defend the integrity of Michigan's elections in light of Secretary of State Jocelyn Benson's mailing of absentee ballot applications to former state residents.
Their legislation will make it a felony for any individual to knowingly submit an absentee voter application using another person's name or personal identification information.  Under the proposed package, it will also be a felony to complete applications with the intent to receive multiple ballots.
State Rep. Wendzel says, "It wasn't long after absentee voter applications were mailed out to the tune of millions of taxpayer dollars that my office began receiving phone calls and letters from current and former Berrien County residents." She contends, "Loved ones who died years ago suddenly received a ballot application in the mail. Residents who once lived in our community who have since moved to other states like Florida and Maryland reached out to me to say they have received ballot applications at their new addresses."  Wendzel continues, "These individuals have registered and have voted in their new states, yet they remain on our voter rolls."
Concerned about the entire situation, Wendzel argues, "The only thing stopping bad actors from returning these applications and committing voter fraud is a small misdemeanor slap-on-the-wrist. This really shouldn't be a partisan issue, and I look forward to seeing this legislation be signed into law with overwhelming support."
Before serving as a State Representative, Wendzel served her community as the Assistant Deputy Clerk of Bainbridge Township. Likewise, her colleague, Rep. Ann Bollin previously served her community as the longest-serving Clerk in Brighton Township history.
Wendzel says, "This legislation sends a clear message that no matter what party an individual may be affiliated with, voter fraud will not be tolerated in the State of Michigan," and concludes, "I know how hard our local clerks work, and I will do everything I can to help them run smooth and fair elections."