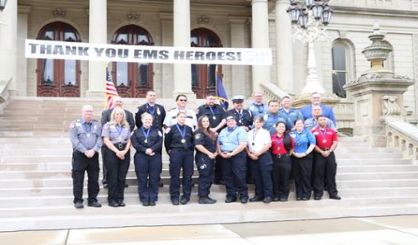 Some southwest Michigan first responders have been honored for their efforts to save lives, according to the The Michigan Association of Ambulance Services.
The life-saving work of three Michigan first responders from West and Southwest Michigan was recognized Tuesday at the state capitol by the Michigan Association of Ambulance Services.
The recognition was part of the biennial Stars of Life ceremony, which celebrates the contributions of ambulance professionals who go above and beyond the call of duty in service to their communities or the EMS profession. This year's event at the Michigan Capitol honored 21 EMS practitioners.
"After serving on the frontlines of the COVID-19 pandemic for more than a year, Michigan's EMS professionals deserve our utmost appreciation," said MAAS Executive Director Angela Madden. "Stars of Life is about honoring the unsung EMS heroes who work day in and day out to protect their communities and provide life-saving care to Michigan residents."
Honorees included:
Chris Kapla: Paramedic, Life EMS Ambulance. Chris is a wonderful field trainer and a great mentor. He displays exceptional customer service to those in the community and to other associates within Life EMS. Chris has been serving the communities of Kent and Ottawa Counties for 12 years. He has a great attitude and is truly dedicated to providing skill and compassion to the patients he serves.
Dan Linn: EMT, Southwestern Michigan Community Ambulance Service. Dan started his EMS career in 2007 in Indiana. He joined the SMCAS team in 2010 as an EMT. Dan is committed to ensuring that the voices of EMS personnel at SMCAS are heard and works to ensure a positive relationship between management and the workforce.
Jonathan Maples: EMT, Southwestern Michigan Community Ambulance Service. While at work, Jonathan has been challenged while taking on vehicle maintenance and anything he can do to take the burden off others. Upon receiving his Advanced EMT license, he has taken on more responsibility with patient care.