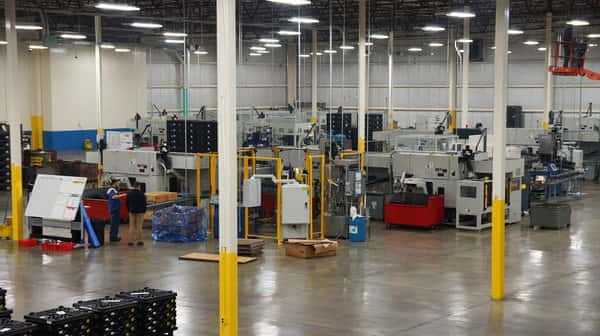 For nearly a decade now, Professor Brian Long at Grand Valley State University has been weighing in each month with a nearly steady diet of "slow growth" news for the West Michigan Industrial Economy, and while January seemed to launch 2019 on a stagnant trend, Long's February report resumes his "Slow Growth, Improved Optimism" track once again.
Long is the Director of Supply Management Research at Grand Valley State. His regular monthly survey of the West Michigan Industrial Economy returned to that slow growth pattern last month after the brief blip in January, and has some bright news for the sector.
Long says that according to the data collected in the last two weeks of February, his New Orders Index, or index of business improvement, bounced back to +16 from -4 this time. He says in a similar move, his Production Index rose to +16 from +4.
Meanwhile, activity in the purchasing offices, his Purchasing Index, also bounced to +16 from +3. Nevertheless, several participants in the survey continue to voice concern over the still unresolved tariff war with China, and others are cautious about the potential decline in auto sales. Dr. Long says, "Overall, the mood remains watchfully optimistic."
Long's February report goes on to say, "Despite the weakness in last month's (January) survey, our Employment Index continues to remain double-digit positive," adding, "For February, we posted a modest uptick to +17 from +14. Regrettably, employers are still complaining that they cannot find enough qualified workers to hire, much as they have been for nearly two years." Professor Long concludes, "Given the slight hesitancy in the current economic outlook and the absence of qualified workers, it is worth repeating that the current low unemployment numbers are as good as we can expect for the near future."
Turning his attention to individual manufacturing sectors, Long says, "Although several of our local auto parts producers remain modestly pessimistic about the prospects for 2019, we have yet to see any significant weakening in our local firms. According to the monthly report from Automotive News, sales for the industry dropped 2.9-percent in February, and the industry's Seasonally Adjusted Annualized Rate (SAAR) slipped to 16.61 million units." He contends, "Bad weather can be partially to blame for some of the drop. As Jeremy Acevedo from Edmunds put it: "Shopping conditions are pretty unfavorable for consumers across the board, and even those with good credit are having trouble finding compelling finance offers. As rising vehicle costs and interest rates continue to compromise affordability, more shoppers might find themselves priced out of the new vehicle market."
Looking at industry attitudes and forward-looking forecasts, Professor Long says, "After posting some near-record lows in January, business confidence has rebounded in February. Many of our local firms remain cautiously optimistic, but others continue to voice concern over the ongoing trade war with China. Many of our auto parts manufacturers continue to watch the situation in the auto market, even though many are well positioned for a modest downturn."
Long reports that his West Michigan Index for the Short-Term Business Outlook for February, which asks local firms about the perception for the next three to six months, rebounded nicely to +22 from +5. The Long Term Business Outlook Index, which queries the perception for the next three to five years, rose more modestly to +27 from +22. Long says, "Although both indexes are less robust than they were five years ago, they still remain optimistic about the future as long as our economic indicators continue to point toward more growth, even if we return to a pattern of slower growth."
As is his long-standing practice, Dr. Long shares verbatim anecdotal comments on an anonymous basis from a number of survey respondents. Here are some of those collected in the most recent research:
"Business is still good, and many new projects are still coming in."
"New orders are unusually strong for this time of year. It looks like the first quarter should be better than usual."
"Business is very strong with no seasonal slowdown."
"This is typically a slower time of year for us, however, we are as busy now as we are during our busy time of year. It's very weird!! We attribute that to our new market segment. "
"2019 has started slower than originally planned due to the slowing China market."
"We've seen lots of incremental price increases on industrial goods due to year end, tariffs, or simply because they think they can get away with it now."
"Steady sales slightly up over last year."
"We are very busy, and the weather issues have put us behind just when sales are peaking. We're doing lots of overtime this month."
"Business is pretty stable right now."
"We've had a bit of a sluggish start to the New Year, but things are picking up."
"Our vendors/suppliers are unable to hold prices and/or deliver in a timely manner due to the uncertainty of the market. It's beginning to put a strain on our operations."
"Business remains steady and robust."
"We see a slight trend down in February, but it looks like we will recover in March."
"Never a dull moment."
"Things seem to be perking up."
"We still need more production workers."
You can see the Professor's complete report by clicking the link below: