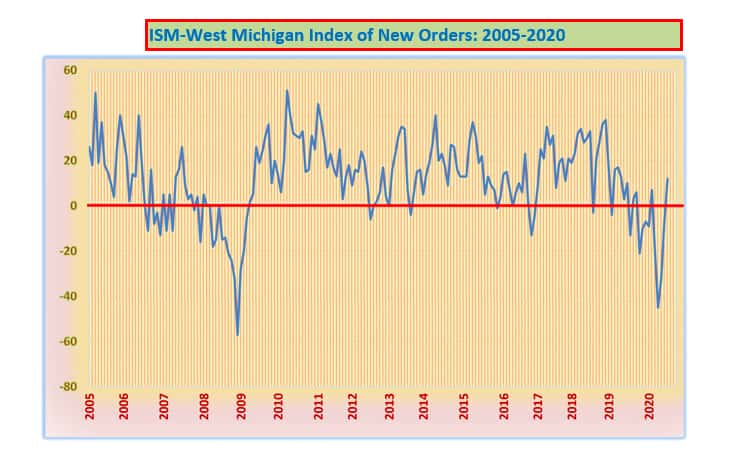 Following four months of gut-wrenching decline, the West Michigan Industrial Economy has returned to positive territory — at least for now. That's the opening salvo of Dr. Brian Long's always-anticipated monthly snapshot resulting from in depth surveys conducted every month in the manufacturing sector.
Professor Long, who serves as Director of Supply Chain Management Research at Grand Valley State University, cautiously suggests that the industrial economy is back to positive results, but again adds the caveat of "for now."
Long tells us, "According to the data collected in the third and fourth weeks of July," his New Orders Index, his most closely watched metric on business improvement, "came in at +12, up nicely from June's -7. In a similar move, the June Production Index rallied to +14 from -11.
Meanwhile, the July activity in the purchasing offices, measured in his Purchasing Index bounced to +10 from -13. Long says, "Shipping delays, shortages, and other disruptions in the various supply chains drove our index of Lead Times to a near record level of +34, up from +16," and adds, "As a result, many firms have exhausted their inventory  reserves, and our index of Raw Materials Inventories fell to – 14."
The Professor says that on a national scale, "Many companies were considerably more 'upbeat' regarding business conditions for the remainder of the year, despite historically subdued demand in recent months."
Turning to the Automotive Sector, Dr. Long says, "According to the August 3rd report from Automotive News, the seasonally adjusted annualized rate of sales for July fell to 14.53 million units, down sharply from the July 2019 rate of 17.02 million units," but adds, "Part of the sales decline has been attributed to a 60-percent drop in fleet sales, although tight inventories as well as decreased and erratic production schedules for many manufacturers have caused problems as well." Of the major brands still reporting monthly sales, Toyota posted a 20.7-percent year over year loss, Honda declined by 12.6-percent, but Hyundai-Kia limited July's loss to only 0.8-percent. Nick Woolard, chief analyst at TrueCar, further noted: "It seems likely that this inventory problem is going to continue over the course of the summer and maybe through the rest of the year as sales slowly recover. Mainstream brands are steadily increasing new-vehicle sales month-over-month, especially brands with healthy inventory levels such as FCA. On the other end of the spectrum, new vehicle sales for luxury brands, such as BMW and Mercedes, are recovering at a slower rate. Consumers are not going back into the luxury market as quickly as mainstream brands, showing some budgetary discipline in reaction to the macroeconomic environment."
Turning to employment issues, Professor Long says that West Michigan manufacturing firms are gradually resuming "modified" normal operations, although some are still hampered by disrupted supply chains and shipping bottlenecks. His West Michigan Employment Index for July recovered to -4 from -13, up significantly from March's record low of -41. At the state level, the July 23rd unemployment report for the month of June released from Lansing's DTMB reported that state-wide unemployment improved significantly to 14.8-percent from May's 21.3-percent.
On the Industrial Inflation front, Long reports, "Our West Michigan Pricing Index for July dropped to -4, slightly below June's break-even point of +0. For the ISM national survey, the index of Prices came in at +6, a slight uptick from last month's +3."
Dr. Long always works to forecast the future for the West Michigan Industrial Economy as well, by researching both short term and long term business outlook numbers. He says, "The resumption of production has helped improve the sentiment of many west Michigan firms. Our Short-Term Business Outlook Index for July, which asked local firms about the business perception for the next three to six months, came in at +6, up nicely from June's -8, and vastly improved over the record low of –47 recorded in the March survey. For July, the Long-Term Business Outlook Index, which queries the perception for the next three to five years, remained almost unchanged at +32, down from +33."
Professor Long turns a bit philosophical in his summary which was a bit longer than usual as he tries to capture the essence of the marketplace currently. He says, "It is worth repeating that we have three cyclical industries in West Michigan, namely automotive parts, office furniture, and aerospace components. It appears that many office furniture customers are currently reevaluating office configurations from a 'social distancing' perspective, as well as evaluating requests from some office workers to continue permanently working from home. Although some office furniture firms have partially transitioned into the medical furniture business, readjustment for this industry may be slow. Aerospace firms are also in a quandary, given the major cutbacks that have been announced by the major airframe manufacturers. However, although automotive may suffer some temporary setbacks, re-shoring may provide some new opportunities, given that many of our local firms have proven themselves to be world competitive."
Continuing, the Professor suggests, "As we look ahead, we should keep in mind that no two recessions are alike, and that the impact is always uneven. Likewise, the recovery is also notoriously uneven. Some firms deemed to be 'critical' remained open and booming, while others were shut down never to reopen. Unlike the previous recession, the residential real estate market has not collapsed, and the housing valuations in some areas of the country are actually rising. Commercial real estate is, of course, a different story. The entire concept of the traditional office is now being reevaluated to include more social distancing and more people working from home. The stay-at-home economy has resulted in a dramatic shift in the entire food supply chain. America has not gone on a diet, so food suppliers are trying to readjust to the new pattern, recognizing that a gradual reopening will shift the pattern back toward the pre-pandemic mode. Sit-down restaurants have been hardest hit, and returning to normal will be very slow—for those that survive. The restaurant take-out business has soared, but not enough to make up for the lost sit-down sales in traditional restaurants. On the other side of the street, some fast food outlets have actually seen increases in business because of the popularity of drive-thru window service. With more people eating at home, the grocery business is booming, and the grocery delivery segment has more than doubled. Many changes like this are likely here to stay."
Wrapping up his personal commentary, Long forecasts, "Going forward for this survey, we can expect a few more good reports before absorbing the negative impact of the aforementioned market shifts. In addition, the trillion-dollar incentives will eventually run out, and we will then need to reassess where we stand in the West Michigan industrial market."
As has become his long time custom, Professor Long includes a sampling of verbatim comments from participants in the monthly survey, protected by anonymity. Here are some of those comments from the July report:
"Shortages are dependent more on various vendors than product categories. For example, some spark plug companies are struggling while others are shipping at high percentages. This is true for other categories I handle, such as filters and windshield wipers."
"We see strong sentiment for home improvement and new home starts. We remain cautiously optimistic."
"Automotive portion of our business is coming back to life and the remaining segments are holding strong."
"We are weathering the storm."
"VERY SLOW!"
"Order releases from automotive OEMs were not well timed, so the startup has been very chaotic. The race to release the first electric pickup truck has also caused significant timing compression resulting in higher prototype cost."
"We are steady at this point. We are starting to see an uptick in orders from the Medical sector."
"Auto is rebounding well. Forecasting is extremely difficult, due to rapidly fluctuating customer demand. Sales are back to 80% of pre COVID. Heavy Diesel orders are strong."
"Covid-induced doldrums continue as our government officials vacillate between bad decisions based on bad data and indecision based on fear of political reprisal. Where has our leadership gone?"
"We are seeing a few of our customers that were very busy in March, April, and May slow down by 30%."
"Lead times from suppliers have been increasing. Not everyone is back to "normal" as far as staff and production, so it's backing up our supply chain."
"We are about 30% below forecast set prior to COVID. We continue to keep everyone on 4 day weeks, and focus on reducing inventory."
"Business is down. We have rightsized to weather the storm and are in a good position. We are anticipating this is a longer term challenging, likely a year or more."
"This year is looking to end up down 30-40%."
"For automotive, April, May, and June were very difficult. July is looking much better, as long as things stay the way they are forecasted."
"We have been pretty busy these last few months burning through our backlog, although new capital equipment orders have been coming in at a reasonably good pace as well. We are doing fairly well given the circumstances. The food and pharmaceuticals industries are still quite active."
"Business is coming back, and automotive schedules look good but not as strong as pre-COVID. We continue to monitor longer forecast to determine if orders will hold firm or be pushed out."
"COVID-19 is still wreaking havoc on our customer orders and future program timing."
"Worst June in 20 years. Our biggest customers are pretty strong, but business from the little guys has been nonexistent. If it doesn't get better soon…."
You can read the full report by clicking the link below: