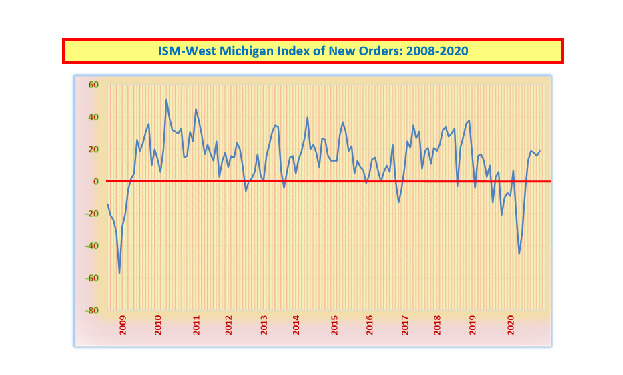 Even with many restaurants, bars and other gatherings still sidelined or facing substantial restrictions to normal operations, the West Michigan industrial economy "remains on the recovery track that began in July," although supply chains are under heavy stress and "shortages are popping up everywhere." That's the quick snapshot of the market from Professor Brian Long, Director of Supply Chain Management Research at Grand Valley State University in Grand Rapids.
Dr. Long has issued his monthly survey results, sharing data collected in the third and fourth weeks of November. His New Orders Index, his most sought after index of business improvement, came in at +19, up slightly from October's +16. However, his Production Index, which is termed "output" by many economists, remained positive but fell sharply to +2 from October's +29.
Long says activity in the purchasing offices, his Purchasing Index, came in at +9, modestly below last month's +12. Most notably in this survey, Long says, "Even after five months of recovery, our survey participants continue to complain that the supply chains, both foreign and domestic, are still far from getting back to normal." He adds, "In fact, this month's Lead Time Index set a record at +66, up from +42. As a result, some firms have had difficulty maintaining production schedules because of delayed shipments of key materials or components." Long says that additionally, the freight companies themselves are often short both trucks and drivers. He reports, "With a new wave of Covid-19 now upon us, we should not be surprised if our statistics flatten or even turn slightly negative in the next few months. However, there seems to be universal agreement that when the new vaccine (or vaccines) finally reach a large portion of the population, we should see an economic boom."
In his November report, Professor Long shares a national view from Chris Williamson, Chief Business Economist at IHS Markit, who says: "The manufacturing recovery kicked up a gear in November, with production growth accelerating to the highest for over six years. Most encouraging was the breakdown of the rise in new orders which underpinned the expansion. Although demand for consumer goods remained somewhat subdued, mainly reflecting rising virus infection rates, demand for investment goods such as business equipment and machinery rose especially sharply. The rise in investment spending sends a welcome signal that companies have become more optimistic about longer term prospects, something that was reinforced by a surge in firms' expectations about production in the year ahead – even in consumer-facing sectors – to the highest since early-2015."
Turning his attention specifically to the automotive industry, Dr. Long tells us, "Although the business conditions for the West Michigan auto industry remain on track, the November sales picture for the industry, at first glance, looks weak. Although many nameplates are still reporting only quarterly sales, the November sales report for the rest of the industry fell by 12.2-percent."He adds, "However, Automotive News blames most of the problem on 'a fluke in the calendar.' For November 2020, there were three fewer selling days than last year. According to Motor Intelligence, the estimated Seasonally Adjusted Annualized Rate of sales in November came in at 15.2 million units. Dealer inventories remain slim, and most firms are still reporting recurring parts shortages at many assembly plants.
Thomas King, who heads the data and analytics division at J.D. Power, further comments: "November 2020 is a prime example of why accounting for selling day differences is important in measuring comparable sales performance. After two consecutive months of year-over-year retail sales gains, a quirk in the November sales calendar will result in new-vehicle retail sales appearing to fall 12-percent. This year, November has three fewer selling days and one less selling weekend compared with 2019. When these calendar quirks are accounted for, new-vehicle retail sales are expected to almost match 2019 levels. While the sales results illustrate the continued strength of consumer demand, that strength is further reinforced by transaction prices hitting another record high, even as manufacturers and retailers continue to remain disciplined on new-vehicle incentives and discounts."
Looking at the November Employment Index for the West Michigan industrial economy, that index improved modestly to +4, up from October's -2. At the state level, Michigan's Department of Technology, Management and Budget unemployment tabulation for October (the earliest month available) reported on December 1st that the seasonally adjusted state-wide unemployment rate fell sharply to 5.5-percent from 8.6-percent. For most West Michigan counties, the unemployment rate improved by about two percentage points.
Turning to Industrial Inflation, Professor Long says, "With our November Lead Times Index coming in at a 30-year high of +66, it is not surprising to see our West Michigan Price Index edge up to +26 from +16." By way of explanation, he notes, "Numerous supply chain disruptions have driven prices higher for a few key commodities such as steel, paper, corrugated, and aluminum."
Professor Long always works to peer into the crystal ball to forecast the future from the perspective of those taking his survey. In November's Short-Term Business Outlook Index, which asks local firms about the business perception for the next three to six months, the numbers retreated to +3 from +14. The Long-Term Business Outlook Index, which queries the perception for the next three to five years, backtracked to +23 from +37. Long suggests, "Needless to say, most measures of confidence are driven by the news cycle, and despite the promise of vaccines being available within months, the increasing Covid-19 death rate and the threat of more shut-downs make the outlook for next few months more pessimistic."
Summarizing the data collected in November, Dr. Long says, "Although most of our statistics are headed in the right direction, the resurgence of Covid-19 cases has become the new wild card. By sometime in the early spring, it now appears that a large number of people may be vaccinated, and some form of normalcy will begin to resume. But to quote Yogi Berra, 'It ain't over 'till it's over.' Hence, it is going to be a long six months between now and then. Thousands of people are going to be infected, and many will die. Many of our local industrial firms have mandated face masks, divided work areas for social distancing, devoted cleanup crews to perpetual cleaning all with the goal of remaining open. However, worker absences for daycare issues and fears of infection will continue to challenge the normal operations of many firms at almost every level in the entire supply chain."
Looking further down the road, Long surmises, "By summer, if all goes well, we may see a short economic boom as pent-up demand fuels a round of purchases at both the consumer and industrial levels. For another wild card, we hope congress will pass a significant stimulus package to assist the vulnerable sections of the economy through the gap. However, it is worth remembering that some retail businesses, some restaurants, some movie theaters, and some segments of the office furniture business will not come back. Other businesses like Amazon and automotive parts suppliers appear poised to expand. Even this month's report mentions numerous firms that are again looking for new employees at all levels. What we don't know is how long it will take for the newly-unemployed people to transition to available jobs in the post-pandemic West Michigan economy."
As is Dr. Long's regular practice, he shares a number of verbatim anecdotal comments in an anonymous fashion from survey participants. Here are some of those from his report in November:
"As our organization is essential, we have found that our necessary projects and work have not lessened. Our methods of completing our tasks have been challenged due to the virus, but with proper precautions, we can still be successful."
"Automotive is strong despite the pandemic!"
"We are seeing high absentee rates due to COVID!"
"We are struggling to keep production running due to Covid-19 exposure throughout our workforce."
"We are battling Covid internally and with our supply base. It keeps things interesting."
"I am used to business slowing down in November once deer season starts, but this slowdown came out of the gate slow. November will likely be our lowest booking month of the year after a nice uptick in the third quarter."
"Shutting down the restaurants and bars in Michigan is hurting our business as well."
"We're still seeing a lot of delays on international shipments which make things difficult for planning purposes."
"Our customer forecasting variability is at an all-time high."
"So far, we have seen some fairly strong months for sales, but we are very cautious about the end of the year."
"The aluminum beverage can shortage is real. It going to have a negative impact on craft brewers."
"Next few months are going to be unpredictable. Short term sales pressure a real concern. Huge focus on keeping employees safe."
"We were busier than expected this month, and actually ran some overtime. Hope it keeps up."
"SLOW!"
"Our business continues to be great, and demand is out stripping our supply of materials."
You can see Professor Long's complete report at this link: gr-2020-12-002