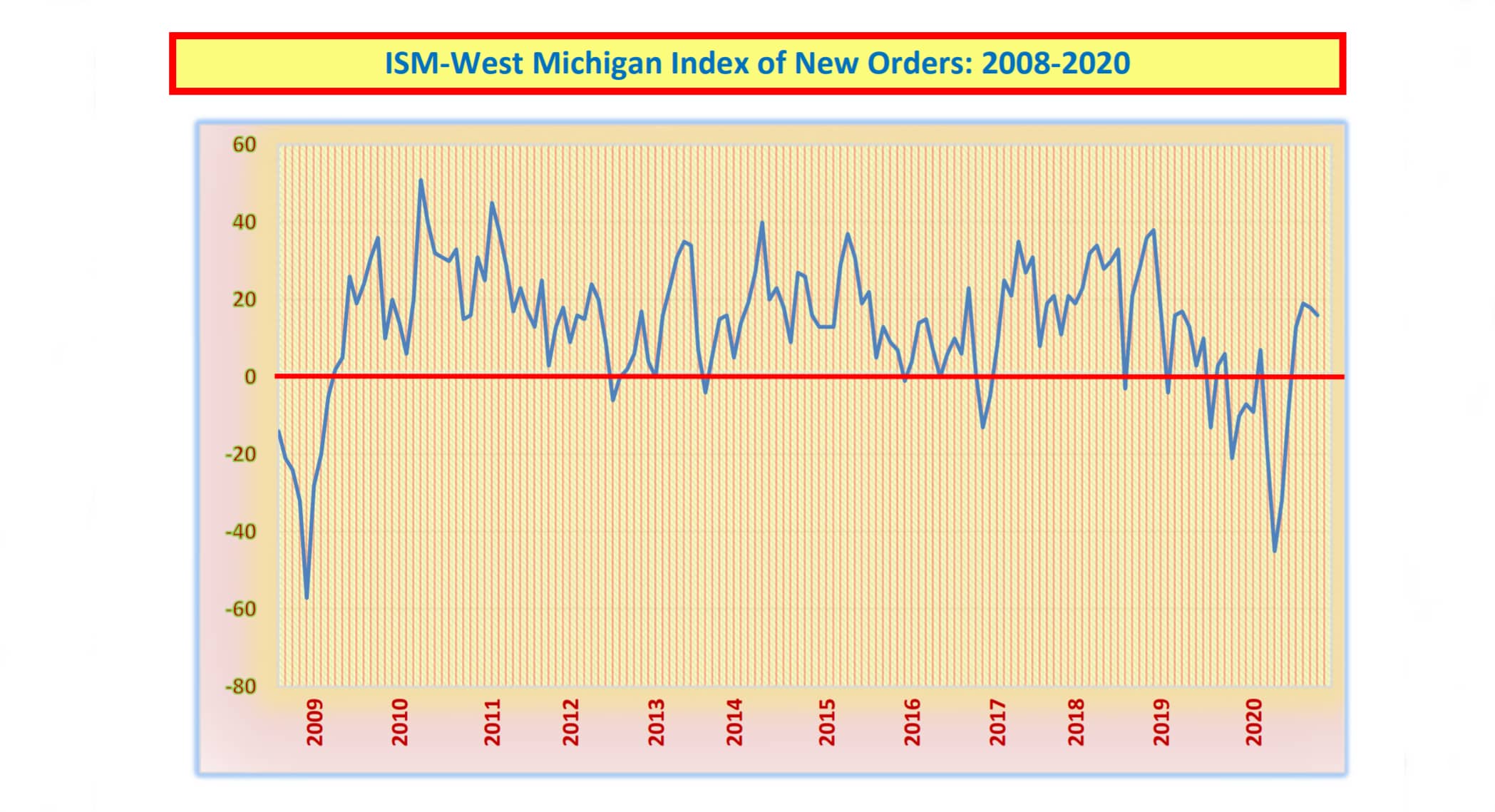 Lots of people have been hoping for the proverbial "V"-shaped recovery from the coronavirus pandemic, but the man with his eye on the numbers and his ear to the ground in our region says the recovery for the West Michigan Industrial Economy might come to resemble something more akin to a "lopsided W-shaped" recovery.
Professor Brian Long, Director of Supply Chain Management Research at Grand Valley State University tracks the numbers monthly on the state of the West Michigan Industrial Economy through a comprehensive survey of manufacturers and related businesses across the region.
In his report for October, just released, Dr. Long says, "Albeit slower than we would like the, West Michigan recovery from the 2020 Covid-19 recession continues on track and it therefore may be consistent with what is now being called a 'V-shaped' recovery." Long says that according to his data collected in the third and fourth weeks of October, his closely watched New Orders Index, the index of business improvement, came in at +16, virtually unchanged from September's rate of +18. The Production index, which is termed "output" by many economists, rebounded nicely to +29, up from September's +20.
Meanwhile, activity in the purchasing offices, Long's Purchasing Index, came in at +12, essentially unchanged from +14, and he says, "Just like last month, the overall mood of our survey participants remains widely mixed. Like most recessions, both capital equipment and office furniture manufacturers activity are weak, but automotive parts producers appear to have turned the corner. Firms that were designated 'essential' were never impacted by the recession. However, if our statistics turn negative in the next few months, the new economic dip may result in a 'W-shaped' recovery."
Turning the spotlight on the automotive sector, Professor Long tells us, "The good news for the West Michigan economy is that the recovery for the automotive industry remains on track, even though the recovery path has been erratic. Automotive News reports that October year-over-year sales for sedans at Ford were down an astounding 45-percent, but SUV sales rose by 9.4-percent. Many other nameplates have continued the practice of doing only quarterly releases. However, Cox Automotive estimates the Seasonally Adjusted Annualized Rate of sales (SAAR) in October to be 15.7 million to 16.4 million units. Hence, despite recurring parts shortages at many assembly plants, the worst may be over."
For those automakers still reporting monthly data, Toyota sales rose 8.8-percent, Subaru added 10.6-percent, Hyundai-Kia gained 5.1-percent, but sales at Honda fell by 3.4-percent. Eric Lyman, chief industry analyst for ALG suggests: "The auto industry recovery is absolutely striking. We clawed back more new car sales each month since sales bottomed out in April and are now seeing year-over-year new car retail sales growth for two consecutive months. This is a phenomenal outcome for the industry, as inventory is starting to rebound and demand remains high. There are positive signals that the recovery will sustain."
Turning his attention to the employment market, Professor Long says, "Although most industrial firms have now reopened by observing various combinations of face masks and social distancing, the unemployment rate for most of Michigan remains at about twice the level of two years ago. Paradoxically, some firms have announced layoffs while others are again begging for qualified people to fill open positions." For the West Michigan October survey, the Employment Index retreated to -2 from +9. At the state level, Michigan's DTMB October 22nd unemployment report for September reported that the seasonally adjusted state-wide unemployment rate fell modestly to 8.5-percent from 8.7-percent.
Looking at industrial inflation indicators, Dr. Long contends, "Ordinarily, the recent uptick in industrial inflation would be regarded by some analysts as a sign that the industrial economy was recovering from the recession. However, our Lead Times Index came in at a 16-year high of +44, up sharply from September's +25. As many segments of the industrial economy continue to reestablish continuity in their supply chains, some shortages have driven prices higher for a few key commodities such as steel, paper, corrugated, and aluminum."
Working to forecast the future, Dr. Long says, "As parts of the economy continue to reopen, confidence in business growth around the world continues to improve, at least for now. In the JPM October survey, business confidence remained positive for a fifth successive month with Italian and German manufacturers leading the way. At the national level, the National Federation of Independent Business Optimism Index rose 3.8 points to 104.0 in September, the highest reading since February, and considerably higher than the seven-year low of 90.9 reported in April." He goes on to note, "The Conference Board Consumer Confidence Index declined slightly in October to 100.9 after increasing sharply in September. Our local Short-Term Business Outlook Index for October, which asks local firms about the business perception for the next three to six months, retreated modestly to +14 from +20. The Long-Term Business Outlook Index, which queries the perception for the next three to five years, remained virtually unchanged at +37, up slightly from +36.
Summarizing his thoughts after laying out the various numbers, Professor Long says, "According to the forecasts from the various Federal Reserve banks, the national economy appears to be on its way to a 'V-shaped' recovery. The GDP forecasts are positive for the fourth quarter as well as for all four quarters of 2021. However, for West Michigan, a lopsided 'W-shaped' recovery looks more likely." By way of explanation, Long says, "In any market economy, jobs are always being lost, and jobs are always being gained. The term 'frictional unemployment' refers to the time lag between workers moving from one job to the next. We know that the Covid-19 recession has resulted in job losses, some of which are involuntary and permanent. We also know that some workers did not return to work because of day care issues brought on by schools that are still closed. For those displaced workers now seeking work, we know from our survey respondents that there are at least some job openings that may absorb some of these frictionally unemployed workers. This is especially true for our automotive parts producers. However, it is doubtful that the West Michigan industrial economy can soon absorb all of the recently-unemployed workers. Hence, a lopsided "W-shaped" recovery is most likely."
Further explaining his rationale, Dr. Long says, "In addition to industrial unemployment, significant West Michigan unemployment has come from the recreation and hospitality industries. It is doubtful that all of these jobs will come back anytime soon. The same is true for the food service industry. Many restaurants have been forced to permanently close, but many fast-food outlets are setting sales records. America is not going on a diet, so it will take time for the supply chains to shift to hire workers to meet the new demand. For West Michigan, all of this will take time."
As is Dr. Long's regular practice, he shares a number of verbatim anecdotal comments from survey participants in an anonymous manner. Here are some of those comments from his October survey results:
"We are still doing relatively well considering the current economic environment."
"Sales are up modestly. We have a lot of attrition due to retirements and people leaving for other jobs. We're going to have to hire soon. "
"Business is good, but we are having difficulty filling open positions. The supply chain is starting to not meet expectations because firms are still not fully staffed from the recovery from COVID shutdown."
"We are trying to run inventory lean and remain nimble in this uncertain economic environment."
"Labor challenges persist throughout the entire supply chain."
"Orders from customers are WAY up this month, we believe to 'right size' their inventories and to build up inventory now to reduce their year-end inventories."
"Sales for July and August trended the right way, but September stalled. Things are not getting better as soon as I would have liked."
"We are still down 20-percent, and it appears we will not rebound in 2020."
"Sales for Covid-related products are back on the uptick, but manageable right now."
"Since selling almost zero during the height of the pandemic, our sales have come back strong. We hope to see this trend continue in the fourth quarter and beyond."
"We had a better than expected Q3, with an expectation of a better than plan Q4."
"Business is in the dumpster."
You can see Professor Long's full report by clicking here: gr-2020-11