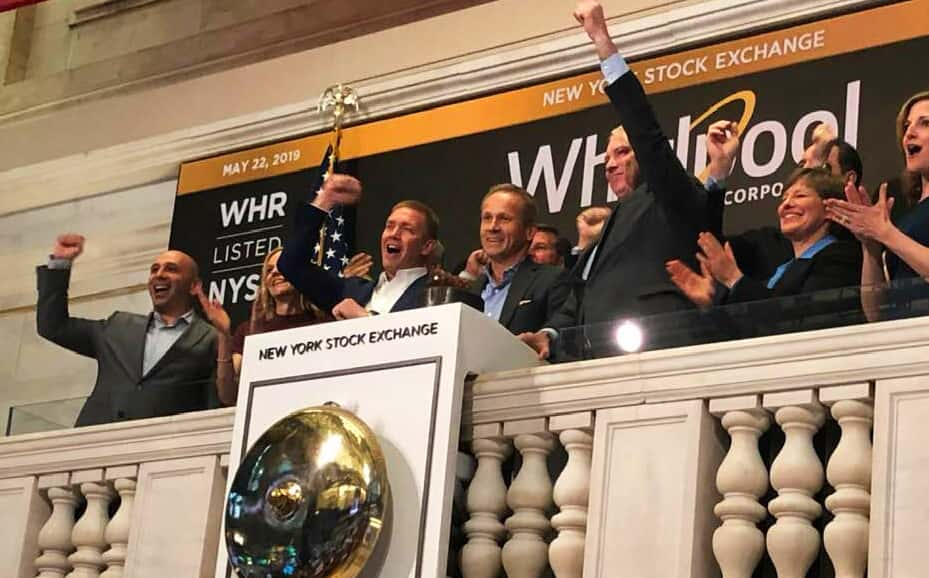 Whirlpool Corporation Chairman & CEO Marc Bitzer led a contingent of top management personnel from the appliance giant to Wall Street yesterday for their 2019 Investor Day making a strong case for analysts and investors to see the value in the company's stock and the underpinnings of the Benton Harbor-based firm, and reaffirming the companies guidance for the balance of the year. Then Wall Street had to go and have a bad day.
Bitzer and his management team took to the rostrum Wednesday for the traditional ringing of the bell at the New York Stock Exchange as vividly portrayed in the photo accompanying this story on Moody on the Market courtesy of Mark Weber, the CEO at the YMCA of Southwest Michigan who was on the floor of the exchange during the ceremonies. Thursday's Wall Street performance turned south and the market ended up with the Dow Jones Industrial Average ending down more than 286-points. Whirlpool's stock, like most stocks on the day, got swept up into that wave with the company's shares ending down $4.95 at $126.05 on the day.
Bitzer and his top echelon met with investors and analysts at the Investor Day event in New York City yesterday, Thursday, May 23, 2019. Whirlpool's senior management used the time to highlight the strong investment case for Whirlpool, including the company's unique structural position as the world's leading major home appliance company, their strategic digital transformation journey and, "The regional catalysts that will enable us to drive superior value creation," as they told investors.
Bitzer says, "We have a strong global competitive position, the best brand portfolio, the best-cost position and innovation that delivers real benefits to our consumers," adding, ,"That industry-leading position combined with our strategic digital transformation will drive additional benefits throughout our value chain, leading to significant value creation for our shareholders."
In the presentation, Whirlpool's CEO and his Regional Presidents highlighted key initiatives to drive long-term margin expansion, while Jim Peters, Executive Vice President and Chief Financial Officer, further articulated the drivers of the company's long-term value creation goals.
These are those Long-Term Value Creation Goals:
Earnings before interest and tax (EBIT) margin of approximately 10-percent
Free cash flow as a percent of sales of 6-percent or better
Return on invested capital (ROIC) of 12-to-14-percent
CFO Peters says, "Our long-term value creation goals highlight our strong commitment to delivering margin expansion in all regions and improved free cash flow," and adds, "We are committed to fully investing in our business to provide innovative products and services to our consumers, while also maintaining proper financial flexibility and returning excess cash to shareholders."
Presentation materials and an archived recording of the Investor Day event will be available at Whirlpoolcorp.com by clicking on the "Investors" tab and then clicking on "Events & Presentations," where the materials will be archived for at least 30 days.
Photo courtesy of Mark Weber, CEO, YMCA of Southwest Michigan.