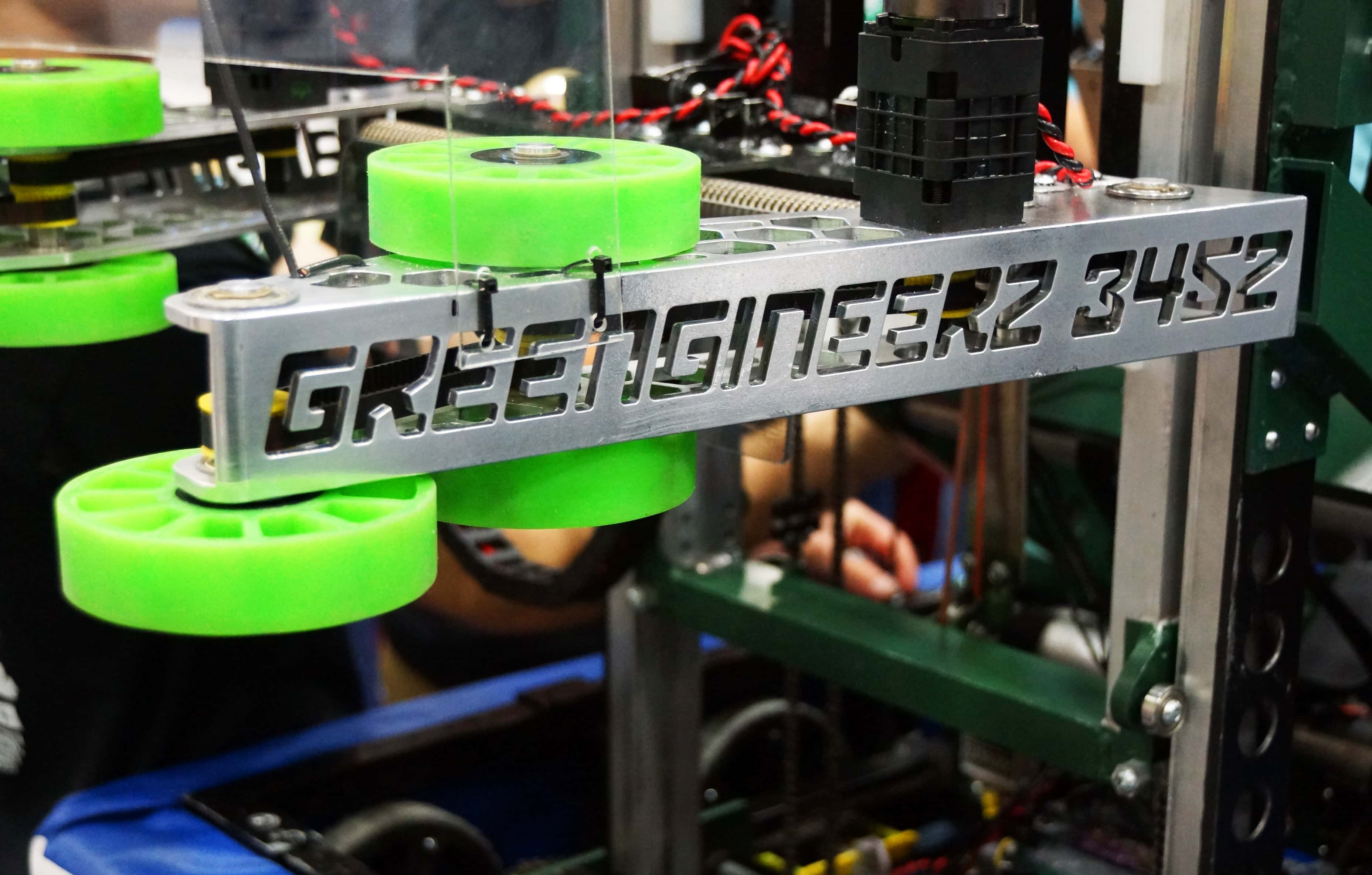 Following a stellar weekend performance in statewide competition, six local FIRST Robotics teams have advanced to the World Finals next week in Detroit, and Whirlpool Corporation hopes you will consider joining them in quickly assembling the money to cover costs to make the trip successfully.
With four Berrien County FIRST Robotics teams now engaged in fundraising for that World Competition, Whirlpool has offered a $20,000 Community Challenge Grant to get the job done quickly so they can concentrate on performing well in the worldwide competition facing them from April 26th to the 29th in Detroit.
The four Berrien County FIRST Robotics teams who will compete in the FIRST Robotics World Finals after competing against 160 other Michigan teams in the State Championships at Saginaw Valley State University this past weekend are:
Average Joes, St. Joseph High School
Excel, Niles High School
GreengineerZ, Berrien Springs High School
Team Lance-A-Bot, Lakeshore High School
Those four teams now have just over a week to raise $10,000 each to cover the travel costs (buses, hotels, food, etc) and fees for the World Competition. Whirlpool Corporation's generous offer of a Challenge Grant could add up to $20,000 to match funds raised by all four teams. The intention of the Challenge Grant is to ensure that all four teams raise their needed funds so each team has agreed to share any excess grant money between them.
This is very much in keeping with "Coopertition," a term used throughout FIRST competitions. Coopertition is displaying unqualified kindness and respect in the face of fierce competition. Coopertition is founded on the philosophy that teams can and should help and cooperate with each other even as they compete. Coopertition involves learning from teammates. It is teaching teammates. It is learning from Mentors. It is managing and being managed. Coopertition means competing always, but assisting and enabling others when you can. FIRST firmly believes that Coopertition produces innovation.
Students will hold various fundraisers throughout the area. Direct donations can be made by area residents and local companies.
Also headed to the World Finals from Van Buren County are:
Ramageddon, South Haven High School
WiredCats, Mattawan
An anonymous $1,000.00 donation has been made to Team Ramageddon, and those interested in adding to that team's efforts can mail to:
Ramageddon
South Haven Public Schools
600 Elkenburg
South Haven, MI  49090
Checks should be made out to South Haven Public Schools and write Robotics Team in the memo line.
WiredCats
Tim Eastman
C/O Mattawan Consolidated Schools
56720 Murray Street
Mattawan, MI 49071
Checks should be made out to Mattawan High School Robotics and write WiredCats Robotics Team in the memo line
Whirlpool Corporation has proudly supported the FIRST Robotics program for eight years, encouraging students to pursue interests in areas of STEM education – science, technology, engineering and math. Whirlpool employees have provided thousands of volunteer hours to FIRST Robotics, other sponsorship support and tool chests for multiple rookie teams over the last four years through the Gladiator GarageWorks brand.
FIRST is an international non-profit K-12 organization that designs programs to encourage young people to pursue their interests in science, math, engineering and technology (STEM) through education and career opportunities. FIRST calls its robotics program "a varsity sport for the mind" that allows students to learn from professional engineers and qualify for nearly $25 million in college scholarships.
If you are inclined to help, funds can be sent directly to local teams as follows:
Average Joes
St. Joseph High School
2521 Stadium Drive
St. Joseph MI 49085
Attn: Victor Vroegop
Checks should be made out to St. Joseph Public Schools and have Average Joes Robotics written in the memo line.
Excel
S.M.A.R.T.
1930 S 3rd St
Niles MI 49120
Attn: Mike Stewart
Checks should be made out to Niles Public Schools and have Excel Robotics written in the memo line.
GreengineerZ
Berrien Springs Public Schools
One Sylvester Ave
Berrien Springs, MI 49103
Attn: Tom Adams
Checks should be made out to Berrien Springs Public Schools and have Robotics Activity Fund written in the memo line.
Team Lance-A-Bot
Lakeshore High School
5717 Cleveland Avenue
Stevensville, MI.  49127
Attn: Brad Smith
Checks should be made out to Lakeshore Public Schools and have Team Lance-A-Bot written in the memo line.
All local competitors in FIRST Robotics sincerely appreciate the help of any and every donation as they take to the world stage in just 10 days.