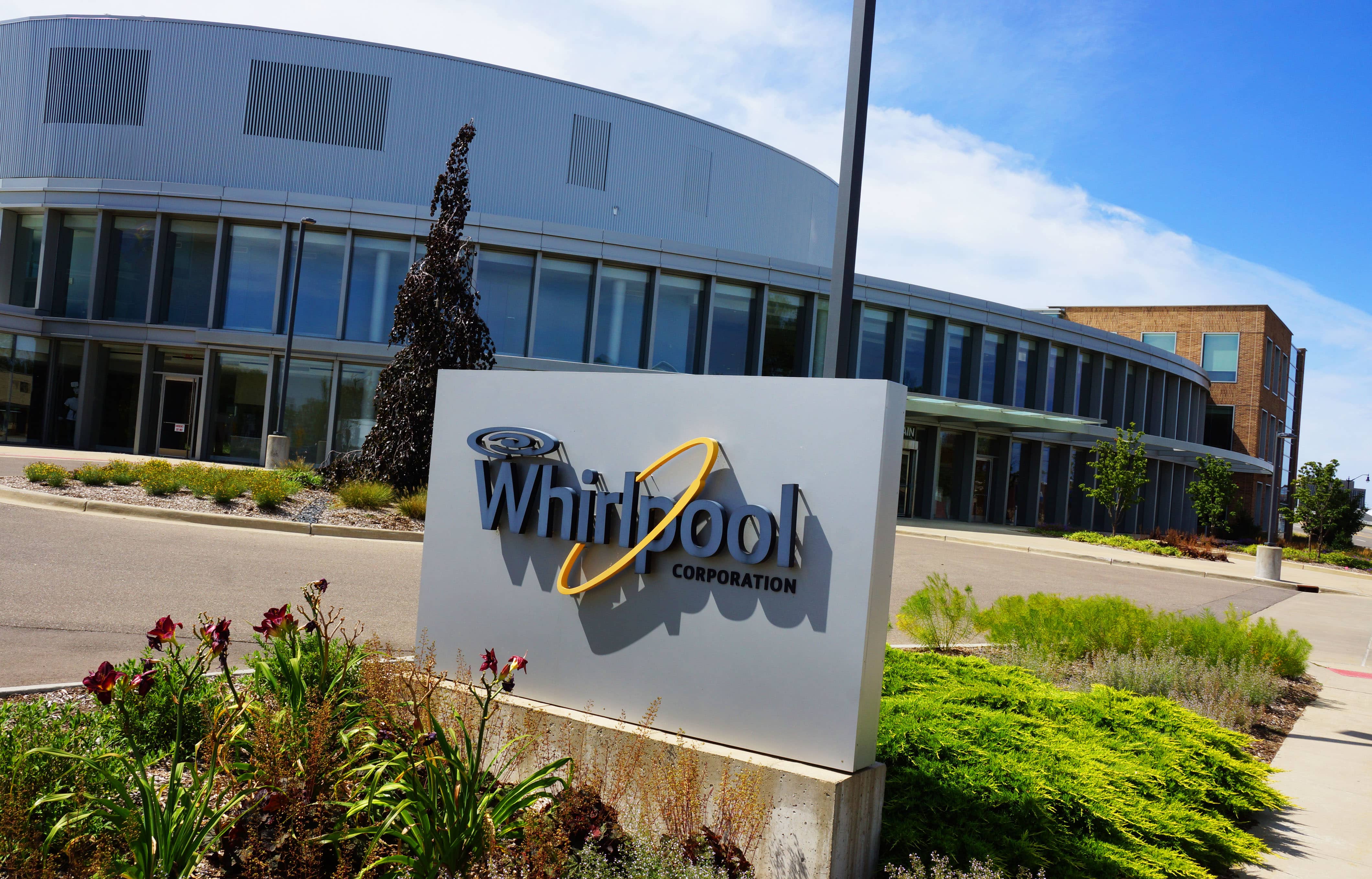 Whirlpool Corporation's stock is moving up in after hours trading following what the company terms "outstanding third quarter results," that beat Wall Street expectations on both earnings per share and revenues.
After the company's stock ended up dropping by $3.10 a share in Wednesday trading to $196.83, the price shot up by more than 7.5-percent shortly after the release of third quarter earnings, and within the first 90-minutes had settled into a range of more than 4.5-percent higher, moving past $206.00 in after hours trading.
The appliance maker, headquartered in Benton Harbor, reported strong third quarter GAAP earnings per share of $6.27, beating analysts projections by $2.84 per share. The non-GAAP earnings per share of $6.91 beat Wall Street by $2.71 per share. Total third-quarter net earnings came in at $397 million, while net earnings in the same quarter a year ago came in at $358 million, or $5.57 per share.
Whirlpool's third quarter revenues of $5.291-billion represent a 3.9-percent increase year-over-year, and beat Wall Street projections by $530-million.
Whirlpool Chairman & CEO Marc Bitzer says, "From the outset of this global crisis, we have taken decisive actions to weather the uncertainty and win in the eventual economic recovery. Our results this quarter are a testament to those actions, the exceptional execution by our employees, and the resiliency of our long-term strategy." Bitzer adds, "Looking ahead, while uncertainty remains, our Q3 performance serves as an additional proof-point that we are well-positioned to capitalize on the structural improvements in housing and consumer trends, and firmly demonstrates the viability of our long-term shareholder value creation strategy."
Bitzer and his team are also reinstating full year 2020 guidance, forecasting earnings per diluted share of $14.90 to $15.40 on a GAAP basis and $17.50 to $18.00 on an ongoing basis.
On that front, Chief Financial Officer Jim Peters says, "We are pleased to announce that we are increasing our full-year revenue expectations and reinstating our earnings per share guidance for full-year 2020 above our initial range, despite the ongoing COVID-19 pandemic." Peter's adds, "Our liquidity position remains exceptionally strong, and we expect to continue to strengthen our balance sheet by paying down the short term debt we took on at the outset of the pandemic by the end of the year. Finally, we are happy to have announced a dividend increase for the eighth consecutive year, reflecting the confidence we have in our business now and in the future."
The company reported cash provided by operating activities and free cash flow improved by approximately $1-billion and both were positive in the quarter, driven by increased net earnings and disciplined working capital management.
Additionally, Whirlpool reports a strong liquidity position with a cash balance of $3.5 billion as of September 30, 2020 and approximately $2.5 billion available under committed credit facilities, with the intent to repay $1.7 billion of outstanding short term debt by fiscal year end, including all COVID-related short term borrowings.
Earlier this week Whirlpool increased its quarterly dividend to $1.25 per share, resulting in the eighth consecutive year of dividend increases.