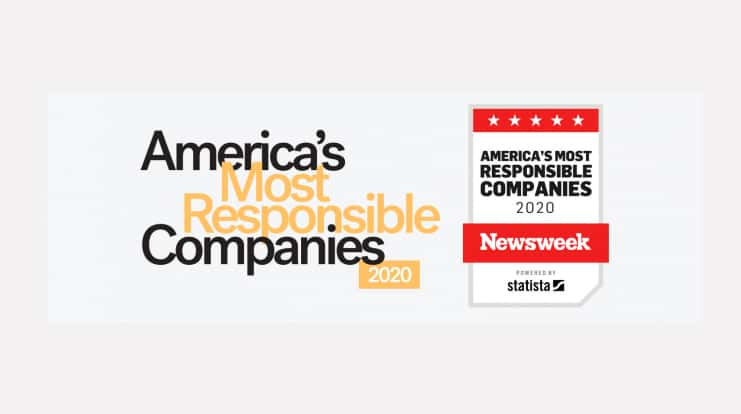 If you're looking for the type of business that is recognized as being among the most responsible companies in America, you won't have to look very far. According to new research from Newsweek Magazine, Benton Harbor-based Whirlpool Corporation checks in at number 70 on the list of the 300 best in America in that regard, and Battle Creek's hometown heroes at Kellogg are in the top 25, at number 24.
Newsweek, in partnership with a global data research firm, scoured more than 2,000 public companies to arrive at their list published today called America's Most Responsible Companies 2020.
Michigan's General Motors makes 27th place, and office furniture giants Herman Miller (81st) and Steelcase (85th) also scored in the top 100. While it is no longer locally owned, XPO Logistics which was originally founded in Buchanan makes the top 100 as well, checking in at #95.
Whirlpool's composite score of 76.3 comes from a score of 76 on the Environmental front…74 on the Social front…and 78.9 for Corporate Governance. They finished just behind Campbell's Soup and just ahead of PNC Bank.
Here is the note from Newsweek's Editor in Chief Nancy Cooper that precedes the Top 300 list published earlier this morning:
Companies, we all know, need to make a profit to prosper and survive. Making a buck, after all, is important to investors, employees and vendors. But over the years, executives have come to realize that they need to do much more. That is, by giving back to the communities they operate in and standing up as good neighbors and citizens.
Newsweek partnered with global data research firm Statista Inc. to publish our first ranking of America's Most Responsible Companies. As you will see from our description of the methodology, Statista worked from a universe of 2000 public companies to determine which firms were tops when it came to doing good.
Here are the 300 best.
Nancy Cooper
Editor in Chief
Here's a direct link to those 300 first rate companies in America:
https://www.newsweek.com/americas-most-responsible-companies-2020