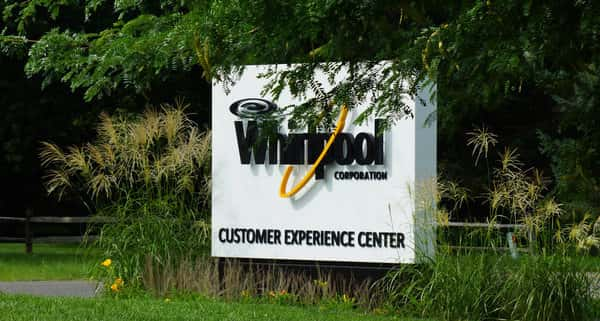 When Mike Duensing started working at Whirlpool Corporation while he was studying at Lake Michigan College, gasoline was 32-cents a gallon, and a new automatic dishwasher would have cost you just under $120. Of course, that was 50 years ago, and things have changed rather dramatically over the course of the years.
In fact, Duensing, now a Lead Training Associate for the appliance giant, says when he started on this same day in 1966 he would watch some of the people at the St. Joseph Division get their 25 year watches and thought to himself, "Who in their right mind would stay 25 years at a company, and now here it is and I've got 50! It went by really quick!"
Mike was cited by a number of family members and colleagues at Whirlpool's Customer Experience Center on the World Headquarter's Campus north of town today in celebration of his status as the most senior employee in the corporation, world wide. Thanks to modern technology, several sites around the nation where Mike has worked in this half century of employment with Whirlpool were able to join the party through teleconferencing.
Mike has been in his current role as a trainer for sixteen years now, but has been a part of the Customer Experience Center and it's forerunner The Cool Line dating back to 1988. He told me this morning, "Out of all the places that I've worked for the company, this is probably my favorite, because I get to train — which is what I love to do — and they let me train the way that I like to train, so that makes it very nice." He adds, "It's very rewarding when somebody comes up and says, 'remember when you told me to do this? Well, I just had a customer with that same situation.' That makes you fell like, hey, you're doing something that is worthwhile."
Mike admits that the 50 years has gone by really quickly, noting, "The older I get, the faster the time goes by!" He will turn 70 in January, but when asked about retirement plans he defers to his better half suggesting, "You'd have to ask my wife what my plans are, but I can see retirement in the near future…I'm not sure exactly when, but we're gonna just do what we do with the grandkids and take some trips." He loves to travel and picks a destination attraction each year, such as his trip last year to the Biltmore Estates and the previous year to Mount Rushmore.
Friends and family had pinned 50 "Fun Facts" about Mike, and #23 was about the number of bosses he had worked for. The note said more than 12, but Mike admits, it's likely more than 12 he just can't remember them all. His most memorable boss, however, "Would probably be when I worked in industrial engineering for Lowell Biggs. He was an industrial engineer, but kind of brought along by the seat of his pants." He says Biggs was from Arkansas, "and he learned by doing the job, and some of the things, like the studies he had me do, where just unbelievable and I learned a lot at the Division." In fact, Mike is of the opinion that everybody should spend a little time in the manufacturing trenches "to learn what goes on there, because it's a whole different world. You learn so much at the Division, which helped me here because we help people repair their products, so having seen washing machines built from the ground up, I knew them inside and out. I think anytime somebody can get a chance to go through and spend some time there to see how the product is made, that's a big benefit."
Prior to the Customer Experience Center, Mike worked in materials handling at the St. Joseph Division for nearly 20 years, but also worked for 1 and 2 years respectively in computer reporting in the Research Building and as a literature expeditor in the Sales Promotion Building.
While watching the rapid rise of the company over the term of his career, Duensing says "I saw it getting bigger when I first started — it was like your dad worked here, your dad's dad worked for Whirlpool and now you're working for Whirlpool — and now, we're so big, I never thought it would be this large of a company. I knew we were big, especially here at home, but when we went global, that changed a lot — it was almost unfathomable, including how quickly we got there."
Mike was born in Benton Harbor and his family moved to Stevensville, making him a Lakeshore Lancer, who went on to Lake Michigan College and then directly to Whirlpool. His father was a Detective with the Benton Harbor Police Department and his mom ran a beauty shop. He and his wife have three grown daughters and seven grandkids.
It was a substantial milestone for Mike today, but he was beaming with pride and still showing the passion he has had for his job for virtually the entire 50 years on the team. He joked that Randy Maples who helped organize the party today did a fine job putting together the event, and "While the 50 years went quick, I just don't know how Randy's going to top this at 60!" If Randy's smart, he might want to start planning right now!