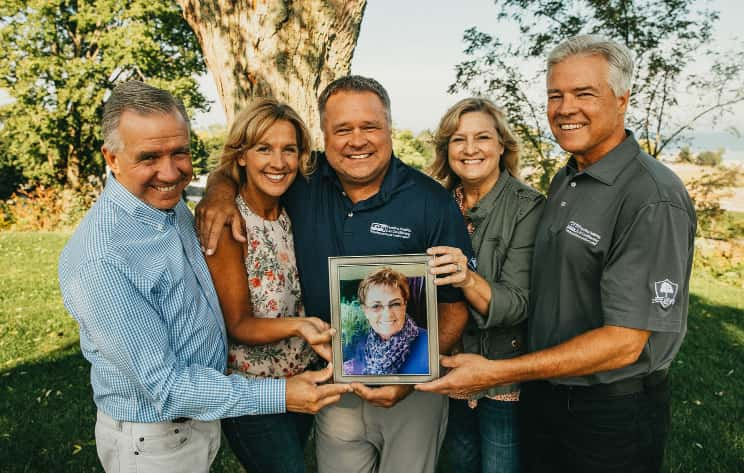 ---

---
Michael Ross remembers vividly when the surgeon stepped into the waiting room to deliver news regarding his mother's procedure to deal with ovarian cancer. He and his siblings instinctively knew almost immediately when they looked into the face of that surgeon that the news "was not going to be something we wanted to hear." What was slated to be an hour-long procedure had turned into a three-hour ordeal for the Ross family from The Crew in Blue at City Plumbing & Heating in St. Joe.
Michael says it was like a punch to the gut, and everyone feared the diagnosis of a rare form of ovarian cancer — primary peritoneal cancer — would be a direct death sentence. When the Oncologist, Dr. Edward Paloyan, emerged with a huge smile on his face and asked the family, "Why are you guys so upset? We can do this," it started right there.
Michael, Carey and the entire Ross family knew then: It starts right there. With that doctor and the people around that doctor who are so supportive and positive and turn things from a question of "When and how long," into a response of "Really? Are you kidding me?" Cancer awareness starts right there, and in the current day and age of advanced treatment protocols and successful research, a diagnosis of cancer is not an automatic death sentence.
Thanks to modern medicine and ongoing research, Mrs. Ross' projection of one year left in her life became three and a half years, and while the ordeal was "brutal" in the words of Michael and his siblings, it was also a major eyeopener.
After they lost their family matriarch, who was "the absolute anchor of our family which meant wherever she went, we were rooted there — and still are — we still do the same things that we did when she was alive, and that's awesome," says Michael.
The memory of that indomitable woman who fought a valiant battle, and the subsequent breast cancer awareness mantra of family friend Denise Bohn, a voracious fighter and survivor in her own right, led over the course of the ensuing years to the notable Flush Out Cancer event hosted every fall in the showroom windows of the Ross family business in the city of St. Joseph's central business district.
The tough journey of both women and the subsequent stories of so many others who continue to arrive at the showroom on a crisp October morning every year now for five years, continue to pave the way for a brighter future for everyone because of the diligent drive for awareness and the collective spirit of those who raise much needed dollars to continue the fight.
Michael's eyes well up when he recalls "seeing what they go through, and I don't ever want to have to go through that." That emotion and the steady drumbeat for vigilance in health care check-ups and the sustained drive for awareness — even aboard pink toilets designed to Flush Out Cancer — will keep the Ross family and dozens of other families in our region perpetually focused on what has become, "a cool day to see all of the support and the chance to meet new people who have survived all types of cancer," year after year.
Nobody ever wants to travel that journey alone, as a patient or a family member or friend. We're all fortunate to have renewed awareness even as the pain lives on thanks to a family dedicated and re-dedicated to the ongoing efforts to Flush Out Cancer in our lifetimes. The Crew in Blue goes Pink every October…especially on the morning of Friday, October 11th, 2019 at 407 State Street in downtown St. Joseph. Hope to see you there!
Want to know more information? Let City know below.
---

---