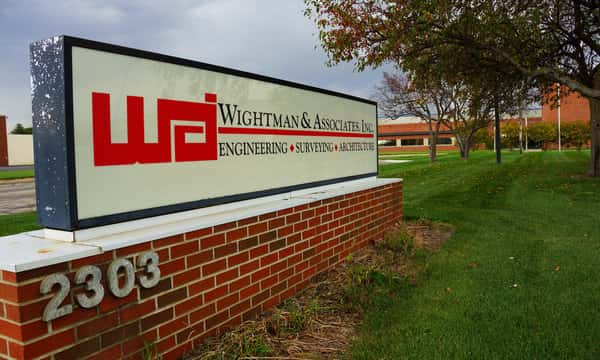 The crew at Wightman & Associates in Benton Harbor is getting pretty good at statewide recognition for the great work that they perform. For the third consecutive year they are bringing home hardware from MDOT and the organization that represents paving companies across the state.
The Asphalt Pavement Association of Michigan (APAM) and Michigan Department of Transportation have presented the team at Wightman, the crew at Rieth-Riley Construction Company's Kalamazoo Plant, and the Kalamazoo TSC for the Michigan Department of Transportation with the Award of Merit for paving projects over 30,000 tons.
The award recognizes excellence in asphalt pavement construction for work performed in 2016 to reconstruct and pave a .96-mile section of roadways that make up the I-94 at 40th Street interchange in Kalamazoo County. The project included reconstruction of 40th Street including a new bridge over I-94, East Michigan Avenue, four ramps to I-94, and an asphalt overlay on I-94.
Steve Carlisle is Director of Engineering for team Wightman. He says, "We are honored to be recognized as part of this award." He adds, "This was an important infrastructure project in the Kalamazoo area and we are proud to have worked with Rieth-Riley Construction Co., Benesch and MDOT to ensure a high-quality end product for those who live, work, and visit the Kalamazoo area."
Rieth-Riley was the paving contractor and WAI provided inspection oversight on the project. The MDOT Kalamazoo TSC manages the interchange and adjacent project roadways honored with the award. Evaluation criteria include:
Appearance including overall neatness and no overspray or leftover materials
Smooth ride and uniform texture
Joints that are straight, well-blended, smooth, and uniform
Straight and uniform edges
Approaches that blend well with the mainline pavement
Utility covers flush with the pavement
Degree of difficulty including traffic management and night paving
William Masura is Project Manager for Rieth-Riley Construction. He says, "To keep traffic moving while meeting an expedited schedule, asphalt paving was spread over six stages and included the construction of temporary roadway areas." He notes, "To receive this award with Wightman & Associates and MDOT Kalamazoo TSC on a complex project like this is truly an honor."
Wightman & Associates, Inc. is a civil engineering, architectural, and survey firm that has been serving Southwest Michigan and Northern Indiana since 1946 with offices in Benton Harbor, Portage, and Allegan, Michigan. They celebrated their 70th Anniversary in 2016 when they were named the American Council for Engineering Companies (ACEC) Large Firm of the Year for the state of Michigan.