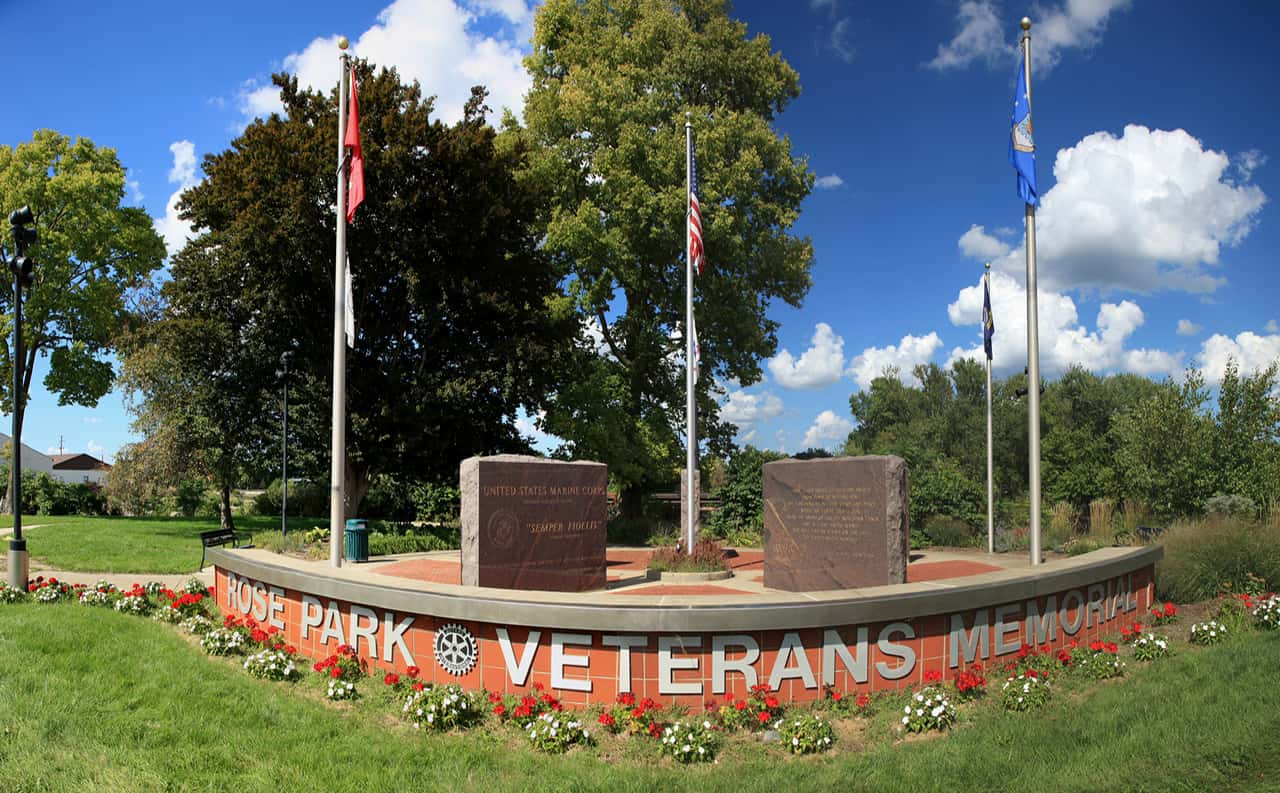 The eastern gateway to the city of Kalamazoo is a brighter place thanks to the team at Wightman which has offices in Benton Harbor, Allegan and Kalamazoo. As a result, the Wightman trophy case is a brighter place as well.
Wightman has received a Surveying Merit Award for its work on the Rose Park Veterans Memorial Park in the City of Kalamazoo from the American Council of Engineering Companies of Michigan (ACEC/M).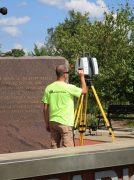 The ACEC/M Awards Program "recognizes outstanding efforts of professional design firms to solve clients' needs through exceptional projects and offers the opportunity to showcase the year's best engineering and surveying achievements to an audience of peers, clients, and decision makers at all levels," according to Ronald W. Brenke, Executive Director of ACEC/M.  Wightman accepted the award during the awards ceremony at Sound Board in Motor City Casino Hotel in Detroit last month.
Rose Park Veterans Memorial is located on the Kalamazoo River at the East Gateway to the City of Kalamazoo.  The small park has been a special community project for the Rotary Club of Kalamazoo-Sunrise since 1991.  After undergoing a park beautification, including the construction of five memorial panels and a brick walkway, the site, which honors veterans of all five branches of service, was formally dedicated on Veterans Day, November 11, 2001.
Wightman successfully partnered with the City of Kalamazoo Parks Department and Rotary Club of Kalamazoo-Sunrise to create and maintain an accurate database of  more than 5,000 bricks that form the base of the memorial. Wightman relied on the high-tech skills of its Geographic Information System (GIS) and Reality Capture teams to create a 3D model and base map of the park, develop a database to catalogue the bricks, and produce new on-site signage.  The GIS data is available in an online interactive map which can be accessed by the public to search for and locate a specific memorial brick.
Joanna Johnson is a member and past-president of the Rotary Club of Kalamazoo-Sunrise. She says, "We are truly excited to share this new, modern, easy to use system. Families will be able to find their loved ones easier," and she adds, "We are grateful to the partners in this project for making the vision for improvement a reality."  The award was shared with the City of Kalamazoo during the monthly commission meeting in March.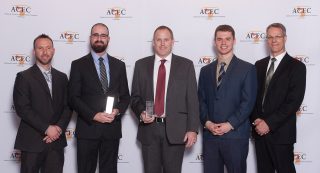 For more information about GIS services at Wightman, you can contact Ryan Miller at (269) 487-9658 or rmiller@gowightman.com.  For information about Reality Capture services at Wightman, contact Greg Vaught at (616) 843-7009 or gvaughn@gowightman.com.
Wightman is a full-service consulting firm that exists to serve people and the communities they live in. Their dynamic team of over 120 professionals works to analyze, advise, design, and deliver successful projects in partnership with governments, business, and institutions in our communities. Services offered include Architecture, Civil Engineering, Environmental and Surveying. Additional specialty services offered include Planning, GIS, Landscape Architecture and Interior Design.