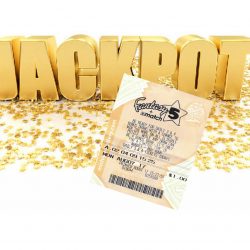 It may seem small in a side-by-side comparison with the current Power Ball and Mega Millions Jackpots, but a Berrien County woman picked up a nice paycheck from the Michigan Lottery Bureau today thanks to her purchase in downtown Benton Harbor on Monday.
The woman, who chose to remain anonymous, reportedly had a sleepless night after winning a $276,519 Fantasy 5 jackpot from the Michigan Lottery.
The lucky player matched the Fantasy 5 numbers drawn Monday – 02-04-09-15-25 – to win the jackpot. She bought her winning ticket at The Bait Shed, located at 470 West Main Street in downtown Benton Harbor.
She told lottery agents, "I was on my way home from work and I made a stop to buy a Lottery ticket." She says, "I was trying to decide between a Daily 4 and a Fantasy 5 ticket and when I got to the counter something was telling me to say 'Fantasy 5,' so I did."
The player was watching a movie with her husband Monday night when she made a shocking discovery.
She says, "While the movie was going, I decided to check the numbers on my phone," and adds, "I instantly recognized the numbers and started screaming."
The lucky player recently visited Lottery headquarters to claim her big prize. With her winnings, she plans to pay off her house, and then save the remainder.
The lucky lotto player says, "I've barley slept at all since I won. I keep checking the numbers just to make sure it's real."
While the jackpot is sweet for the local player, the lottery fever is alive with jackpots in the two big lotto games topping $300-million after no recent winners have been drawn.
Each Fantasy 5 play is only $1. For an additional $1 per play, EZmatch may be added to a Fantasy 5 ticket, giving players a chance to win up to $500 instantly. Fantasy 5 players select five numbers from one to 39. Players who match all five Fantasy 5 numbers drawn win a jackpot that starts at $100,000. Fantasy 5 drawings are held seven days a week at 7:29 p.m. Tonight's Fantasy 5 jackpot is $110,000.
About 97-cents of every dollar spent on Lottery tickets benefits the state in the form of contributions to the state School Aid Fund, prizes to players and commissions to retailers and vendors. In 2016, the Lottery provided a record $888.9 million to help support Michigan's public schools. Since it began in 1972, the Lottery has contributed more than $20.5 billion to support public education. For additional information, follow the Michigan Lottery on Facebook, Instagram, Twitter and online at www.michiganlottery.com.