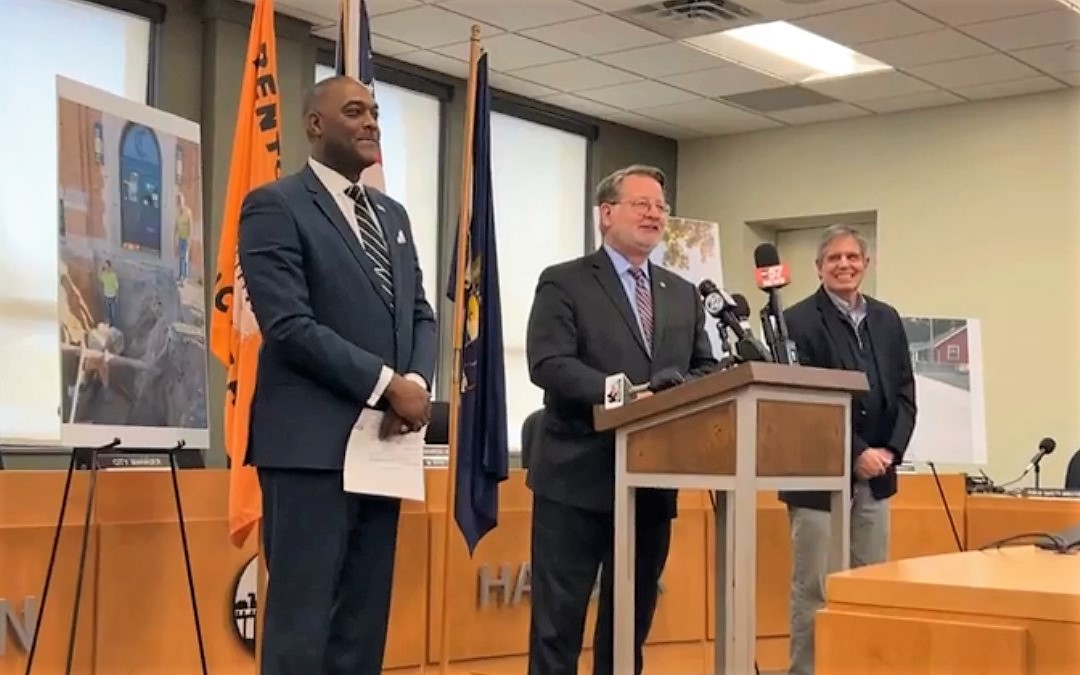 Leaders from Benton Harbor's government, schools and churches gathered at City Hall on Monday for a big announcement.
U.S. Senator Gary Peters announced he helped secure an additional $800,000 for the city to continue its overhaul of the water system. He also congratulated the city for its efforts to replace 99.4 percent of the city's lead lines – ahead of schedule and under budget – as well as improve water quality for its citizens.
"I'm really proud of the progress we've seen here in Benton Harbor," said Peters joined by Mayor Marcus Muhammad and city water consultant John Young at the podium. "Benton Harbor has made tremendous progress. That's something we should celebrate … but there's still more to go."
This funding will support the city's efforts to improve water quality and safety for residents, including by upgrading its water filtration plant, replacing fire hydrants, and other system enhancements.
Young said in addition to replacing the lead lines, the city has automated some of the chemical feed systems, upgraded controls at the treatment plant, renovated the water filtration system and are in the process of renovating the laboratory.
Additionally, Benton Harbor has upgraded its standard operating procedures at the plant, corrected how it does water sampling, calibrated water quality analyzers and cleaned equipment used to treat the water.
"If you look at the water quality leaving the treatment plant, it is excellent and fully regulatory compliant," Young said. "They've been properly disinfecting the water for, for over a year now. …  For the last 18 months, we've been in full compliance with the lead and copper rule in Benton Harbor, and you ought to be very, very proud of that."
Young says there is still a lot of work left to finish the long-term capital projects at the treatment plant, and thanked Peters for securing some of that funding.
"We have left to do a lot of work in the distribution system with the pipes and the valves and the fire hydrants," Young said. "As many of you are aware, we have to finalize the structure and staffing of the water department here in Benton Harbor and really develop a plan to make the Benton Harbor Water System sustainable from a technical perspective, from a management perspective, and most importantly from a financial perspective."
Last week, Mayor Muhammed attended a lead pipe summit in Washington, D.C. While there is still a lot to be done, Muhammad said Benton Harbor is has been noticed on a national level.
"The great news is that the city of Benton Harbor is under the telescope and microscope for the great work that was done here," Muhammad said. "Nationally, we're being studied as a model of what we did to replace 99.4 percent of 4,000 lead lines … what they're doing is looking at what we did holistically, the whole of government approach that came from the federal to state to local, working together. So, it's great news coming out of City Hall."
Watch the entire press conference below: