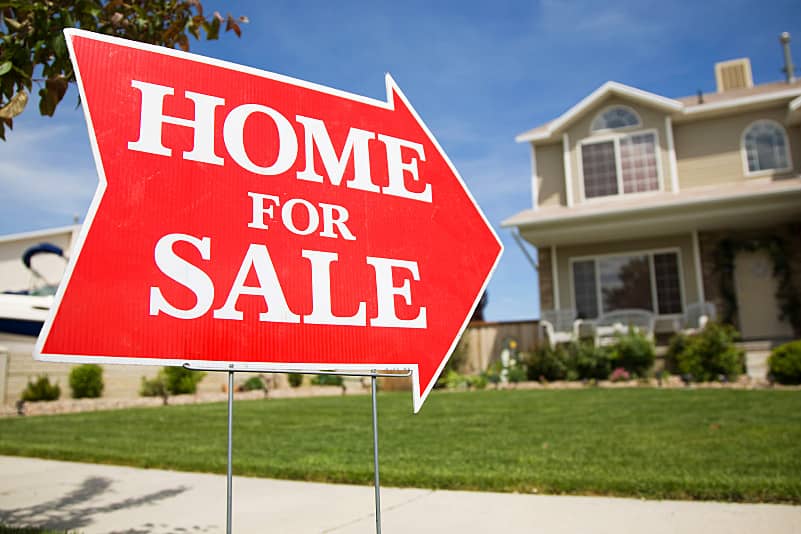 Standing on the brink of peak selling season in Michigan's Great Southwest, the local housing market is a bit less frenetic, as home buyers face significant spikes in mortgage rates and an ongoing rise in prices.
Southwestern Michigan Association of Realtors Executive Alan Jeffries reports today. "As we are moving past COVID restrictions, the housing market appears to be moving at a less manic pace," and adds, "With fewer houses for sale, sales have dropped. However,  selling prices continued to rise and set records in April." Combined with interest rate increases, Jeffries feels that when looking at all of the factors, he expects they will "contribute to a more balanced marketplace for sellers and buyers."
Jeffries tells us that the southwest Michigan housing market in April began to show signs of kick-starting the peak selling season from Spring to Fall. When compared with sales in March, the average and median selling prices in April increased 16-percent and 13-percent, respectively. Overall, sales grew by 8-percent, with 263 homes sold in April as compared to the 244 that were sold in March locally.
Looking at the market year-over-year, however, the number of houses sold in April dropped by 11-percent from April of 2021 when 296 homes had been sold. Year-to-date, in April of 2022, 885 houses have been sold as compared to a total of 1,044 through of April 2021, which was the record high in the market's year-over-year comparison.
The always critical factor of local inventory of houses for sale once again fell by 12-percent to 601 available homes from the 680 on the market in April of 2021. That brings the inventory of houses for sale down to a 2.5-months supply of inventory available for buyers. By way of comparison, a dozen years ago in April of 2010, there were 3,452 houses for sale and a 15.6-months supply of inventory.
Selling prices set new record levels in the year-over-year comparison that dates back to 2006. The average selling price last month (in April of 2022) was $364,201 compared to $332,767 a year ago in April of 2021, representing a 9-percent increase. The year-to-date average selling price in April of 2022 marked a modest 5-percent increase over April of 2021 ($327,522 vs. $311,297).
The median selling price in April of 2022 increased by 4-percent to $ 252,650 from $242,500 in April last year (2021.)  Year-to-date, the median selling price climbed by 8-percent to $226,400 as compared to $209,000. The median selling price and year-to-date median selling price also set new record prices in the month of April in the year-over-year comparison.
The median price is the price at which 50% of the homes sold were above that price, and 50% were below.
The total dollar volume fell 3-percent in April 2022 ($95,784,920 vs. $98,499,197), while the year-to-date total dollar volume at the end of April 2022 plunged 11-percent ($289,857,261 vs. $324,994,599).
The number of bank-owned or foreclosed homes as a percentage of all transactions dropped to 1-percent in April from 2-percent in March and 3-percent in February. In January, the rate was 0-percent. The previous lowest percentage was 2-percent in April of 2021.  The highest percentage in the month of April was 54-percent, set back in 2009.
Nationally, in March, the Freddie Mac mortgage rate was 5.10, up from 4.67 in March for a 30-year conventional mortgage.
Jeffries reports that the data in his report reflects home sales across Allegan, Berrien, Cass, and the westerly 2/3rds of Van Buren Counties and should not be used to determine the market value of any individual property. He suggests, "If you want to know the market value of your property, please contact your local Realtor. "
Jeffries also shares advice for those buying and selling a home in the current market. Suggesting:
When Selling a Home…
"Go professional. Most of us can drive a car, but it doesn't qualify us to drive an Indianapolis race car on Memorial Day. That takes a professional driver with years of experience and knowledge of the race track. The same is true when you list your house with a Realtor. As a professional, they know the market (the race track), have access to the latest housing data and current competition to help price your home to sell (know the other drivers who will be on the track), and will market your home through proven resources to reach a qualified buyer (can take all the turns in the track with the maximum skill to win the race). Selling a home is a significant financial process. Call a Realtor to help you follow the winning path."
When Buying a Home…
"Mortgages are just business transactions. Keep in mind mortgages are very important to your financial future, and the following suggestions should be taken seriously and as always, feel free to ask your Realtor any questions."
#1 Communicate With All Parties
This deal involves several people: you, the seller, your agent, the seller's agent, and the lender. Keep everyone in the loop on every bit of information, or your closing could get delayed.
#2 Have Enough Money to Pay Closing Costs
Closing costs are usually 2-to-5-percent of the amount you're borrowing. If you don't have enough money, there are a few ways to work around the problem. Look for assistance programs that cover some of the closing costs. Call a relative and ask for a gift. Negotiate with the seller to have them pay the closing costs.
#3 Unfreeze Your Credit
Buyers may have placed a security freeze on their credit, limiting their report access. This can prevent identity thieves from opening new accounts in their name but can cause trouble when you are applying for a mortgage. Log into your online accounts at the three credit reporting agencies and unfreeze your credit.
#4 Steer Clear of Big Purchases After Mortgage Pre-approval
Your lender will check your credit twice: when you apply for the mortgage and days before you close on the house and get the keys. In the interim, if you buy a houseful of furniture, you could delay your close or even cause it to fall through. Even applying for a credit card or car loan can affect your mortgage rate.
#5 Expand Your Employer's Contact Information
Getting emails and home or cell phone numbers for your employer is a must to prevent loan approval delays, especially with many people still working from home.
#6 Ask Questions So Your Lender and Agent Can Help
There are no dumb questions. Lenders and agents are there to help you, so pick their brains. For example, ask if they know of home loan programs to help you get into a home and how to access them. Check on anything you don't understand.
To view properties that are for sale in the local area, go to www.swmar.com, and click on "Search."  The Southwestern Michigan Association of Realtors, Inc. is a professional trade association for real estate professionals who are members of the National Association of Realtors, and ancillary service providers for the real estate industry in Allegan, Berrien, Cass, and Van Buren Counties. The Association can be contacted by phone at 269-983-6375 or through their website at www.swmar.com.