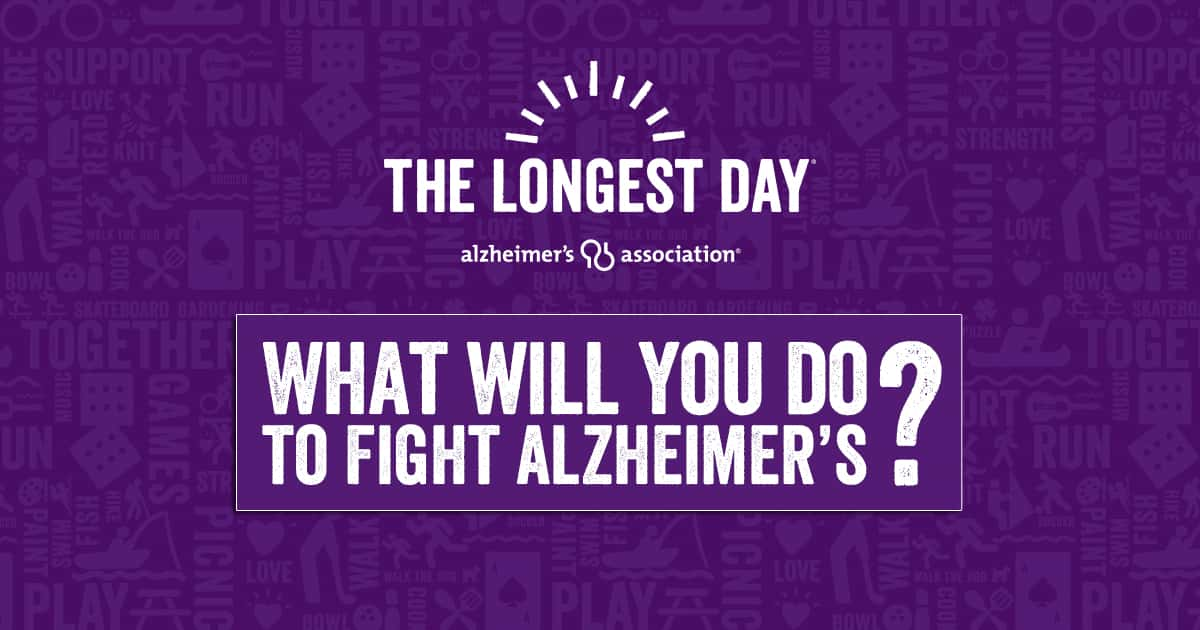 Thanks to those dedicated to recognizing the often times devastating impact of Alzheimer's disease, the longest day of the year is increasingly taking on new meaning, and helping shine the light of awareness on the disease.
Next week on June 21, 2018, people around the world, including St. Joseph Radio Station News/Talk 94.9 WSJM, will participate in The Longest Day, a day dedicated to all those affected by Alzheimer's disease. The Longest Day participants around the world will be choosing a favorite activity, hosting an event or joining a team to ignite a global conversation about Alzheimer's disease, the brain and other dementias as part of Alzheimer's & Brain Awareness Month in June.
Held annually on the summer solstice, The Longest Day symbolizes the challenging journey of those living with Alzheimer's disease and their caregivers. Participants will do what they love – biking, hiking, playing bridge, swimming, knitting and more– to honor a caregiver, someone living with Alzheimer's, or someone lost to this devastating disease. Together, participants will raise funds and awareness to advance Alzheimer's Association care, support and research programs.
In St. Joseph, News/Talk 94.9 WSJM will be hosting an All-Day Broadcast from 6am-9pm, sunrise to sunset on the longest day of the year. News/Talk 94.9 will be broadcasting live from Woodland Terrace Senior Living in Niles throughout the day, and will be sharing stories of those impacted by Alzheimer's disease, as well as interviews with researchers, advocates, financial planners and other experts. Listeners will also have the opportunity to make donations by calling 734-369-2716 or by texting WSJM to 91999.
Jennifer Howard is Executive Director of the Alzheimer's Association's Michigan Great Lakes Chapter. She says, "We are thrilled to partner with WSJM to host this event." She adds, "They've been incredible supporters of our St. Joseph Walk to End Alzheimer's for years, so we're excited to be able to expand our partnership this year to educate and raise awareness among St. Joseph residents in new and different ways."
Here are some key facts about Alzheimer's:
Worldwide, there are an estimated 47 million people living with Alzheimer's and other dementias and it is the nation's sixth leading cause of death.
More than five million Americans are living with Alzheimer's, including 180,000 in Michigan, and this national number is estimated to grow to as many as 16 million by year 2050.
Additionally, there are more than 15 million Alzheimer's caregivers, according to the Alzheimer's Association 2018 Alzheimer's Disease Facts and Figures report.
You can start or join a team, host an event, or register individually, or even just learn more about The Longest Day by clicking the link below or on facebook.com/fightalz. Here's the link:
To learn more about the All-Day Broadcast or listen live throughout the day, tune into News/Talk 94.9 WSJM on your radio, or stream online at www.wsjm.com.
The Alzheimer's Association is the leading voluntary health organization in Alzheimer's care, support and research. Their mission is to eliminate Alzheimer's disease through the advancement of research, to provide and enhance care and support for all affected, and to reduce the risk of dementia through the promotion of brain health. Their vision is a world without Alzheimer's. Visit alz.org or call 800.272.3900.