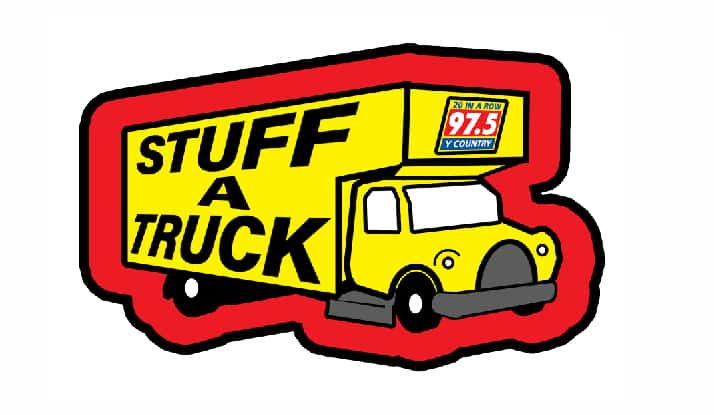 Earlier today we shared the American Farm Bureau Federation's data on how much it will cost to feed Thanksgiving Dinner this year to a table of ten people. In the grand scheme of things, that cost, of $48.91 is a pretty solid bargain. Unfortunately, not everybody has the capacity to be able to put food on the table every day. That's why every year, for more than 20 years, the team at 97.5 Y-Country radio has been conducting their annual Stuff-A-Truck food and fundraiser for the Southwest Michigan Community Action Agency.
They've been at since Monday of this week at Roger's Foodland on Hollywood Road in St. Joseph and will continue until noon on Saturday, and they hope that you will be willing to help in this annual crusade to feed the hungry…not just at the holidays but throughout the year.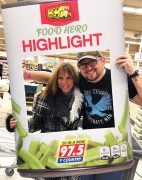 Y-Country Morning Air Personality Matt Malone from the Matt Malone Morning Show says, "We're currently working towards beating our food and funds raised from last year, which was 11 full trucks and $15,000 worth of donations." He and his co-workers are broadcasting live throughout the day each day and inviting people to join the team of "Food Heroes" and take a highlight photo while on site.
So far, they've already hit $4,000 in cash donations and 2 full trucks, but compared to where the event ended last year, with 11 trucks and over $15,000 in donations, they are still in serious need of public donations.
The drive happens each year ahead of the holiday season, but it is all about re-stocking the warehouse and pantry at the Southwest Michigan Community Action Agency which helps people all year round.
Malone says, "The great thing with the SMCAA and the food that's raised from Stuff-A-Truck is that it all stays local, and honestly it's helping people that we know and speak with every day, even though we may not know they're going through a tough time."
The drive is hosted at Roger's Foodland annually and continues until 6pm today, again tomorrow, Friday the 22nd from 6am until 6pm and will wrap up on Saturday from 9am until noon.
The drive is also sustained by a whole host of sponsors including:
Pristine Pool & Spa
Boelcke Heating & Air Conditioning
Honor Credit Union
Mid-County Lawn and Garden
True Blue Financial
Levalley Chevrolet, Buick, GMC is the official Truck Sponsor
Adent's Landscape Supply is the Tote Sponsor
Medic 1 Ambulance is the Tote Board Sponsor
Karla McLean — Edward Jones Financial Advisor in St. Joe is the Cash Box Sponsor
Additionally, and new this year, Horizon Bank is sharing on air good news stories about how the agency has affected local families and provided hope and help to those who need it with the on air segment, "Hope on the Horizon," telling real stories about real people getting real results.
Malone, a tireless worker and advocate for people in need from all walks of life, adds an important sidebar to the campaign, telling us, "There's a misconception that the people receiving the food are individuals who don't want to get a job, but that couldn't be further from the truth. The SMCAA helps anybody and everybody that needs help. By way of example, seniors who are on a fixed income but end up taking custody of their grandchild because — if they didn't — the children end up in foster care. What kind of a choice is that? Or a family where a vehicle repair, or an issue with payroll, or an accident at work takes away their income for a month and they just need food for one month to get by."
Malone reminds us, "A majority of people in Southwest Michigan end up living paycheck-to-paycheck, so this is a reality for many people."
The Stuff-A-Truck campaign focuses on non-perishable food products and items. These are some of the suggested items you can consider donating:
Non-perishable food products
Canned goods including vegetables, tuna, fruit, soups and the like…
Boxed foods including pasta, mashed potatoes, mac & cheese, coffee, juices, and such…
Baking Products including flour, sugar, salt, vanilla, baking soda, baking powder, cake mixes, brownies, corn meal, cooking oil and so on…
Personal Hygiene Products including shampoo, conditioner, deodorant, bar soap, lotion, laundry detergent, toothpaste, tooth brushes, mouthwash and hair supplies…
Baby Products including diapers, wipes, baby food, and formula…
Paper Products including toilet paper, paper towels, facial tissue, tin foil and the like…
If you simply don't have time to head to Roger's Foodland at 4039 Hollywood Road, consider clicking the link below and then the "Donate" button to offer up cash which can be used to purchase items for the warehouse and food pantry. Here's the link for that:
https://www.975ycountry.com/stuff-a-truck-2019/
Look for this button on that page (but don't click this one, it's just a photo):