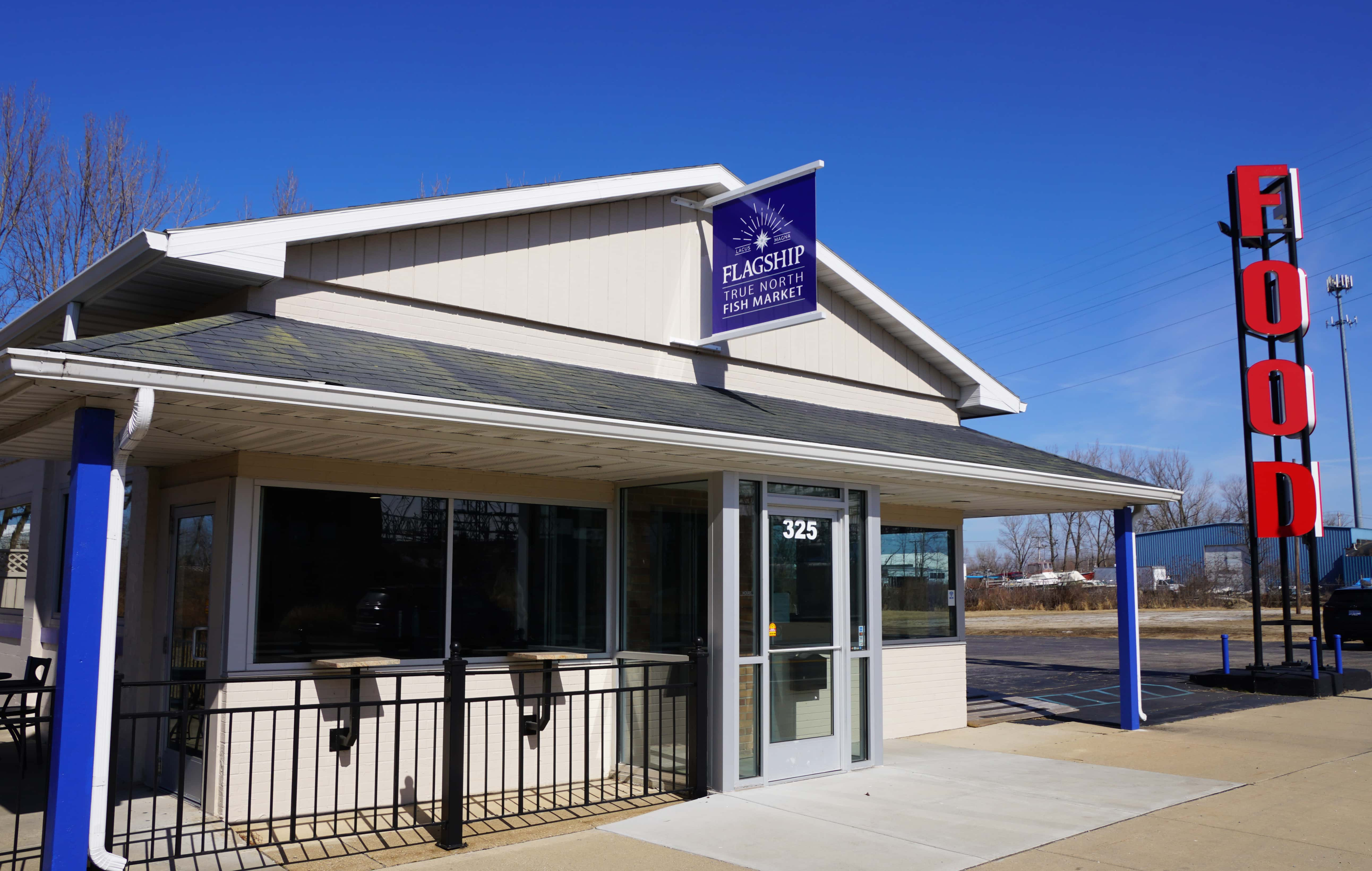 When your favorite nickname stems from your grandson, and that same name has strong family ties…well, you just roll the dice and say, "That's the name we'll put on the door and celebrate a happy new place for everyone to come and enjoy hand-crafted lunch."
Thus is soon to be born, the Happy Poochie Eatery, on one of the busiest routes in downtown Benton Harbor.
Lisa Gresens, affectionately known by her loving grandson as "Poochie," hopes you fire up your taste buds for an exceptional trip down her savory streetscape at 325 W. Main Street coming late this spring or early summer to the base of the soaring and iconic "Food" sign for your weekday lunch enjoyment.
Happy Poochie Eatery, a lunch restaurant that will specialize in artisan sandwiches and salads with seasonally crafted soups, will be opening its doors there very soon.
The notable "food sign building" has housed many restaurants over the years and the new owners are looking to change the narrative with their new lunch spot taking a bow soon.
Lisa has been in the food and restaurant business for over 30 years. She owned a successful restaurant and catering business for several years near Chapel Hill, North Carolina and she has played an integral role in her brother's restaurants in the Detroit area and St. Joseph, including RyeBelles in downtown St. Joseph.
Her husband, Richard Gresens, is an independent product designer born and raised in southwest Michigan. His career has been focused on developing and bringing creative ideas to life through design at companies like Ford and Whirlpool.
Richard says, "We've been married for some 20 years now, and we always had her great food and I've always loved it, and she's always talked about having her own place here, so I thought about it and we just kept thinking it through and felt that the time was right for us, and figured why not let others enjoy some of her great food." He adds, "I have been fortunate to experience her food over the years, but it's exciting to think that we are going to be able to share it with the entire community."
The two have undertaken a major transformation of the inside of the eatery, evolving it into a more comfortable atmosphere that is both casual and fun in order to fit the name they have selected.
Lisa admits, "We wanted a fun name that makes you smile," and adds, "Our grandson calls me 'Poochie' and the name has a history with our family. On the other hand, I love making food that makes people happy…. Hence Happy Poochie Eatery!" Similarly, RyeBelles is a composite of the names of her father and mother, selected by her brother Jim Champion who launched that business years ago in downtown St. Joe. Richard notes, "It's something fun and we wanted to make this place fun, and to attract an audience."
The eatery will offer a variety of fresh ingredients, nitrate-free meats, and produce from local vendors to create a true experience.
Richard adds, "We are excited to be an integral part of the community, a catalyst for growth downtown, and another notable food destination in Benton Harbor."
The couple selected the vacant slot in downtown Benton Harbor, with Lisa noting, "We didn't want to move, either. I love living here. We lived over in the Grosse Pointe neighborhood of Detroit, and I loved it there, and worked with a good brother there, but there's something about here that makes me just feel at home. I grew up near the small town of Caseville, and we used to spend our summers here along Lake Michigan. The water means so much to me, and I just love being here, because I feel at home." Richard adds, "I grew up here, and we have a lot of family here now, and yes, this is the place where we want to be."
Regarding the menu, Lisa says, "I want to do nitrate-free meats, local produce, a lot of healthy options, and a good mix of vegetarian and meat dishes. We'll offer a lot of different things, and fun things," to which Richard adds, "Lisa always puts a little different twist on things." Lisa quickly jumps in adding, "Like in my Caesar Salad, everybody always commented 'I've never had a Caesar Salad like yours,' and yes, it's a Caesar Salad, but it has some twists, and that's fun. It's like I make a Greek Salad, but I put twists in it, and the more I do it, the better I get at it. It's just one of those things like drawing a picture, the more you do it, the better you get at it. So, I'm super excited to bring new things, but I'm open to people's ideas, too. What do you want for lunch?" I suggested posting a chalk board asking that very question and letting people share what they'd like to see added to the specials or the menu itself, which they were excited to plan for, giving you even more flexibility at lunch.
Lisa further explains, "I want to make it very comfortable here so that when you walk in you go can 'I have this and can you change this up a bit,' and I'm like, 'sure.' It's just nice to be able to do that for my customers. It's fun to go in somewhere where they know your name, like at the Mason Jar where Jayme and Abel are so nice, they know your name, they welcome you, and it makes a difference. You want to go somewhere where they become acquainted with you, and know what you like."
Richard notes, "It's important for us to become a fixture in the community like the Mason Jar, Houndstooth and Bread+Bar, we really want to be a catalyst for this area, because there's not a lot in this stretch of town and we'd like to see other places build up nearby and build off of that."
The new Happy Poochie Eatery will be a lunch-only diner. From approximately 11am until 3pm Monday through Friday, but that could change based on traffic and demands. Richards points out, "Once we get into it and see what kind of response we're getting and if we need to open earlier or stay a bit later, we can adjust. Down the road we'd like to do some catering as well, as we have great capacity at the rear of the building, set up perfectly for that purpose."
The diner will offer capacity of some 40 to 45 patrons plus maybe 8 tables outside in-season, as Richard notes, "We just want to make it more comfortable and that's why we've done some of the renovating that we've undertaken to still keep the kitchen open, but with a bit of separation there to cut down some of the bright fluorescent lights in that part of the building."
At the Happy Poochie Eatery, you will place your order at the front counter and it will be delivered to your table when ready. There will also be a separate line for those who have ordered online for in-store pick up. Lisa says, "We don't want anyone to be confused about the process so it will be very clear where to go and what to do. This will look decidedly different than the most recent iteration that was here." She adds, "We will work to make certain that it is efficient, because we know not everybody has the time for a leisurely lunch, and need to get in and get out.
The target to open is late April, earlier summer, but Lisa adds, "We would like to get open in time for the KitchenAid Senior PGA Championship, but if so, the menu might be limited at that time."
Plans are for a basic ongoing menu and then every two weeks they will change the menus of specials which will range between and eight and ten options on that specials menu.
Lisa promises, "We'll have a bunch of funny names on the menu offerings, but so that you don't have to say the funny name, we'll have a number on each item as well, so you can simply order a three and a five, and so on." Stay tuned for more information to come regarding official hours of operation, menu items, and much more.