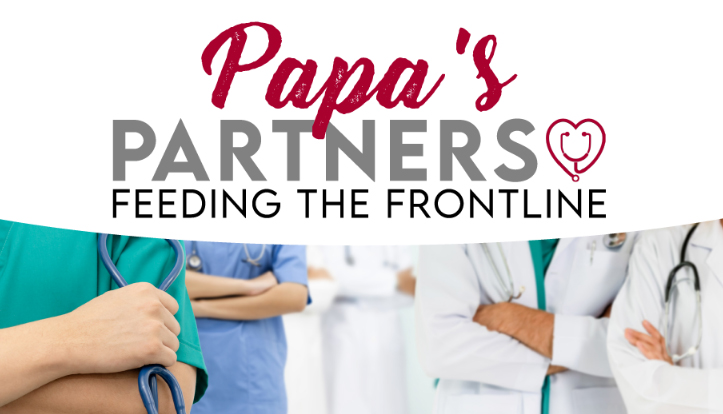 With COVID-19 cases surging in their market area, Quality Dining, Inc. which operates Papa Vino's restaurants and the vast majority of Burger King and Chili's restaurants in the region, has announced they are reigniting their Feeding the Frontline initiative to support healthcare workers.
Quality Dining's President John Firth says that the company's contact at Beacon Healthcare System reached out last week and basically issued an "S.O.S." Firth says Beacon Health officials said, "'Our hospital is nearing capacity, our nurses and doctors are exhausted, could you re-launch the program that helped us earlier this year?'" He adds, "We didn't have to think about it. The answer was obviously yes."
As a result, Quality Dining, Inc. and Beacon Health System are once again calling on the public to support local healthcare workers. Through Quality Dining's Feeding the Frontline initiative, every $5 donation from the community feeds one local first responder on the Frontline of COVID-19.
Beacon Health System Vice President of Nursing, Sarah Paturalski, explains, "What happened this spring was new and fresh, and we were just deploying new plans that we made. And what's happening now is long-term effects of a pandemic. We were going the extra mile then, but now we're sort of in that long-term run of the marathon," and adds, "We know there's a lot of exhaustion and tension that runs with that and everyone is doing the best they can on behalf of great care for the community but it's hard."
Quality Dining began its Feeding the Frontline program in April, when many healthcare workers in the region started working longer hours due to the pandemic. At that time, hospital leadership said its greatest need was an organized way to get hot food to hospital employees. Over the next two months, Quality Dining collected donations online and at Papa Vino's Italian Kitchen, then coordinated with leadership at St. Joseph and Beacon Health systems to feed more than 1,300 first responders.
Paturalski says, "What we felt back in March and April was certainly an outpouring from the community. It provided more mental support than anyone could ever understand. This is a tangible show of support because food really is a love language."
To make an online donation, you can visit http://PapaVinosItalianKitchen.com and click "Feeding the Frontline." Donations may also be dropped off at the Quality Dining office at 4220 Edison Lakes Parkway in Mishawaka.