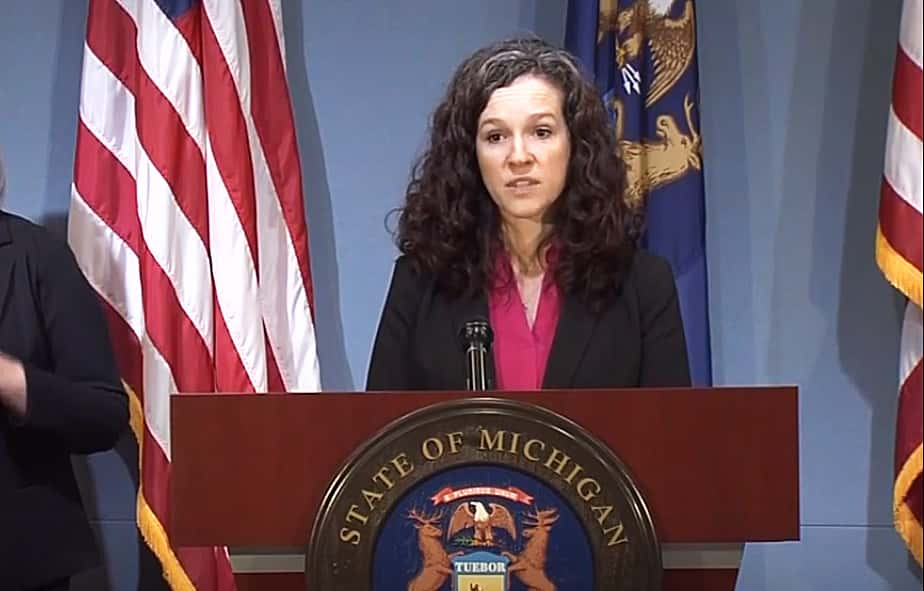 School districts all across Berrien County will have a leg up on many others in the state thanks to the key role of the Berrien County Health Officer's direct role in establishing guidelines for the new MI Safe Schools Return to School Roadmap unveiled at a Tuesday afternoon press conference in Lansing with Governor Gretchen Whitmer.
Nicki Britten, Berrien County Health Officer at the Berrien County Health Department joined the governor at the podium in Lansing yesterday in detailing the comprehensive document to help school districts create local plans for in-person learning in the fall. The Roadmap outlines a number of safety protocols for schools to implement in each phase of the Governor's MI Safe Start Plan that keeps the health and safety of educators, school staff, and students as a top priority.
One notable element of the Return to School Roadmap is the integration of local health departments into the planning and implementation of the required COVID-19 Preparedness and Response Plans that each school must create. Thank's to Brittens appointment by the governor to the advisory council earlier this year, the Berrien County Health Department has not only had direct input to the plan crafted by the state, but has worked alongside the school community to address the needs of students, staff, and their families and will continue that collaborative relationship as it guides and aids schools through the difficult challenge of bringing students back to the classroom this fall.
Britten played an integral role on the Return to Schools Advisory Council tasked with informing the creation of the Roadmap and was provided the opportunity to speak on behalf of local public health departments at yesterday's press conference in Lansing. Britten noted, "Many facets of potential mitigation strategies were thought through from all areas of impact including health, financial, developmental, educational quality, feasibility, and community acceptance. While there are no simple solutions to the deeply complex challenges presented by COVID-19, the Roadmap represents the best path forward for schools given the reality we face."
The local leader based in Benton Harbor cautions, "There is no one size fits all for how to conduct face-to-face education in this pandemic, and local communities will have the opportunity to tailor implementation of the Roadmap to the specific needs of their students." She adds, "Local health departments will be working very closely with school leadership to implement the best plans for students, school staff, and broader communities. Health departments and schools already work together to respond to infectious diseases; this year that work will be more important than ever as we all prioritize keeping schools open for face-to-face instruction."
Britten also warns that with new COVID-19 cases making a resurgence in some areas of the state, it is important that all residents remain vigilant with the protective measures necessary to reduce the spread of COVID-19. Social distancing, wearing a face covering, and excellent hand hygiene are keys to keeping transmission levels low. You can find more information about the latest on COVID-19 in Berrien County including current case counts, testing options, and prevention information at this link: http://www.bchdmi.org/COVID19