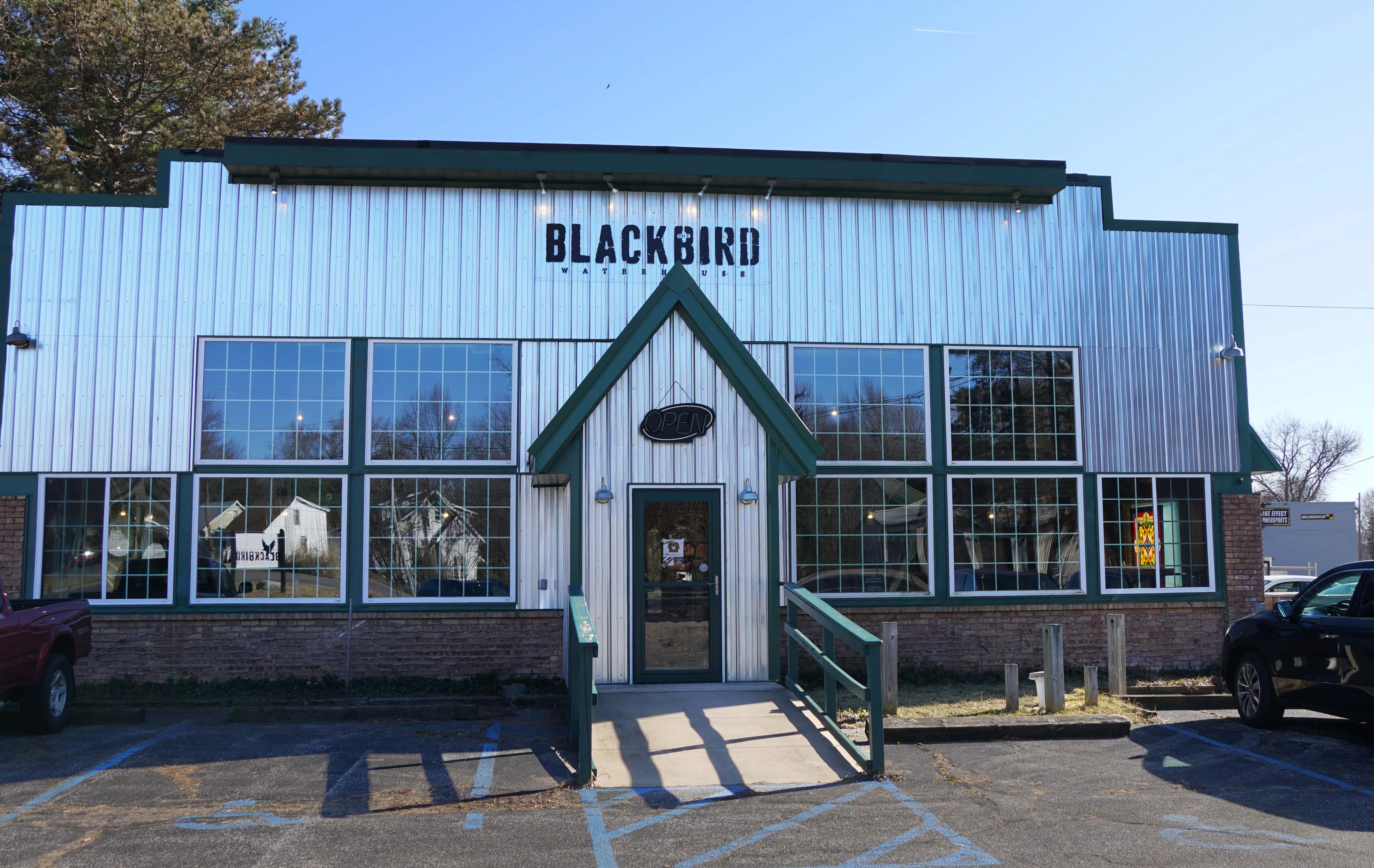 If Blackbird Waterhouse owner January Immer earns the dedication and loyalty of the dining public to the same degree that she has earned the dedication, loyalty and multi-tasking of the outstanding team she has assembled for the Coloma restaurant, she will have a hit on her hands for many years to come.
Immer and her husband have been in awe of the people who have been working around the clock to get the restaurant up and running. You will likely see a crowded parking lot tomorrow and Friday, April 4th and 5th, as the whole team swings into action with dozens of invited guests to help the staff fine-tune for their soft opening over the weekend and set the pace for next months official Ribbon Cutting Ceremony.
With the preview over the next couple of days, Blackbird Waterhouse at 4896 Paw Paw Lake Road has been inviting guests near and far to 'Come Experience Something Different!' Then the public is invited to do the same.
Knee-deep in restaurant renovations, staff training and inventory around the middle of March, the passionate team at The Blackbird Waterhouse, with the help of several volunteers, pulled together to complete the space so they could open their doors. Immer, who is also General Manager of the restaurant says, "We wanted to offer a soft-opening for our community, because we believe in being very transparent with our guests. We're inviting people in to taste our food, order drinks from our long list of libations and meet our staff, in an effort to continue growing in the month of April and be as refined as possible for the summer crowds."
Aside from the addicting flavors on their menu and certified-level of service, the 6,600 sq. ft. restaurant also recently employed 51 local residents including three Chefs from across Michigan's Great Southwest.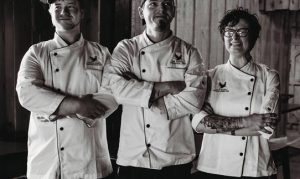 Among those hired is Coloma High School senior, Jaden Miller, who bragged about the opportunity to work for the new restaurant in town, saying, "So many of my friends from school are going to work here this summer, and I'm excited to get to work for such a cool place and taste the food that my friends and I keep seeing pictures of on Facebook."
With a full staff in place and the kitchen now up and running, the Chefs at The Blackbird Waterhouse are already promising an unforgettable dining experience. The Executive Chef leading this charge is the well-known area native and former Chef at Planks Tavern and Bistro on the Boulevard, Don Jennings.
Jennings brings aboard a wide variety of skills that expand well beyond the kitchen including restaurant start up experience and even carpentry. January tells us, "Don's a big reason we were able to stick to our timeline. He spent countless hours at the restaurant from the day he was hired in January until now. He's always the first to arrive and the last to leave, and his passion for this business as well as what he cooks has been priceless!"
Jennings says, "When I first took on the job, I didn't realize how much handiwork had to go into the building, but I've been juggling a lot and brought Andrew on board and we kicked out a menu in our off-time when we weren't rebuilding the place."
Jennings, developed the entire menu with the help of the man he mentioned, his Executive Sous Chef and right-hand-man, Andrew Cooper. Together, they are excited to offer the community something different. Cooper lives in Millburg, and is as local as they come and is looking forward to providing a culinary experience for a full house.
Jennings and Cooper are the team behind the Insta-worthy culinary photos shared on The Blackbird Waterhouse social channels so far. They share a passion for simple, elegant, farm food made with fresh, local ingredients from scratch.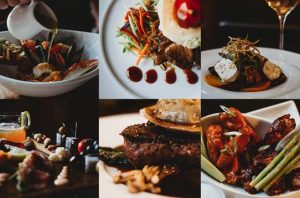 Both called the menu development a lot of trial and error, cooking at home, working recipes and more. Jennings says, "There are some things I've carried around my entire career, so those automatically go on the menu, but we've been busy tasting, tasting, tasting."
Rounding out the team of talented Chefs is Michigan-native and former Kitchen Manager at Full Circle Cafe in Stevensville, Calie J. Biondo. Lynzee Krohne, Marketing and Events Director for the restaurant says, "Calie stuck out to us during interviews for events and culinary. Without hesitation, she was hired to be our Events and Culinary Chef earlier than expected due to her talent and energy." Originally part of a later phase to expand the Events and Culinary Center and its year-round offerings, Biondo joined the team early, allowing the restaurant to start booking events and finalizing plans for the upstairs Culinary Center at Blackbird Waterhouse.
Watching from the sidelines as the amazing team has poured blood, sweat and tears into the new restaurant, it is crystal clear to me that the passion is palpable. They are primed, pumped and ready to perform.
In a classic understatement, Krohne says, "It's been an exciting few months here, and we're even more excited to finally be able to share everything with the public."
The restaurant has had an overwhelming amount of support from their social media followers, local business members including those from The Chamber of Commerce and Paw Paw Lake Rotary, as well as their early partners, Sister Lakes Brewing Company, Peat's Original Hard Cider and Karma Vista Vineyards and Winery. Krohne says, "We have so much to offer this amazing community and hope to support and encourage other local businesses as much as possible," adding, "We're here to grow this economy and make Coloma, Michigan THE place to be!"
Calie returns to Southwest Michigan after spending a decade in Winter Park, Colorado. She graduated from St. Joseph High School in 2000, left around 2008 and recently returned with her husband because both missed "the culture that we find in the Midwest, and the fresh food at your fingertips grown locally." She adds, "We moved back mainly because we wanted to have a garden not just for our own family, but to be able to share that experience through our careers." She'll certainly get the chance as she starts an on-site garden to grow things for the restaurant.
Krohne says, "We believe in fresh ingredients, never frozen. We believe in preservation, and working with our community partners to create new experiences in the house for everyone so there's always something new going on."
There are 16 tap handles in the pub up front and they will feature offerings from Peat's Hard Ciders, Sister Lakes Brewing Company which is also custom brewing their house brand, the Blackbird Black IPA, a Virtue Cider offering, an Arclight gluten-free Pale Ale from the Watervliet brewery, and offerings like PBR, Coors Light, Dirty Bastard, Stella Artois and others.
Signature cocktails like the Dirty Bird Martini, some great Bloody Marys, and a custom cider from Peats will share the sweet and savory, salty, peppery, spicy showcase. The Dirty Bird Martini will feature Tito's Vodka with a Spanish peppercorn hard cheese stuffed into the olive, and capped with a rim of cracked pepper and lava salt.
The team has had a lot of fun prepping things that have a little edge without being overwhelming to go along with their "dirty, smokey, angry" flavor profiles. Click the link below for a sneak peek at their menu. Pricing was incomplete at the time that they shared it with me, so there are no prices posted there yet.
For more information about The Blackbird Waterhouse you can call 269.468.BIRD or visit online at  the link below. You can also stay informed with the most up-to-date details and events by following The Blackbird Waterhouse on Facebook, Instagram and Twitter. Here's the link for their website:
http://www.theblackbirdwaterhouse.com
The Blackbird Waterhouse Mission is: "To aim to create amazing experiences through service and an eclectic "tastemaking" culinary experience. In doing so, we want to foster a positive work environment that drives loyalty to our mission and happy staff and customers.
We will achieve this through exemplary service, amazing – high quality food, and a diverse portfolio of offerings. We believe that by being a locally-sourced establishment, with multiple local partners, and the purpose of pulling in new business for The Blackbird Waterhouse and the Paw Paw Lake community – we will drive community growth and benefit for all.
To read more about the new restaurant, click the link for my original story posted back in mid-February:
https://www.moodyonthemarket.com/the-blackbird-waterhouse-prepping-to-take-flight-this-spring-in-coloma/