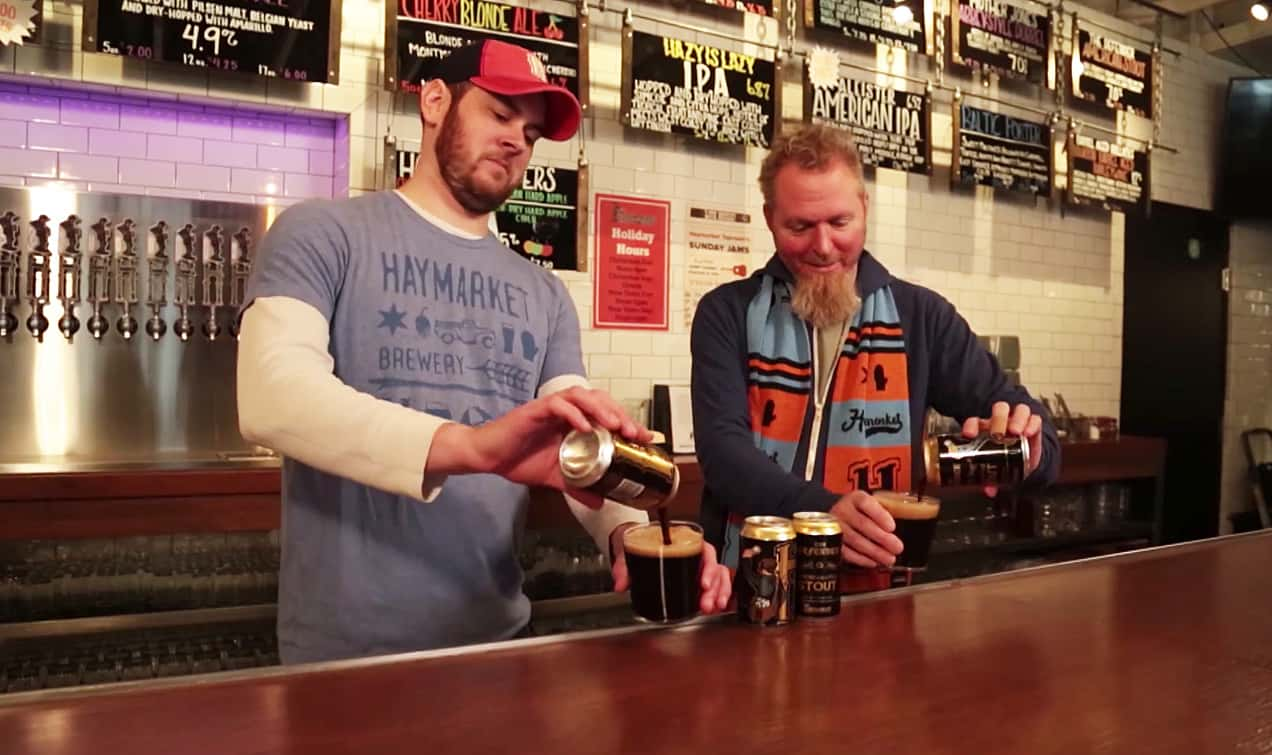 An American-Style Stout crafted on the shores of Lake Michigan and tagged as "A pitch-perfect hoppy stout," has garnered an elite honor from the Chicago Tribune as the newspaper's Beer of the Month.
The Tribune has named Haymarket Brewing's, The Defender as its Beer of the Month for January 2019. Columnist Josh Noel awarded the beer the prestigious title in his beer column earlier this week, saying, "There's no better example than The Defender," when it comes to the American-style stout beer category.
American-style stouts are hop-forward stouts, and The Defender American-Style Stout is brewed with roasted barley, chocolate malt, dark crystal malt, and oats and then hopped and dry hopped with Cascade, Chinook, and Amarillo hops.
Haymarket Co-Founder and Director of Fermentation, Pete Crowley, says, "You'll taste Mandarin orange and chocolate, but with enough pine flavor and aroma to go with the roast," adding, "There's nothing else like The Defender."
The Defender American-Style Stout has won multiple awards, including a Gold Medal at the 2014 Great American Beer Festival and Gold awards at both the 2014 and 2016 World Beer Cup, two of the largest beer competitions nationally and internationally respectively.
You can find The Defender American-Style Stout on tap at Haymarket's Taproom on Red Arrow Highway in Bridgman, as well as in Chicago's West Loop neighborhood, as well as in cans at retailers such as Binny's Beverage Depot and select Whole Foods, Mariano's, Woodman's, Hy-Vee, Target, Meijer, Trader Joe's, and hundreds of independent liquor stores across Illinois and West Michigan.
Haymarket Beer is distributed by Alliance Beverage in Michigan and by BreakThru Beverage in Illinois.
Other beers in their canned lineup include Speakerswagon, a German-style Pilsner, Oscar's Pardon, a Belgian-style Pale Ale, Aleister India Pale Ale, and Mathias Imperial IPA.
You can read Noel's full Chicago Tribune article at the link below:
https://www.chicagotribune.com/lifestyles/chinews-josh-noel-20130507-staff.html
You can also watch this video and learn more about Haymarket's The Defender American- Style Stout:
Haymarket Pub & Brewery was founded in 2010 by John Neurauter and Peter Crowley in the West Loop neighborhood of Chicago, priding itself on making high quality craft beer, focused mainly on traditional Belgian and contemporary American styles, and providing delicious made-from-scratch food to its patrons.
In 2016, Haymarket expanded its brewing operation with the opening of their production brewery in Bridgman, where both packaged and draft Haymarket beers can be found, as well as wherever fine craft beer is sold in Illinois and West Michigan. Haymarket also operates a Taproom at its production brewery located at 9301 Red Arrow Highway in Bridgman. You can call (269) 266-5050 or email taproom@haymarketbrewing.com for additional information.
Haymarket Pub & Brewery also features a full service bar and can accommodate reservations for parties of various sizes at their Pub & Brewery located at 737 W. Randolph Street in Chicago. Call (312) 638-0700 or email info@haymarketbrewing.com for more information on that property.