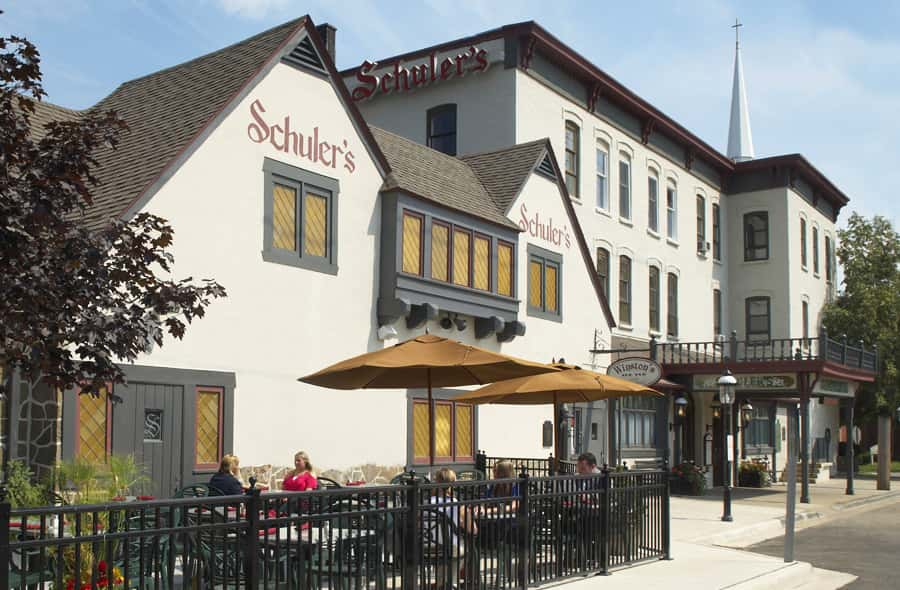 For the first time in over a century, Schuler's Restaurant & Pub is no longer owned by a member of the Schuler family. On the other hand, the new owner is anything but a stranger to the family or the long running institution in Southwest Michigan.
Earlier this month Hans Schuler announced that his long time assistant Sue Damron has acquired full ownership of the restaurant and will now serve as the President & CEO of the last remaining Schuler's Restaurant in Marshall, which was also the first.
The iconic Michigan restaurant in historic Marshall, has met the challenge to change with the times and still thrive, and now, they are beginning a new chapter in Schuler's storied history, which included a popular road house in Stevensville for years, and later a Schu's spin off in downtown St. Joe both of which were sold a number of years ago.
Hans Schuler, the third-generation owner and Marshall civic mainstay says, "As one of our 'Schuler's Sayings' on the beams of the Centennial Room reads, 'You may delay, but time will not'," and adds, "I felt it was time to complete handing over the reins of our successful business to someone who has consistently shown herself to be a capable and innovative leader in our industry and in our community."
Damron, who began her career at Schuler's more then 20 years ago, has learned from the best. Starting as Hans Schuler's Executive Assistant, she worked her way up the management chain, culminating in being named President and Managing Partner and acquiring a minority ownership share in 2014.
Through periods of dynamic change and transition—including major upgrades to the restaurant, an evolving industry and guest demographics, and catering challenges like the 2010 Kalamazoo River oil spill crisis—she has proven to be up to the task. Hans Schuler and the entire Schuler's team has learned to count on her, and she has taken the lead role in managing and directing Schuler's continued success in the marketplace.
A lifelong Calhoun County resident who grew up 20 miles northeast of Marshall at Duck Lake, Damron attended Kellogg Community College and Olivet College, studying business and accounting. Before joining Schuler's, she worked at Starr Commonwealth for nearly 10 years in Starr's Michigan community-based programs. As a result, she developed effective "people skills" and learned to promote teamwork and collaboration – approaches that have served her well in the restaurant and hospitality industry.
Much like the Schulers, the Damrons are a family affair. Husband Shannon has been a constant support, and her children, Josh and Elizabeth, have both had jobs at the restaurant. Elizabeth currently serves on the Schuler's management team and has chosen the industry for her career.
Damron says, "The Schuler's brand remains dedicated to providing an unparalleled experience," and notes, "We have the benefit of generations of experience behind us that will continue to guide us toward the future as one of Michigan's longest-established restaurants. Every day is a new challenge in the restaurant…and I love that."
Some 110 years after Albert Schuler served his first customer, his grandson remains excited and optimistic about the Marshall landmark, saying, "I've been invested in the success of our restaurant my entire life," and reminding, "I grew up working in about every possible role here and have always been committed to the vision of my grandfather and father—offering our guests 'quality food and excellent service in a warm and welcoming atmosphere.' I've been extremely fortunate in helping to build on that vision and to secure the future of Schuler's moving forward."
Hans tells us, "In 2014, we announced Sue's new role as President and Managing Partner with the observation that we were 'introducing the future' of the restaurant," and adds, "I'm pleased to say that we have completed that transition, handing over a successful, established business to a proven partner and someone who will be an excellent steward of our family's legacy."
Don't expect to see the Schuler family patriarch ride off into the proverbial sunset, however, as he says, "Marshall is our home. We'll no doubt enjoy traveling more, and I will continue working on projects and issues that I believe in. I remain committed to the Calhoun community and to our wonderful hometown. Of course, I'll be available for advice and counsel, and I look forward to celebrating the continued success of the restaurant as Sue puts her own stamp on it. My wife Nancy and I—and our entire family—wish Sue and the rest of the team the very best."
Fourth generation Larry Schuler—Hans' son and longtime Michigan restaurant industry leader who head up operations here in Berrien County for many years at Schuler's and later Schu's Grill and Bar — is now living and working as a restaurant group executive in Florida. He is expected to add an additional Schuler perspective by joining the restaurant's Advisory Board.
Larry says, "Dad always taught us that the Schuler 'family' embraces all those who share a dedication to what we've called the 'Schuler Way.' Continuity is important, and Sue's experience over the past two decades represents exactly that." Larry adds, "She certainly has demonstrated that she and her family are attuned to our family values, and we couldn't be more pleased at this transition. I'm honored to be able to advise Sue and her team."
Changing with the times—but remaining true to what sets a business apart—may never be easy, but Schuler's Restaurant & Pub appears to have found a way to do both. Sue Damron says, "I'm truly honored to take this next step," and concludes, "Our team plans to welcome guests to Schuler's for a long time to come."