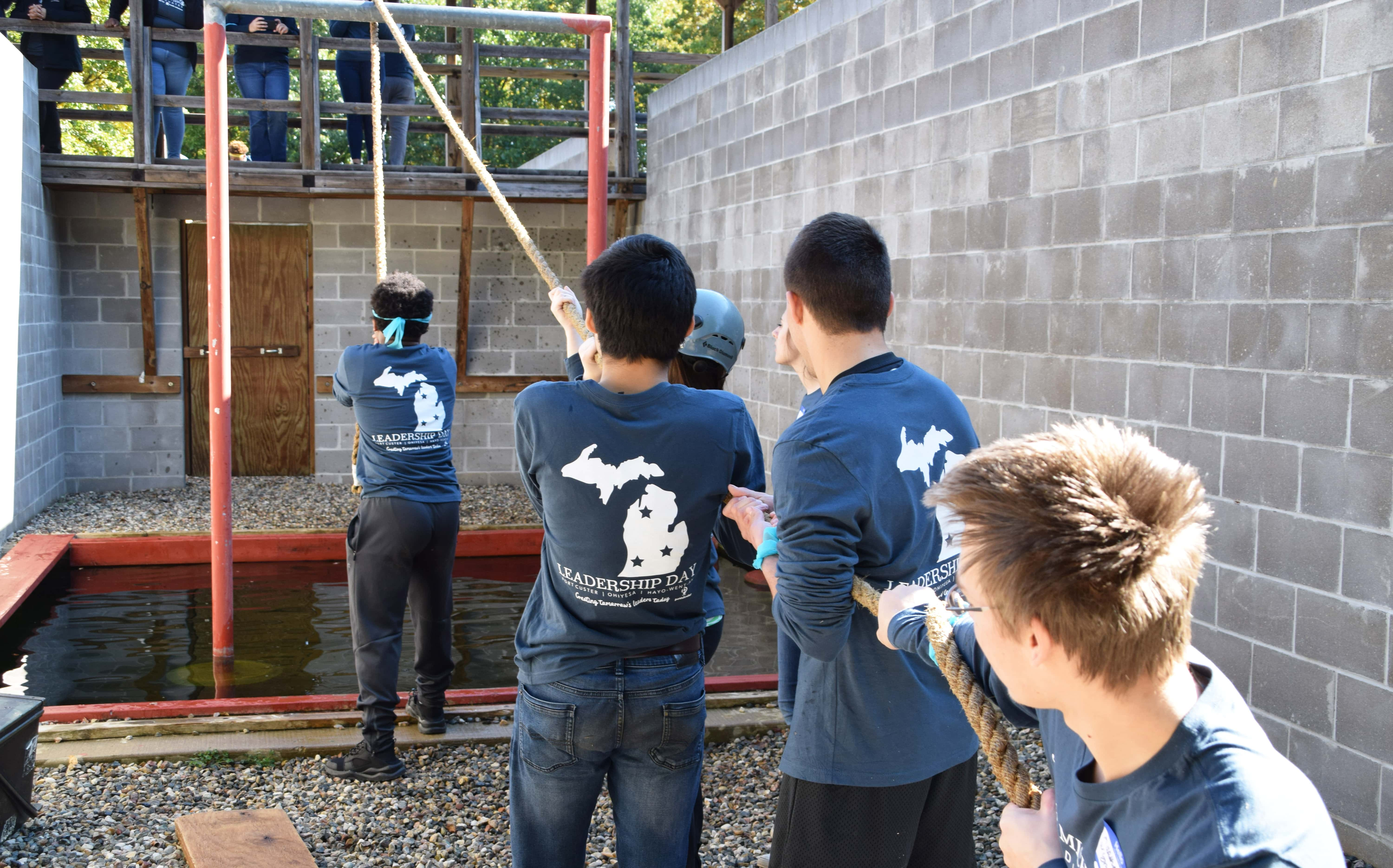 To not only survive but thrive in the world of business, at the very least you have to be a skilled communicator, the ability to solve problems, and must always be able to bounce back from adversity. Fortunately, for the youth involved in the Jobs for Michigan's Graduates Program operated by the local contingent at Youth Solutions, they had a camp for that. In fact, they had three of them.
Earlier this month, nearly 200 Jobs for Michigan's Graduates (JMG) youth from across Michigan took part in that organization's annual Leadership Day in partnership with the Michigan National Guard, YMCA Camp Hayo-Went-Ha and YMCA Camp Ohiyesa.
In its sixth year, Leadership Day provides youth leaders from the JMG program the opportunity to develop and enhance their team building skills such as communication, problem solving, and resiliency.
This year Youth Solutions partnered with the Michigan National Guard and two YMCA camps to provide JMG youth with hands-on, interactive leadership experiences.
At all three locations, Fort Custer Training Center in Augusta, YMCA Camp Hayo-Went-Ha in Torch Lake and YMCA Camp Ohiyesa in Holly, youth spent the day rotating through Challenge Courses in teams to complete complex tasks and work together to accomplish goals. Youth also moved though activities that gave them the opportunity to challenge themselves physically and mentally.
David, a senior at Hartford High School, and both a third year JMG student, and current JMG Career Association President said, "I learned how to find people's strengths and how to work together to accomplish our missions.  It was very challenging and rewarding."
Sonya Blanzy, who oversees the Jobs for Michigan's Graduates program as Director of Operations at Youth Solutions, a Kinexus Group team, says, "Leadership Day is a great opportunity for us to help students overcome barriers and win in education, employment and as citizens," and adds, "Partners like the Michigan National Guard and YMCA are critical in helping to foster the leadership skills and confidence our students need to win in life. Not only are they leaders within their school and JMG programs, JMG students are our future leaders in the workforce and in our communities."
Youth Solutions, Inc. is a premier youth opportunity organization, whose leading program, Jobs for Michigan's Graduates, delivers employability and education services to nearly 3,000 young people across 40+ cities. For more information about Youth Solutions, Inc. or to become a partner, visit online at www.ouryouthsolutions.org, follow along on Twitter at JobsforMIGrads, or "like" them on Facebook at JobsforMichigansGraduates.