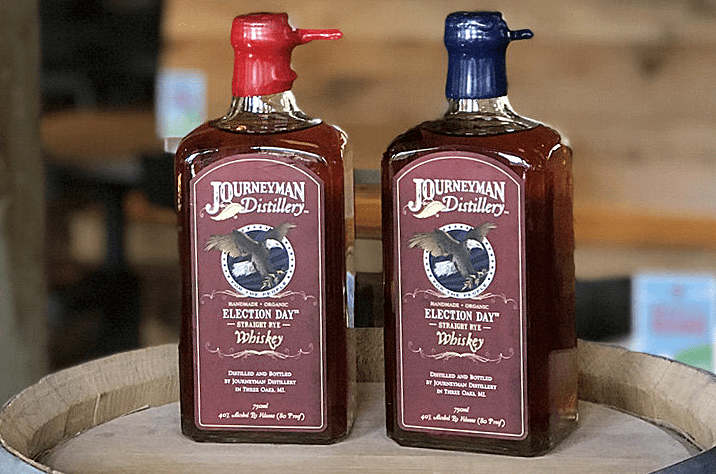 On the heels of this week's uniquely bizarre presidential debate, Journeyman Distillery in Three Oaks might have to brace itself for an onslaught at tomorrow's planned release of their 2020 Election Day Rye Whiskey.
Drinking games alone associated with events like the debate would drive a considerable share of business to any distillery with good whiskey.
At any rate, with the singular advice to "Vote early. Vote responsibly. Vote for whiskey." the crew at Journeyman will issue their release tomorrow, Friday, October 2nd, saying, "We cautiously, yet optimistically, charge into Fall and embrace the every-four-year pandemonium, with the release of Journeyman Distillery's 'Election Day' Straight Rye Whiskey."
Named the best way to weather the election season, by those who have been drinking at home for months, Journeyman says, "This highly anticipated, limited batch spirit, has all the character of a blustery speech – by either candidate, with rye notes of irony and sarcasm. Just a hint of cherry on top."
The distilling team at the Three Oaks facility admit, "Frankly, these crazy times have left us with a bit of a bad taste in our mouths. This has caused us to dedicate this unabashedly, tasty batch of whiskey, to our most ardent followers: the unsung heroes, drinking spirits out of their coffee mugs – the Vice Presidents of this great nation."
Their message continues, "From the Oval office to the D suite, we salute making a career out of being number two. Cheers to those who unquestionably support all the vices of number one, with the kind of grin, that masks the every day hoop-jumping and great debates happening behind closed doors."
Journeyman encourages everyone to vote responsibly, and suggests, "Remember, your vote counts as much for number two as it does for number one. Together, 'United We Whiskey' and celebrate the right for all to vote with their taste, and toast their candidates victory or fall with the best whiskey of all."
Available at Journeyman's Three Oaks distillery tomorrow, October 2nd, and with limited distribution in Illinois retailers, Election Day Straight Rye Whiskey, 80 proof, will retail at $79.99.
A limited edition, of approximately 250 bottles of Cask Strength Single Barrel, will be available on November 3rd at $94.99 for 750ml. Custom engraving of 750ml bottles is available for just $10.
Founded in 2010, marking their 10-year anniversary, Journeyman Distillery crafts, bottles, sells, and serves organic and kosher certified spirits at the historic Featherbone Factory in Three Oaks. The distillery prides itself on using the highest quality grains sourced from Midwestern organic farmers in its award-winning spirits as well as at its Staymaker restaurant. Journeyman products are distributed in eleven states across the country and available for purchase direct from the distillery. You can learn more and find your spirit online at:  http://journeymandistillery.com