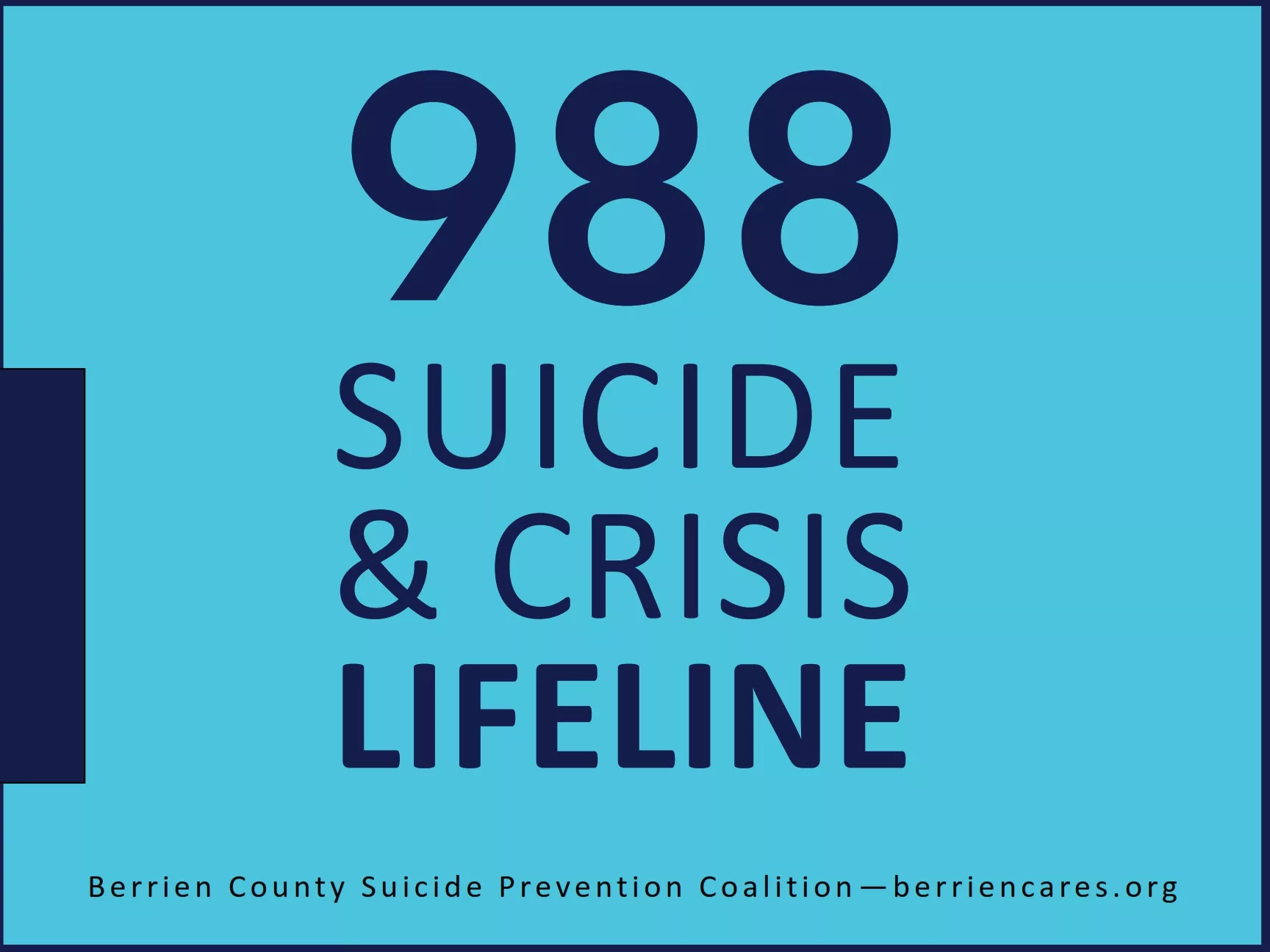 ---

---
Sometimes the weight of life's challenges can seem too much. Emotional concerns can manifest into a crisis and sometimes people don't know where to go for help. The Berrien County Suicide Prevention Coalition wants you to know help is available and it's just three digits away.
988 is the phone number where anyone can reach the Suicide and Crisis Lifeline in Michigan. It's available 24 hours a day, seven days a week. People can call or text and know that there is someone on the other end of the line who will respond and offer help.
Kristen Jones is the Chairperson of the Berrien County Suicide Prevention Coalition and said a big focus this year is helping raise awareness throughout the region of the existence of 988, its always-on availability, and how people should use 988.
"988 is a lifeline. It's something people in crisis should know about and use, and it's a resource family and friends should know about, too. If you have a loved one who's in crisis and they're not reaching out for their own support, you can call 988 and find out what to do and how to get them support."
Jones said the people answering the call are trained professionals who provide callers with tips on how to get through the moments before a crisis, cope during a crisis, and what to do after. 988 centers have a wealth of resources and ways of helping to support individuals who might otherwise feel like they're alone.
"They also have a fabulous website at 988LifeLine.org. They have resources and ways of helping to support individuals in crisis."
Shaquille Turner is a member of the Berrien County Suicide Prevention Coalition and a suicide attempt survivor. He admits there were times when he just wanted his heart to stop beating so his pain would end. That was more than 10 years ago, but Turner remembers the moments vividly when he tried to end his life.
"I wanted to give up on life. There was a bridge I wanted to jump off when the police responded. These individuals were my guardian angels. To be able to survive and be where I am today, I look back at my faith and I learned that there was a voice inside me that was yearning for help, someone to listen to me."
Turner said he shares his story to help others see that help is available for people to overcome thoughts of suicide.
"We don't want to be talked at; we want to be talked to. 988 gives you the opportunity to connect with someone who knows what you're going through and ways to help. Imagine if you're the person going through a storm and wondering, 'Who can I talk to? Where can I get help?' As a suicide survivor for 10 years, when I was going through that, I never knew that kind of help existed. It's like a 9-1-1 dispatcher for mental health services."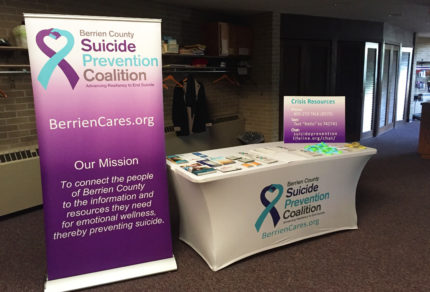 September is National Suicide Prevention Awareness month and Jones said the Berrien County Suicide Prevention Coalition is spending the month making people aware that 9-8-8 is available to both those in crisis and those who want to help.
"We really want the community to know that this is available, and it can literally be the difference between life and death. Nationally, we've seen a welcome increase in the number of call centers and counselors. There are statistics showing an increase in calls and a decrease in wait time over this past year. People can connect with counselors very quickly, and that makes a big difference."
When someone calls 9-8-8, a trained counselor picks up and will talk with the individual to discuss whatever needs they might have. They have a list of available assistance resources. If the person calling is a counselor, a doctor, a nurse, or even a parent, 9-8-8 can guide them in what to do to help the individual in crisis.
Next Steps
The 9-8-8 awareness campaign is just one activity the Berrien County Suicide Prevention Coalition is undertaking. Jones said their ongoing focus is equipping community partners with the tools they need to address the suicide problem from many angles.
"If you are a professional, a community member, or someone who knows a loved one who struggles with suicidal thoughts, we can recommend different trainings. We are also actively seeking volunteers to help us at information booths and we are seeking business, churches, and schools to promote 988 on their electric signs by saying: "988 Suicide & Crisis Lifeline – Call. Text. Chat". We are completely volunteer-based and so we really look for people to help support and work alongside us."
Jones said the Coalition is appreciative of all the support they've received to date and wants to thank individual volunteers and the generosity of their community supporters. The Coalition's 9-8-8 campaign was made possible by previous generous donations and recent gifts from Paw Paw Lake Rotary Club, St. Joseph/Benton Harbor Rotary Club, Benton Harbor Sunrise Rotary Club, Lakeshore Rotary Club, and Amazing Learning Center Mental Health Coaching.
The Coalition meets on the third Tuesday of every month at noon and all are encouraged to attend. To receive a link to the meeting send an email to berriencaresmi@gmail.com. Additional information and e-newsletter registration is available at BerrienCares.org.
Fill out the form below to express your interest in learning more and to be contacted by the Berrien County Suicide Prevention Coalition.
---

---