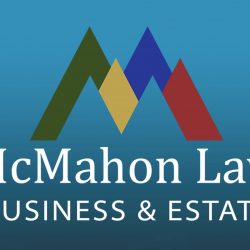 Brian McMahon recognizes very well that when you set out in search of a lawyer for your business or to handle estate planning for your family you're certainly not looking for a friend. But, for the veteran St. Joseph attorney the day-to-day work that he performs for clients everything afford him the opportunity to not only learn something new every day, but the end result is clients who turn into long-term friends.
A Berrien County resident for 20-years now and a Michigan-based business and estate planning attorney, Brian McMahon has transitioned from his most recent alliance with Kreis, Enderle, Hudgins & Borsos, P.C. to creation of his own new firm, McMahon Law, PLC. now located at 308 Main Street in downtown  St. Joseph.
Brian brings to the practice more than 24 years of experience representing privately- and publicly-owned businesses, business owners, and their families as well as individual and family estates. Prior to his four year stint with Kreis Enderle, McMahon was with the St. Joseph law firm of Troff Petzke & Ammeson from 2005 to 2013.
McMahon says, "The establishment of McMahon Law provides area business owners with planning and protection that is very in-tune to their individual needs." He adds, "We represent not just businesses owners, but their families as well. We help protect what clients do for a living, but also why they do it."
As he notes on his website, Brian has the "brain-power" his clients expect and need from their lawyer. He received a full-ride academic scholarship for all three years of law school, was ranked #1 in his class for the first two years, was one of only 26 law school graduates from around the world admitted to Boston Univ. Int'l Banking LLM program in 1992, and received other academic awards and scholarships along the way.
McMahon also has a degree in Finance and is steeped in practical experience after more than 23 years of business and estate law practice. McMahon earned his Juris Doctor degree from Western Michigan University Cooley Law School, and that degree in finance also comes from Western.
As noted, while clients may not be in search of a friend when they land on Brian's doorstep, when they learn he sincerely cares about what's best for their business and family; and when they learn that they can rely on him to do what he says he will do, they do, in fact, become friends. Many of his current clients have called Brian their lawyer for more than 18 years.
An active volunteer in the community, McMahon is on the board of directors and is president of Legal Aid of Western Michigan, the board of directors for WNIT Public Television, the board of directors for SW Michigan Estate Planning Council, and is a member of the Cornerstone Alliance Women's Business Center's advisory council. He and his wife, Joann, have one son, Rob, and they reside in St. Joseph.
To learn more about McMahon Law, PLC, and its legal services, visit his website at the link below, or call 269-408-8457. Here's the link: