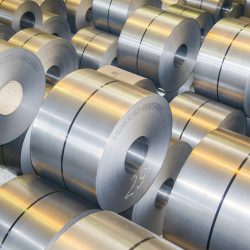 An industry group backed by the United Steelworkers Union is singing the praises of job gains they are tying directly to the steel and aluminum tariffs of recent months, saying critics of the tariffs were way off base in early predictions.
The Alliance for American Manufacturing announced this morning that the manufacturing sector in America grew by 36,000 jobs in June, attributing the numbers to the latest employment data from the Labor Department. The group adds that over the past year, 285,000 new factory jobs have been created, according to the Labor Department.
Scott Paul is President of the Alliance for American Manufacturing. He says today, "For the fourth consecutive month that steel and aluminum tariffs have been in place, manufacturing has added new jobs. We've seen consistent and impressive job growth in steel consuming industries like fabricated metal products, including 7,000 in June."
Taking a swipe at those who were against the steel and aluminum tariffs, Paul says today, "It's time to acknowledge that predictions that the steel tariffs would bring doom and gloom were wildly off-base." He adds, "The long-term benefits to employment and the U.S. economy from leveling the playing field on trade can be secured. But we've got to give this strategy a fighting chance."
Hoping to stem any attempts to derail the tariffs being employed by the President and others, Paul argues that, "Members of Congress opposed to trade enforcement should let things play out, and back efforts to secure a better deal for American workers."
The Alliance for American Manufacturing (AAM) is a non-profit, non-partisan partnership formed nearly a dozen years ago in 2007 by some of America's leading manufacturers and the United Steelworkers.
The organization's stated mission is to strengthen American manufacturing and create new private-sector jobs through smart public policies. They believe that an innovative and growing manufacturing base is vital to America's economic and national security, as well as to providing good jobs for future generations.
The alliance contends that it achieves its mission "through research, public education, advocacy, strategic communications, and coalition building around the issues that matter most to America's manufacturers and workers."