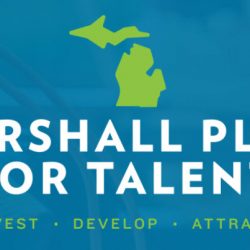 Looks like Tuesday proved to be a huge day for the future of Michigan employers. Not only was the state budget passed, but legislative action was taken that secures a vital education and talent development plan designed to fill more than 800,000 good-paying careers in the Great Lakes State.
Gov. Rick Snyder led the way in reflecting on the good fortune of the day, followed by Talent and Economic Development Department of Michigan Director Roger Curtis and Interim State Superintendent Sheila Alles, who all issued statements after the Legislature passed both the budget and the Marshall Plan for Talent bill package, which includes SBs 941-942, 684-685, 343-344 and 175, and HBs 5139, 5141, 5142 and 5145.
The governor's statement said simply, "Through positive collaboration with my legislative partners, we will complete the budget months ahead of schedule for the eighth consecutive year, with an additional $300 million going to road and bridge repairs, and a fully-funded Marshall Plan for Talent to better prepare Michiganders for the jobs of today and tomorrow. I thank the Legislature for their leadership and bipartisan cooperation throughout the budgeting process."
Curtis says the state carved out a great victory, noting, "Michigan wins when we all come together to create meaningful change that pushes our state forward toward a brighter future. We thank the Michigan House of Representatives and Michigan Senate today for passing this critical package of tools that helps the state become the leader in education and talent development and ensures all Michiganders have the skills needed to fill the state's talent pool."
The Interim State Superintendent Alles concurred, saying, "With this action today, Michigan moves another step closer to becoming a Top 10 education state in 10 years." She added, "Students succeed when schools have the tools and resources to provide multiple opportunities to prepare our students to become lifelong learners. The Marshall Plan for Talent is that tool."
The Talent and Economic Development Department of Michigan (TED) allows the state to leverage its ability to build talent with in-demand skills while helping state businesses grow and thrive. Joining job creation and economic development efforts under one umbrella, TED consists of the Michigan Economic Development Corporation, the Michigan State Housing Development Authority, the Michigan Strategic Fund, the Talent Investment Agency and the Michigan Land Bank Fast Track Authority. You can learn more about TED by visiting online at michigan.gov/ted.