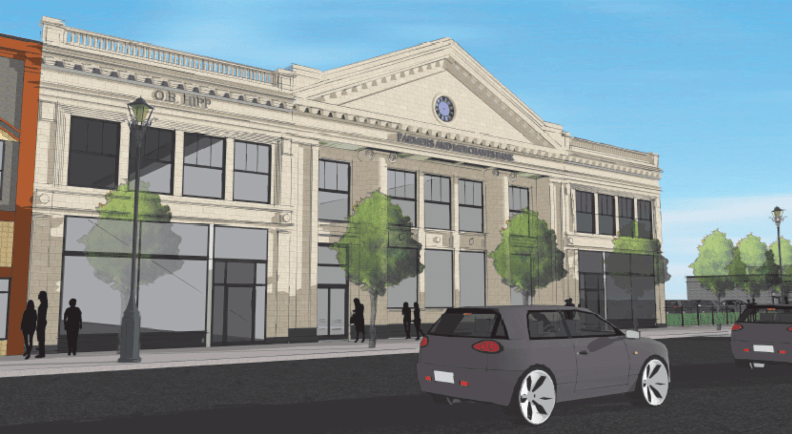 The ongoing renaissance in downtown Benton Harbor picked up a big boost today when Benton Harbor native son and NBA star Wilson Chandler revealed he is partnering with Cornerstone Alliance to renovate the facade of the historic Farmers & Merchants Bank (F&M) building on Main Street in Benton Harbor, just down the block from Cornerstone's headquarters.
Located at 92 W. Main Street, Benton Harbor, Farmers & Merchants Bank was opened in 1888. The large building contains three segments, with the eastern-most portion at 90 W. Main Street owned by Chandler. Cornerstone Alliance recently purchased the middle segment with the intent of partnering with Chandler to restore the building's exterior. The terra cotta facade restoration will take place in multiple phases over the next 90-120 days.
Chandler says today, "Having grown up in Benton Harbor, I know the importance of having a strong downtown," and adds, "We're going to renovate the facade and make this building one that we can all be proud of. There are great opportunities in Benton Harbor and this is the first of many things that will bring more jobs to the city. I'm grateful for the support of the residents, Mayor Muhammad and the Benton Harbor City Commission."
The building is structurally sound, can be redeveloped with an open floor plan and has two distinct bank vaults near the rear of the ground floor. Chandler and Cornerstone Alliance plan to return the building to its highest and best use, attracting jobs and further investment into Benton Harbor. Cornerstone Alliance will issue a Request for Proposal (RFP) in the near future to find a qualified developer interested in redeveloping the interior of the 92 W. Main St. section of the building.
Cornerstone Alliance President Rob Cleveland says, "The F&M Bank building is an imposing presence on Main Street and we saw an opportunity to save another Benton Harbor landmark." Cleveland adds, "We're fortunate to work with a partner like Chandler, who believes in Benton Harbor and believes its best days are still ahead. This allows both of us to leverage our dollars for something greater than our individual contributions. We are building on the momentum that was created by great developments like Benton Harbor Flats, The Sheffield at City Center, and Hawks Nest. Benton Harbor is a destination for developers looking for a positive, long-term return on their investment."
Mayor Marcus Muhammad is ecstatic, saying, "This is another example that Benton Harbor is a city on the move and how a rising tide lifts all boats." They Mayor notes, "Wilson Chandler believes in Benton Harbor. His willingness to invest in the City's future, and to partner with Cornerstone Alliance to sustain a Benton Harbor landmark, deserves our praise. There have been many mixed-use developments in the City in the last several years, all bringing new housing, new investment and new tax payers to Benton Harbor. The City is willing to work with all developers interested in investing their capital in our city and I encourage anyone with a business idea to reach out to us."
Cornerstone Alliance is Berrien County's lead economic development agency, a non-profit, investor-governed organization primarily focused on increasing employment opportunities, private sector capital investments and the local tax base in Michigan's Great Southwest; with specialized business services offered in economically distressed areas.
The architectural rendering of proposed updates on the F&M Bank building accompanying this story on Moody on the Market is courtesy of Cornerstone Alliance.