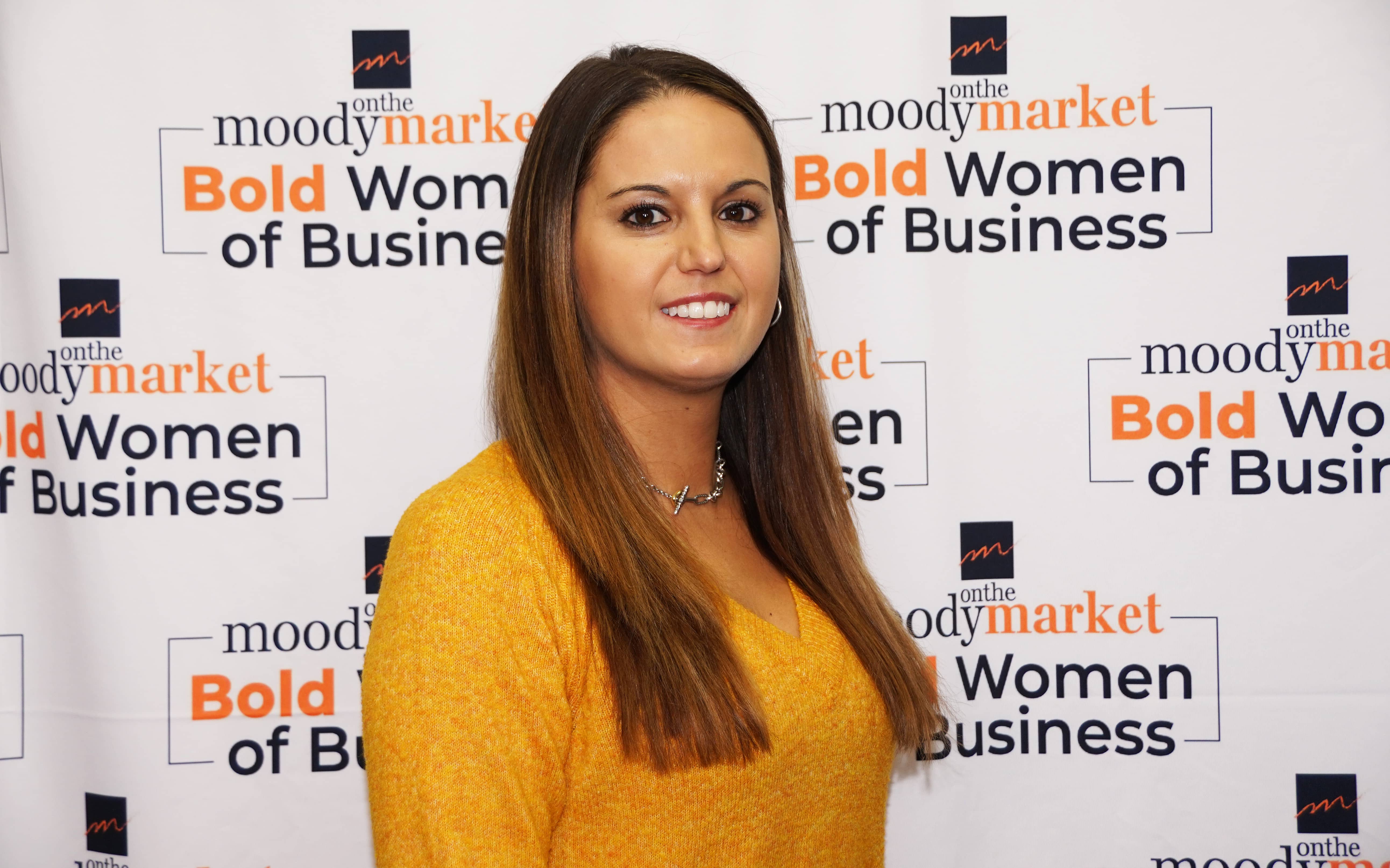 Professional Funeral Director Olivia Starks was a member of the inaugural class of the Moody on the Market 40 Under 40 back in 2018, and her star has continued to soar ever since. Now a co-owner of the Starks Family Funeral Homes and Cremation Services, Olivia knows more about her 24-hour a day business than at any point in her career. She'll be the first to tell you how critical it is for a round-the-clock business to say on a well-defined track to avoid falling behind or becoming disorganized. As a result, her nominator says, "By keeping her priorities clear, she is able to knock out the most important items first, just in case something unexpected comes up at work so that she can focus and not worry about getting those important tasks completed." Olivia leads a large team at the funeral home and people respect her, look up to her, and lean on her as a mentor. Having lost her mother to breast cancer when Olivia was just 12 years old, she learned early that it would take strength to power through something so devastating. On the lighter side of what most would not consider a "fun" business, Olivia stepped out at one time to buy one of those claw-crane games for the back office and filled it with awesome gifts. Every time an employee gets a good review, they get a shot at the claw machine. That helps lighten the atmosphere and brings joy to the employees. She's also in charge of all of the games and fun at the annual company party along with everything else. Learn more about Olivia Starks, a Bold Woman of Business for the Class of 2022 by reading on.
Name
Olivia Starks
Where do you live?
Saint Joseph, MI
Company or Organization
Starks Family Funeral Homes & Cremation Services
What is your job or role there?
Funeral Director/Co-Owner
How do you think that Bold Women of Business demonstrate being bold?
Bold Women create new paths for tomorrow's work force and future leaders. Knowing that the future is unknown, they lead fearlessly, take risks, and always are looking for ways to better themselves and their team to be the strongest version they can be.
Bold women are often defined by a number of descriptors. Please choose from the following descriptors to produce the top three that you would say most exemplify your personality?
Confident…Vivid…Distinctive
Please provide an example of when you feel you were at your very best in taking action on the job or in your role.
I would say there isn't just one example. Each day is unique in its own way since each family I meet with is unique. When I first meet with a family they are usually going through one of the most difficult times of their life. Being able to gain their trust and curate a tailored celebration of life service to honor their loved one is one of the greatest privileges I am able to do for this community.
What's the funniest thing that ever happened on your road to success?
Ahh this is a tough one, I feel like there are quite a number of them since in my line of work we try to find humor anywhere we can to keep a healthy mindset., but probably what comes to mind first is the time my sister and I were traveling to a business conference and we were seated in an exit row and the flight attendant came up and said to me "Excuse me miss, you must be at least 15 to sit in an exit row." I looked at her with a bit of confusion and said "Well, good thing I'm 25…" Her eyes got huge and as my sister was walking up to take her seat the flight attendant looked at her and said "My apologies ma'am but I just thought your daughter was under 15 years old." Laura and I look at each other, then back to her and I said "And this is my younger sister." She just turned around and walked away super-fast and needless to say we didn't see her again for the rest of the flight, but we got a good laugh out of it.
Who most inspires your personal drive for success every day?
My dad! This man raised my sister and I, after we lost our mom to breast cancer in 2004. I was 14 and Laura was only 12, and if anyone knows how tough raising two teens can be, well my dad did it like a champ. While trying to attend all of the soccer, softball, swimming, cheerleading, and basketball games he also had just built a new funeral home and was trying to get that business going. There was a time a good majority of our home furniture (mostly couches and side tables) were kept at a local church so we could hold funerals and visitations there while our St. Joseph location was being built and the hearse was kept in our garage at home. His motivation to keep his own family taken care of and his determination to serve this community has proven time and time again that with hard work and an incredible team anything is possible. Starting from scratch in 2001 with one funeral home, Starks Family Funeral Homes currently has seven locations and a cremation service.
What is your best advice to women in Southwest Michigan looking to succeed, as you have, in business?
Don't be afraid to be yourself. Being a young woman in a primarily male-dominated industry there are times I have to stand a little taller and speak a little louder, and you better believe I will. Remaining true to yourself and not changing who you are to get the acceptance from others will keep your actions, goals, and achievements authentic and well deserved.
What does your selection to the ranks of the Bold Women of Business from Moody on the Market mean to you?
I am truly honored that I was nominated and selected as a Bold Woman of Business. I'm blessed to work in a business that is very supportive of one another. This serves as recognition that the work I am doing, both professionally as well as in the community, doesn't go unnoticed and is appreciated.