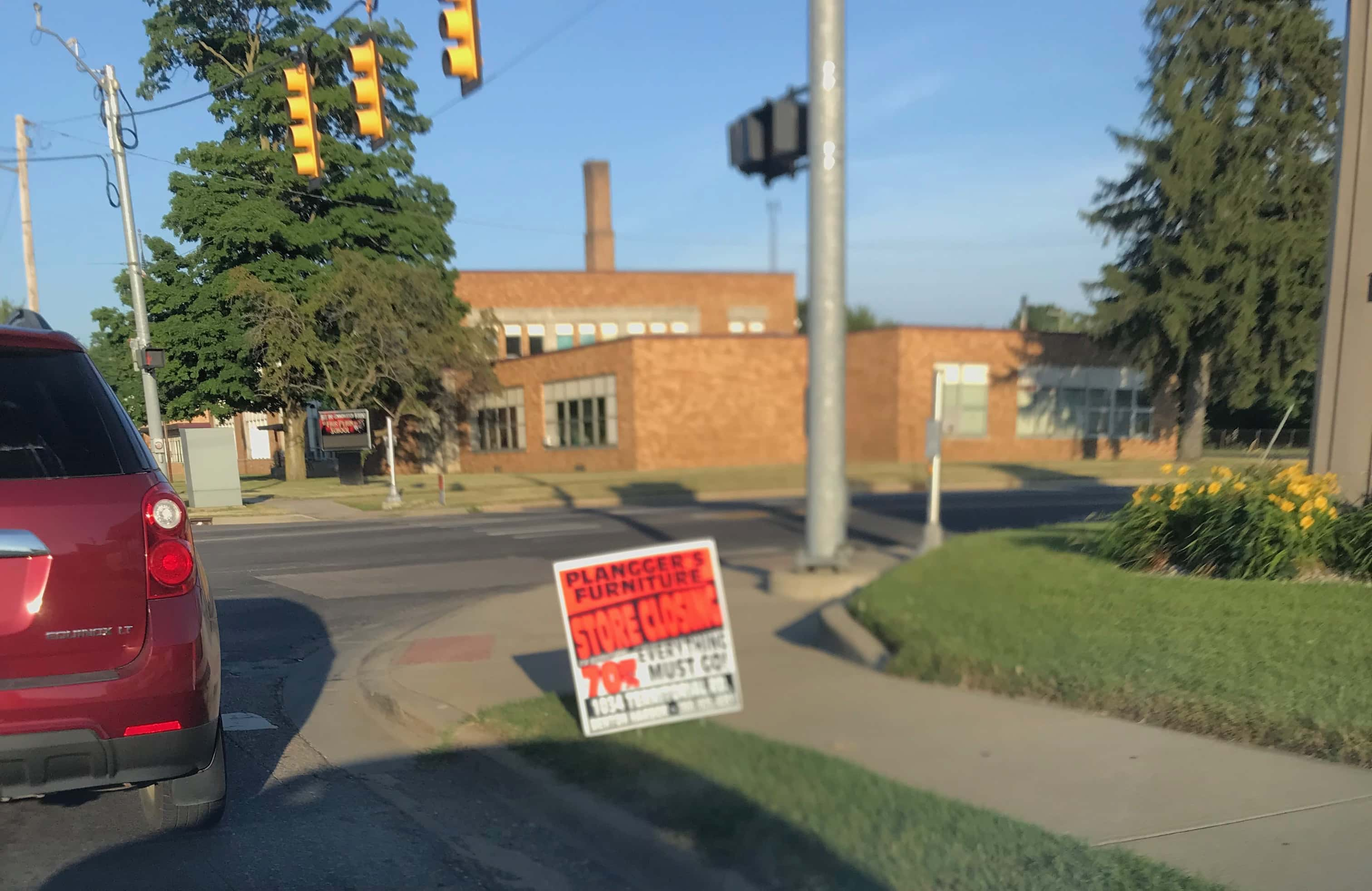 READ THE UPDATED STORY HERE: https://www.moodyonthemarket.com/update-planggers-furniture-to-stay-open-liquidate-furniture-restructure-showroom/
One of our observant MoodyontheMarket.com followers has snapped a photo of a sign that has been firmly planted along the Napier corridor, among a few, announcing the closing and liquidation sale of Benton Harbor's family-owned furniture store, Plangger's Furniture, located at 1034 Territorial Rd. in Benton Harbor.
According to Plangger's website, the business was founded in 1952 by Richard "Rich" Plangger. After proudly serving in WWII, Rich returned home and began working at a local furniture shop in Saint Joseph, MI. After a few short years in varying positions within the store, Rich decided it was time to venture out as a sole proprietor. As Employee #1, Rich would run the small showroom and do all the deliveries, and Employee #2, (his sister) Florence, would operate the office and phones. This dynamic duo would quickly grow out of their shoes, and would add another showroom in 1955, and again in 1960. In 1975 by Rich's son, "Big" Ricky joined in the fun, and the store would then double in size to add their largest showroom in 1988. The latest showroom addition was added in 1994, and a 10000sqft warehouse added in 2000. The store still remains in the same location and the same buildings, and in August 2015, "Little" Ricky joined his dad, "Big" Ricky, in the continued tradition of the family pride.
No mention of this closing could be found Sunday evening when scouring the Facebook pages or the website of the store, but our writers have reached out to the business for comment on the supposed impending closure and more about the liquidation sale. Since our first publication of this story Sunday night, multiple persons reached out to offer up information that the store may not be, in fact, closing, but rather, restructuring.
The sign photo sent to us states "STORE CLOSING," and "70% off, Everything Must Go." However, another observant reader tells us that the small print on the signage spotted along roadways and possibly in the store windows are mentioning "For Restructuring" at the bottom of the large "STORE CLOSING" letters. We will continue to work to find out exactly what might be going on from the current owners as soon as they respond to our messages.
Stay tuned as we bring you more updates.