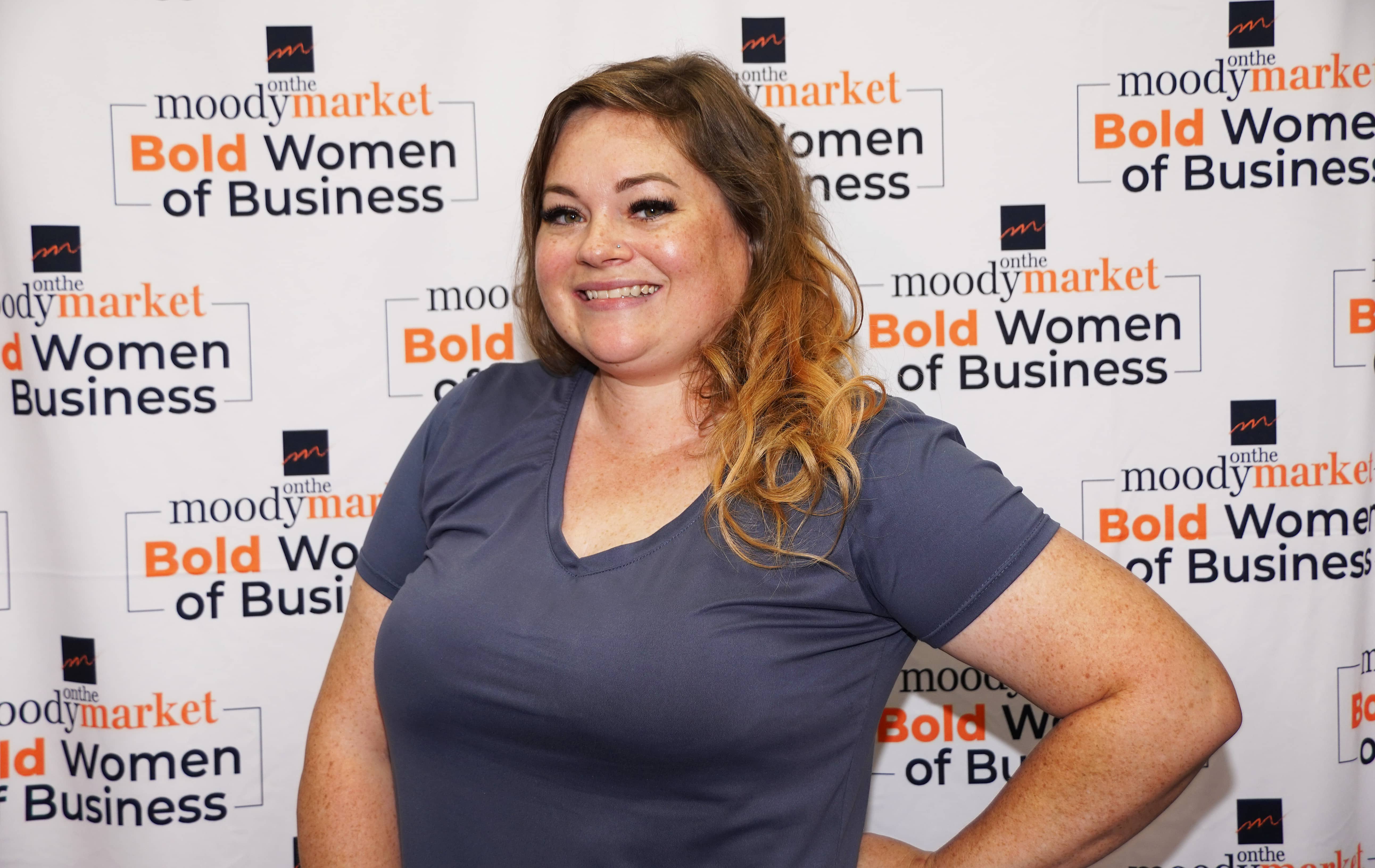 Asked about the most important trait of a bold woman, Rebecca Medlin suggests it is displaying compassion for others and for your community. She certainly follows that mantra on multiple fronts serving not only as the owner of Market 2555 — a mobile boutique and gift shop — but also as a coach for the Edwardsburg Public Schools Cheerleading program, a staff member at Elite Sports Academy, and through her role at Edustaff, serves as a substitute teacher at Edwardsburg. Oh…and she's also self-employed as both a wedding officiant and a Notary Public. Rebecca's nominator says that she has volunteered to help out literally wherever needed, thereby positively impacting the lives of countless young women, and standing by couples on the happiest days of their lives — their wedding day. Rebecca's launch of Market 2555 is even more noteworthy inasmuch as it came during the height of the Covid-19 pandemic. Thanks to her mobile boutique, she has also managed many vendor markets in the past several years. Read on for more from Rebecca Medlin, a member of the Class of 2022's Bold Women of Business from Moody on the Market.
Name
Rebecca A Bartak-Medlin
Where do you live?
Niles, MI
Company or Organization
Market 2555 owner, Notary & Wedding Officiant, Edwardsburg High School Cheerleading, Elite Sports Academy, Edustaff
What is your job or role there?
I own Market 2555, a mobile boutique & gift shop. In addition to my boutique, I also host bi-annual vendor markets. I have been a coach within the Edwardsburg Public Schools Cheerleading program for several years, which has been such an honor for me. I also enjoy being a part of the staff at Elite Sports Academy, and being a substitute teacher at Edwardsburg Schools through Edustaff. I am also self-employed as a Notary Public & Wedding Officiant
How do you think that Bold Women of Business demonstrate being bold?
I think the most important trait of being a bold woman is displaying compassion for others and for your community. I believe that even if we make mistakes or experience set-backs, a bold leader shows that it is critical to keep driving forward, even if that means changing the game plan. (And changing the game-plan is hard for me!) Working hard for your goals, staying kind, and setting a positive example for others is one of the boldest things you can do in a world that is not always kind or positive. It is okay to be frustrated or let-down, but it is not okay to wallow in it, or let it distract you from your mission and your goals. If someone shows you unkindness, be bold by spreading kindness to others. I believe that if you keep all of this in mind, others will be drawn to the positivity you bring, which will bring you success in business. People will be drawn to your light. Put good out, get good back.
Bold women are often defined by a number of descriptors. Please choose from the following descriptors to produce the top three that you would say most exemplify your personality?
Brave…Bright…Strong
Please provide an example of when you feel you were at your very best in taking action on the job or in your role.
I decided to open Market 2555 in February of 2021, when Covid was raging, inventory was hard to come by, and so were building materials. I thought that I was going to do this very part-time, as a way to stay busy… well busier, since my children are older and I have a lot more freedom in my schedule. I started in our 16×16′ shed, which my husband helped transform into a "she-shed", where women could come shop, and where I could also ship items from. I immediately dove in head-first, spending every moment either working in my shop, on my laptop, or in my mind. This was not part-time… this was, and IS, all-the-time. Things took off in SUCH an amazing and humbling way, and in December of 2021, I custom-ordered a 26′ enclosed trailer that my husband fully finished upon completion. I feel that taking that leap in uncertain times, becoming a place that women felt comfortable coming to, and the whirlwind of growth that happened is a strong example of diving in and owning your potential.
What's the funniest thing that ever happened on your road to success?
Going back to that "she-shed" that I started in; before it was the original home of Market 2555, it was just a really nice, but typical shed. It housed tractors, garden and chicken supplies, etc. Shed stuff. The first time one of our friends came over to see what it had become, his first reaction was, "Oh! It smells good now, like girl stuff!" Hey- if you can take a shed from housing poultry supplies, to smelling like "girl stuff," you can do anything! I will add, because I have been asked so many times: the shed is now back to housing "shed-stuff," and my husband is happy with that. It does still have extra lights, pretty walls, and a corner mirror, however. So, I did leave my mark.
Who most inspires your personal drive for success every day?
The number one thing that keeps me inspired is simple: young women are watching me. My own children are watching me, as well. I have had the honor of coaching so many amazing young women. Some are still in school, and some now have families of their own. And, I hope I am fortunate enough to coach for years to come. I want to show them someone who is compassionate, strong, positive, and, hard-working. I want them to know they can trust that my intentions are always sincere, that hard-work can get you many things, and that kindness is never a mistake. I wish the same amazing things for their futures that I wish for my own three children.
What is your best advice to women in Southwest Michigan looking to succeed, as you have, in business?
Be a positive example for others, even on the hard days. Educate yourself as much as you can, on as many things as you can. Be honest with clients or customers, and do the right thing. People will support people that are genuine, so always be yourself.
What does your selection to the ranks of the Bold Women of Business from Moody on the Market mean to you?
Honestly, I feel so overwhelmingly honored. I have worked so hard in so many roles, all at once, and given my all to each of them. For someone to not only notice, but to then take the time to nominate me is so humbling. To be selected is even more surreal. I am so very appreciative.